---
In August of 1999 Tom Hultman contacted Greg Allred, Jim Cusano, and myself (Richie Franklin) about a story he wanted to write on the World Football League. Tom at that time was a writer for Sports Collectors Digest. Below are articles that Tom wrote and appeared in the September 17, 1999 edition of SCD.
Believe it or not, 25 years have passed since WFL's 1st game
By Tom Hultman
Looking back, it probably wasn't the best time to take the National Football League head on.
After all, the economy was circling the drain, there was an oil embargo, the Dow Jones was sinking faster then an elephant in quicksand, the prime rate jumped to 12 percent and President Richard Nixon resigned after being dragged through the mud for months.
World Football League founders Gary L. Davidson and Don Regan's dream, that became a reality in July of 1974, quickly turned into a nightmare by October of 1975.
The league - known for its groovy colored footballs, lavish spending on big name free agents like Larry Csonka, Jim Kiick, Paul Warfield, Calvin Hill and John Gilliam and its lack of funding - is celebrating its 25th anniversary this year.
Opening with 12 teams in 1974, the WFL was doomed from the start as many owners cut their losses and didn't pay their bills.
In fact, the Jacksonville Sharks and Detroit Wheels went bankrupt and folded after the 14th game of the 20-game season.
To make matters worse, the New York Stars and Houston Texans moved to Charlotte and Shreveport, respectively, during the season because of a lack of attendance.
Besides announcing false attendance numbers - Philadelphia said it drew 55,534 and 64,719 for its first two games in 1974, but the actual paid attendance was 13,800 and 6,200, respectively - the biggest kick in the stomach to the WFL was its lack of a major TV contract.
The league, which played a majority of its games on Wednesday nights, had a contract with TVS, which syndicated the game nationally - mostly to independent television stations. Each team only received $75,000 from the TV contract.
Greg Allred, who is writing One Magic Season which chronicles the 1974 season of the Birmingham Americans, said the lack of a TV deal with a major network spelled doom for the league from the start.
"It was a lack of funding that had something to do with the league's downfall, but if you had to nail it down to one item, it would be the lack of a major television contract," Allred said.
"A lot of folks have all but forgotten about the WFL. They don't care about it. I think in terms of football history the league really never got its due. Some of the teams got positive ink in their local papers, but I think from an overall standpoint, it's long overdue."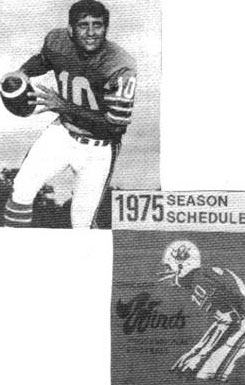 However, the stories that remain from the short lived history of the WFL still bring smiles to the faces of any football fan.
Take a look at this sampling of funny and strange tidbits:
- The WFL wanted players to wear pants color coded by position - purple for offensive lineman, red for linebackers, etc. Obviously, the players refused to wear them.
- If that wasn't enough, the league was going to use footballs painted with a phosphorescent gold and blue. However, the gold paint did not dry during warmups and came off on the players jerseys.
- Florida's Jack Pardee used $3,000 out of his own pocket to purchase toilet paper and sheets for scouting reports for his team.
- Before the victory champagne was uncorked, sheriff's deputies impounded the Birmingham Americans' uniforms after they won the 1974 World Bowl. The uniforms were sold at a local store to cover some of the team's debt.
- Philadelphia saved money by renting a school bus for a trip to Southern California. When the team pulled up to Anaheim Stadium for practice, a security guard wouldn't unlock the doors because he didn't think they were a professional team.
- It didn't get any better for the Bell following night as the Sun defeated them 58-39. The Philadelphia TV station which carried the game signed off at 1:30 a.m., even though 10 minutes remained in the game.
- Blocking sleds and tackling dummies were impounded in Jacksonville.
- The Charlotte team was evicted from its practice field because it didn't pay the rent.
But even with all of the downfalls. Some football fans still have fond memories of the WFL.
I remember the WFL quite well," said J.C. Wingo, whose Wingo Sports Group, Ltd. has produced mini helmets of each original WFL team. "I'm originally from Houston, Texas, so I was able to follow the Texans. It was a very interesting league. Unfortunately, ownership changed during the course of the season for financial reasons, like the New York Stars became the team down in Charlotte. They ended up getting a Chicago Bears "C" and putting it over the star."
When it comes to former WFL players, many critics say they haven't received the respect they deserve. All one has to do is open the Total Football book. None of the WFL players stats are listed. On top of that, the league's legacy was shrunk down into a 2 ½ - page recap.
"I talked to John Land, who was a running back with the Philadelphia Bell, and he said they were treated like second class citizens and he felt they were never really respected," said Jim Cusano, who developed a Web site devoted exclusively to the WFL (see sidebar). "Guys like Csonka and Kiick got all of the ink, but there were a lot players in that league who actually performed better than them.
"I don't want to be a spokesman for the players, but the reason why we did the Web site is because we attempted to get the truth out there. That's why we interviewed the players, because we want them to have their say."
One of the players Cusano interviewed for his Web site was former USC halfback Anthony Davis, who led the league in rushing 1,200 yards and 16 touchdowns in 1975.
"Anthony Davis had some pretty sharp things to say about the NFL," he said. "He felt that back in the 1970's the NFL was so tight with the national media that the thought of a group of individuals getting together and creating a rival league automatically created an environment where the NFL and the media were out to crush that league."
According to Cusano, Philadelphia Bell owner John Bosacco said the WFL may have had a better chance to survive if they would have waited until 1976 to kick off the league.
"With the bicentennial year and the economy turning around and Yankee Stadium open in New York, he honestly felt it would have been a little different." Cusano said.
Cusano said he has been lucky to talk to the former WFL players. He added that once the players figure out that that he is not trying to sell them anything, they're open up to him.
"I spoke to Anthony Davis, Rufus Ferguson and Tommy Reamon," he said. "We literally have a list of 30 other players that we are going to be interviewing. It's starting to take off and it's nice to see those players finally having their day.
"They are very appreciative. At the end of interview with Davis and Reamon, they are very adamant at saying thank you."
Allred who lives in Arab, Alabama, said when the Americans began play in Birmingham-area residents accepted the team as their very own.
"Alabama had never had a pro team," he said. They were ours. We had some players on there that were from the state and the region and we embraced them and loved them. I was 12 years old at the time and fiercely loyal to the University of Alabama and for a team to come in and capture so much attention and loyalty was really unthinkable. They were just a special group of guys. The thing that I'm trying to do with my book is to make it a positive tribute because there has been so much negative ink written about it over the years. A lot of it is warranted obviously, but I think there has been some unfair stuff written. There will be some negative things in the book, but I'll put it in context with the whole season."
By the way, Birmingham went on to win the World Bowl championship in the WFL's initial season, as they defeated Florida 22-21.
Along with the victory came the World Bowl trophy, which many say is lost forever. A July 7, 1999 USA Today article quotes WFL publicist Gary Wright as saying "After the game, all of the uniforms were confiscated. For all I know, the little trophy might have been confiscated too."
While doing research for his book, Allred was able to track down the trophy's whereabouts.
"If you try to find it, some people will tell you that it doesn't exist," he said. "Well I have pictures of it. I know where it is. There's no great mystery there. I've had people all over the country tell me they don't know where it is. I've e-mailed photos to them.
"It's in the Alabama Sports Hall of Fame in Birmingham. If you call them, they will tell you they don't have it. You know why? Because they don't know they have it."
Allred said he visited the Hall of Fame and received permission to take it out of the case to take a photograph of it for the cover of his book.
"The guy I talked to said it's not here and we don't know where it is," Allred said. "I walked over to it and said, "Yes, you do. It's right here." You can see what kind of stature it has in the state when you compare it to Alabama and Auburn. To some people that's just a blip on the radar screen in Alabama sports history. To me it's a lot more than that." (SCD)
Imagine you are fishing at your favorite lake. You're sitting back eating a bologna sandwich and sipping a soft drink when your dream fish bites and taking plenty of line with it.
After fighting it for 20 minutes you finally get it close to the boat. As you attempt to get it into the net, the fish breaks loose and swims to freedom. Meantime, your jaw drops and you begin cursing the world.
Collector Richie Franklin knows the feeling. A few years ago, he was going to add a huge library of color Southern California Sun game film as the cornerstone of his collection, which also includes other game film, a 1974 WFL ball and a 1974 league tri-MVP Tommy Reamon Florida Blazers jersey.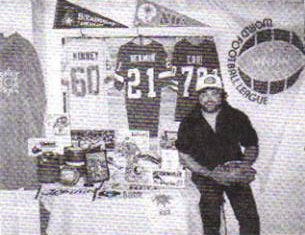 "Most of the game films I have are from the Southern California Sun. I wrote the guy who did their film and he said he had nine 1,600-foot reels in color and he was selling them for $100 apiece," he said.
"A couple weeks later he responded and my money order was in there and he said, "I'm returning your money. My son threw out all the game films without my permission."
"All the film I have is in black and white. He had nine reels-full games from 1975-incolor. That was a heartbreaker."
- Tom Hultman
No WFL cards, but helmets, footballs, jerseys available
By Tom Hultman
Collectors are a special group. Anything and everything is collectible, even if it's from a league that lasted only 1 ½ seasons.
The World Football League has a special place in the hearts of collectors who specialize in the league, which came in with a roar on July 10, 1974, and went out with a yawn on October 22, 1975.
It's amazing how many pieces of memorabilia came out of a short-lived professional league.
Helmets, jerseys, footballs, pennants, game programs, posters, full tickets and stubs, media guides, seat cushions, game film, pocket schedules and ashtrays are the cornerstones of many WFL collectors.
Obviously, there's one thing missing from the list of memorabilia - football cards. It's a shame that this league's short lived history wasn't chronicled on any 2 ½ x 3 ½ - inch pieces of cardboard.
Oh, it came close. According to a July 8, 1974, Sports Illustrated, "Topps Chewing Gum Inc. is preparing bubble gum cards of WFL players. What more could you want?"
Unfortunately, those cards were never produced. After seeing the league's financial problems building up, watching two of its teams move during the 1974 season and cringing at the sight of two other teams going bankrupt, Topps most likely pulled the plug on the project.
"The league didn't have enough time to establish itself." said Greg Allred, a WFL collector, who is currently writing a book on the Birmingham Americans' 1974 championship and is in the process of producing WFL card sheets. "Also, back in the 1970's the baseball and football card phenomenon was nothing like it is today."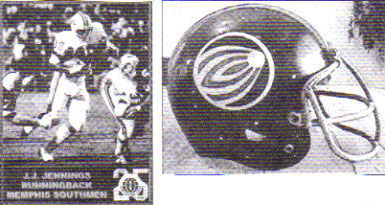 For Allred, producing nine-card sheets of the WFL's players has been a labor of love. First of all the Hanceville, Alabama resident had to find out who owned the rights to the logos and the names. He eventually received permission.
That actually was the easy part for Allred. He then had to search for decent photos for the cards. Many of the photos came from the collection of Maine's Jim Cusano, who owns nearly 2,000 photos.
"I had to basically glean through the limited amount of photos that were available," said Allred, who can be reached via e-mail at wfl1974@yahoo.com. "Hopefully, these will be the first (WFL cards produced.) I've got all the stats that I need and most of the photos. Finding the stuff was really difficult. I have been doing this for over a year. I've gone through old game programs and a lot of Internet correspondence. There's not a lot of us WFL buffs out there, but I found a few.
"There are a lot of photographs, game film and video footage that is out there that either no one can find or they have hidden away in boxes somewhere or they accidentally tossed them out. What is hard to fathom is all the stuff that was discarded that we'll never see."
These die-hard collectors take the WFL seriously even if the league wasn't given its respect during its run. This group is determined to keep the defunct league's legend alive by continuing to breathe life into its memorabilia.
Wingo Sports Group of Stafford, Texas, has commemorated the WFL's 25th anniversary by offering mini helmets of each of the league's original teams. Each helmet includes the classic gray two-bar facemask.
According to executive vice president J.C. Wingo, there is a market for WFL replicas items.
"There has been a lot of interest out there," he said. "The WFL helmets have only been out 30 days and I think they are going to be successful. Hopefully with this 25th, there will be some World football League guys starting to sign. That really helps with collectors."
Besides the obvious WFL players like Larry Csonka, Jim Kiick, Calvin Hill and Paul Warfield, there are other former players out there who could ink their signatures on the WFL memorabilia.
Pat Haden, Marty Schottenheimer, George Mira, Danny White, Jack Pardee, Tom Fears, John Huarte, Leroy Kelly, John Gilliam, Ted Kwalick, Lindy Infante and Anthony Davis are a few who either coached or played in the WFL who could also autograph various memorabilia.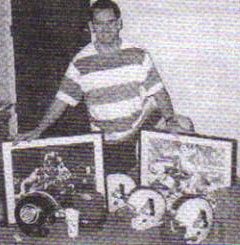 According to Allred, ex-WFL coaches and players usually smile when asked to autograph memorabilia from the league.
"Almost without fail, they all look at it as a very positive experience and a pleasant memory, the money notwithstanding," said Allred, who owns multiple Birmingham Americans helmets and a Florida Blazers helmet. "Obviously, some of them didn't get paid or went a long time without getting paid. By and large, everybody I spoke to has been very helpful and willing to talk with me and very eager to share their experiences.
"I don't know who has had more fun - me or them. I would dare say me, because I am a football purist. Growing up in Alabama, obviously we have had our share of good football played here in this state, but it has been a thrill to meet with those guys."
Cusano, who has kept the WFL alive through a new Web site, said the league has always intrigued him. In fact, he began collecting WFL memorabilia in 1978.
He remembers the days when items pertaining to the league were readily available. It remained that way through the 1980's, but during the 1990's WFL memorabilia began to dry up in the marketplace.
"In 1978, they were pretty much selling truckloads of memorabilia for dollars," Cusano said. "I wish I would have picked up a few more things when I had the opportunity. Unfortunately, I was fairly young then. I'm 35 now. At that time I would rake up the yard and maybe my dad would buy me a program."
Richie Franklin of Stephens City, Virginia said he believes collectors are keeping everything related to the WFL that they find.
"When you find WFL items in the ads of SCD you jump on them." He said. "Every WFL collector is jumping on them. I don't know why the WFL memorabilia dried up, but it has gotten really scarce."
WFL tickets, pennants and programs are easier to find than helmets and jerseys, while memorabilia from the Southern California Sun is more available than items from the Jacksonville Sharks and Detroit Wheels.
"You'll find that a lot of guys who have memorabilia probably have it because they started collecting it long ago." Cusano said. "There are only certain things you can find out there. It's usually limited to tickets, pennants, programs and maybe if you're really lucky, maybe you'll come across a helmet. That is truly the gold in the stream, finding an authentic helmet.
"Tickets from Southern California Sun are the most available. You'll find that historically if you look at some of the teams that had financial difficulties early in the season - Detroit, Jacksonville and teams like that-that is the harder stuff to find."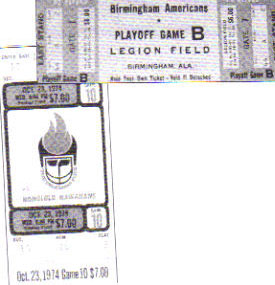 Franklin said tickets are readily available. Besides Sun tickets, Memphis Southmen, San Antonio Wings and Shreveport Steamer tickets are easier to locate than other teams'.
"There are plenty of people out there who collect tickets," he said. "In fact, tickets produced for games that were never played in 1975 when the WFL folded are very plentiful. What's interesting is when Houston first moved they were just called Louisiana. I have a ticket stub from that game that says Detroit Wheels at Louisiana. It doesn't say Shreveport Steamer. That's pretty cool."
Usually game programs sell for $20-$25. In addition, the World Bowl program goes for $20-$25.
"Programs are on ebay a lot," Franklin said. "Certain media guides are easier to find than others. There are three different cover versions of the World Bowl program. I don't think that any one version is harder to find than the others."
However, the Florida Blazers, Detroit Wheels and Jacksonville Sharks are very rare.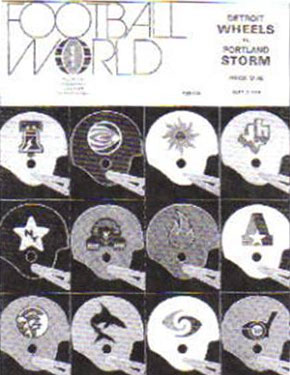 "They are at the high-end of the price scale," he said. "The more common programs are the 1975 Southern California Sun, who marketed their team well."
Franklin added, "The teams that promoted themselves the most are the teams that have the most available, like the Southern California Sun. There's a lot of stuff out there of the Sun like posters, stickers, and other memorabilia as the Sun promoted their team well.
However, for the Florida Blazers there is hardly anything available. "That's why my Tommy Reamon jersey means so much because you just don't see a lot of Florida Blazers memorabilia. Schedules are plentiful, except for four teams - Sharks, Blazers, and the Birmingham Americans and Vulcans. I can't find them anywhere. No one ever has them. Pins are also starting to appear now."
Meanwhile, Franklin said media guides book for $20-$50, with the Jacksonville Sharks, Charlotte Hornets and Portland Thunder being the rarest.
"The Hornets media guide was the toughest for me to find, but they put out the best guide between both seasons." Franklin said. "They did an excellent job. The photos are black and white, but they have plenty of action shots and all of the stats from 1974. They did an outstanding job."
Pennants are more popular with collectors than programs. Again, the Wheels and Sharks are the rarest, with Houston Texans pennants also quite scarce.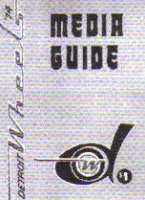 "The designs from 1974 to 1975 did change," Cusano said. "When the teams moved, they did new pennants."
Franklin said the color of the WFL footballs and the jerseys caught his eye when he was 13 years old.
"The WFL was new and it was such a colorful league," he said. "All of the NFL guys were jumping to the WFL, so it had to be something big."
He started collecting newspaper articles and photos for a scrapbook as a child.
As he got older, he moved on to bigger and better things.
"I went to a baseball card shop and picked up my first SCD to try and locate programs, tickets and pennants. I used to write each team as a kid and I would ask for schedules and team photos," Franklin said.
"Team photos are extremely hard to find. I don't even know if all teams took team photos. I collect them, but I've had very little success in locating team photos. I have six overall."
Also on the tough to find memorabilia list are jerseys and helmets of the WFL's big - name players.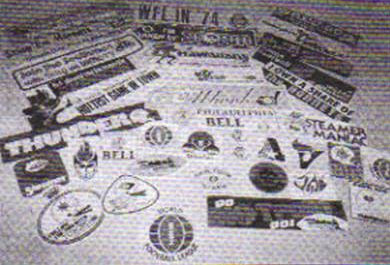 For example, a Paul Warfield Memphis Grizzlies game-used helmet recently sold for $1,210 in an American Memorabilia auction.
Other helmets that sold in the auction included Detroit Wheels ($750), Florida Blazers ($825), Southern California Sun ($550), Birmingham Americans ($732) and Birmingham Vulcans ($605).
"The interest in the auction was unbelievable," said American's Memorabilia's Vic Moreno. "The people who called were quite nice and shared information with us. These collectors were really enthused that someone would have an auction like this.
They were very surprised that we had this memorabilia because it's usually not out there."
Meanwhile, game-used jerseys were auctioned off at much more reasonable prices - Hawaiians ($293), Chicago Winds ($181), Americans ($181), Sun ($165) and Philadelphia Bell ($160).
"Jerseys of popular players are very tough to find," Franklin said. "There are more of the common players coming out now and they're not going for very much.
"Helmets are extremely hard to find. They continue to go up in price, $1,000 - $1,500 for the better players, while the common player is valued at $500."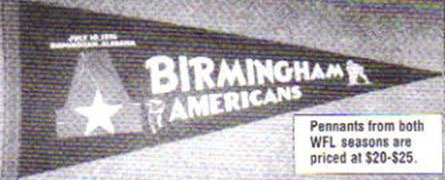 Also tough to find are WFL footballs, which changed their look in both seasons.
According to Franklin, the 1974 balls are priced at $250-$300, while the 1975 balls will cost collectors approximately $200. In fact, a 1974 WFL ball sold at American Memorabilia's auction for $700.
"The 1975 football was different than the 1974 ball," he said. The 1975 ball was a regular brown football with white stripes.
"I don't see too many of those now. The 1974 ball was mustard brown with orange stripes."
Ah, the memories will last forever. (SCD)
World Football League Programs
(Most programs are $20 unless indicated)
WFL 1974 Playoffs: Philadelphia at Florida ($50), Hawaiians at Southern California ($50), Hawaiians at Birmingham ($50), Florida at Memphis ($50)
World Bowl: Florida at Birmingham ($100)
Birmingham Americans (1974): 7/10/74 Southern California, 7/24/74 Memphis, 8/7/74 Detroit, 8/14/74 Hawaiians, 9/2/74 Florida, 9/7/74 Chicago, 9/19/74 Louisiana (Shreveport), 10/9/74 Portland, 10/30/74 Florida, 11/6/74 Philadelphia, 11/13/74 Shreveport
Birmingham Vulcans (1975): 7/12/75 Portland (Exhibition game), 8/2/75 Chicago, 8/9/75 Philadelphia, 8/23/75 southern California, 8/30/75 Shreveport, 9/13/75 San Antonio, 9/21/75 Charlotte 10/19/75 Memphis
Charlotte Hornets (1974-moved from New York): 10/9/74 Memphis, 10/16/74 Chicago, 10/23/74 Florida, 10/30/74 Southern California
Charlotte Hornets (1975): 7/19/75 Chicago (exhibition game), 8/16/75 San Antonio, 9/6/75 Philadelphia, 9/27/75 Southern California, 10/12/75 Jacksonville
Chicago Fire (1974): 7/10/74 Houston, 7/17/74 Jacksonville, 8/7/74 Florida, 8/14/74 Philadelphia, 8/29/74 Birmingham, 9/11/74 Southern California, 9/18/74 Memphis, 10/3/74 Charlotte, 10/9/74 Florida, 10/23/74 Hawaiians
Chicago Winds (1975): 7/12/75 Jacksonville (exhibition game), 8/16/75 Portland
Detroit Wheels (1974): 7/17/74 Florida, 7/31/74 Birmingham, 8/14/74 Memphis, 8/22/74 Chicago, 9/2/74 Portland, 9/6/74 Southern California,
Florida Blazers (1974) $30 each: 7/10/74 Hawaiians, 7/24/74 Houston, 8/14/74 Jacksonville, 8/21/74 Portland, 8/28/74 Memphis, 9/11/74 Detroit, 9/18/74 Philadelphia, 9/26/74 Chicago, 11/7/74 Portland
Hawaiians (1974): 7/21/74 Detroit, 7/2874 Chicago, 8/25/74 Jacksonville, 9/1/74 Houston, 9/18/74 New York, 9/25/74 Philadelphia, 10/2/74 Birmingham, 10/30/74 Memphis, 11/6/74 Southern California, 11/13/74 Portland
Hawaiians (1975): 7/12/75 Charlotte (exhibition game), 8/16/75 Southern California, 8/23/75 Chicago, 9/14/75 Jacksonville, 10/4/75 Birmingham, 10/11/75 Philadelphia, 10/19/75 Southern California
Houston Texans (1974): 7/17/74 Philadelphia, 7/31/74 Florida, 8/15/74 Southern California, 8/28/74 New York, 9/11/74 Hawaiians
Jacksonville Sharks (1974) $30 each: 7/11/74 New York, 7/24/74 Southern California, 8/8/74 Hawaiians, 8/21/74 Birmingham, 9/2/74 Memphis, 9/5/75 Philadelphia, 9/18/74 Portland
Jacksonville Express (1975): 7/26/75 Hawaiians (exhibition game), 8/16/75 Birmingham, 8/23/75 San Antonio, 8/30/75 Charlotte, 9/20/75 Philadelphia, 9/27/75 Birmingham, 10/4/75 Portland
Memphis Southmen (1974): 7/10/74 Detroit, 7/18/75 Portland, 8/1/74 Southern California, 8/21/74 Hawaiians, 9/7/74 Houston, 9/11/74 Birmingham, 10/2/74 Jacksonville, 10/16/74 Florida, 11/7/74 Portland, 11/13/74 Charlotte
Memphis Southmen (1975): 8/2/75 Jacksonville, 8/9/75 Charlotte, 8/30/75 Chicago, 9/7/75 Hawaiians, 9/14/75 Shreveport, 10/5/75 Southern California, 10/12/75 Birmingham
New York Stars (1974): 7/17/74 Birmingham, 7/31/74 Jacksonville, 8/14/74 Portland, 8/21/74 Houston, 9/2/74 Philadelphia, 9/6/74 Florida, 9/24/74 Detroit
Philadelphia Bell (1974): 7/10/74 Portland, 7/25/74 New York, 8/7/74 Memphis, 8/21/74 Southern California, 8/28/74 Detroit, 9/11/74 Jacksonville, 10/2/74 Florida, 10/9/74 Hawaiians, 10/16/74 Philadelphia, 10/30/74 Chicago
Philadelphia Bell (1975): 7/16/75 Southern California (exhibition game), 8/2/75 Hawaiians, 8/23/75 Memphis, 9/13/75 Portland, 10/4/75 San Antonio, 10/18/75 Charlotte
Portland Storm (1974): 7/24/74 Chicago, 7/31/74 Philadelphia, 8/7/74 Houston, 9/6/74 Hawaiians, 9/11/74 New York, 9/25/74 Birmingham, 10/2/74 Southern California, 10/16/74 Hawaiians, 10/24/74 Memphis
Portland Thunder (1975): 7/27/75 Philadelphia (exhibition game), 8/9/75 Hawaiians, 8/26/75 Shreveport, 9/6/75 Birmingham, 9/21/75 Memphis, 10/12/75 San Antonio, 10/19/75 Jacksonville
San Antonio Wings (1975): 7/19/75 Memphis (exhibition game), 7/26/75 Charlotte, 8/2/75 Shreveport, 8/9/75 Southern California, 8/30/75 Portland, 9/7/75 Southern California, 9/21/75Hawaiians, 9/28/75 Memphis
Shreveport Steamer (1974, moved from Houston): 9/25/74 Memphis, 10/2/74 Detroit, 10/23/74 Birmingham, 10/31/74 Portland, 11/6/74 Charlotte
Shreveport Steamer (1975): 7/19/75 Birmingham (exhibition game), 7/26/75 Memphis (exhibition game), 8/9/75 Chicago, 8/16/75 Philadelphia, 9/6/75 Jacksonville, 9/20/75 Southern California, 9/28/75 Hawaiians, 10/5/75 Charlotte, 10/19/75 San Antonio
Southern California Sun (1974): 7/17/74 Hawaiians, 8/7/74 New York, 8/28/74 Portland, 9/2/74 Chicago, 9/18/74 Detroit, 9/25/74 Jacksonville, 10/10/74 Shreveport, 10/16/74 Birmingham, 10/23/74 Philadelphia, 11/14/74 Southern California
Southern California Sun (1975): 7/5/75 San Antonio (exhibition game), 7/14/75 Memphis (exhibition game), 8/3/75 Portland, 8/29/75 Philadelphia, 9/14/75 Charlotte, 10/12/75 Shreveport
1974 World Bowl Programs ($75-$80) Note: There are three different versions. Each carries the same value.
Media Guides ($20-$25 unless noted):
1974: Birmingham Americans, Chicago Fire, Detroit Wheels ($50), Florida Blazers, Hawaiians ($35), Houston Texans ($35), Jacksonville Sharks ($50), Memphis Southmen, New York Stars, Philadelphia Bell, Portland Storm ($35), Southern California Sun, WFL League Guide ($50)
1975: Birmingham Vulcans, Charlotte Hornets ($30), Chicago Winds, Hawaiians ($35), Jacksonville Express ($35), Memphis Grizzlies ($40), Philadelphia Bell, Shreveport Steamer ($35), Southern California Sun, WFL League Guide ($50)
Helmets: Common players ($300-$500), Superstars ($500-$1,000)
Jerseys: Common players ($100-$200), Superstars ($500-$1,000)
1974 WFL Football: ($250-$300), 1975 WFL Football: ($200)
WFL Pennants ($20-$25)
1974: Birmingham Americans, Chicago Fire, Detroit Wheels, Florida Blazers, Hawaiians, Houston Texans, Jacksonville Sharks, Memphis Southmen, New York Stars, Philadelphia Bell, Portland Storm, Southern California Sun, WFL
Note: New York and Houston moved to Charlotte and Shreveport, respectively in 1974.
1975: Birmingham Vulcans, Charlotte Hornets (same as '74), Chicago Winds, Hawaiians, Jacksonville Express, Memphis Grizzlies, Philadelphia Bell, Portland Thunder, San Antonio Wings, Shreveport Steamer, Southern California Sun, WFL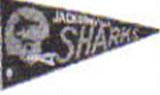 In a way, Maine's Jim Cusano considers himself a historian on the World Football League.
Recently he surfed the Web and found there was no Web site honoring the defunct league.
With this being the 25th anniversary of its first season, he said it was only natural to kick off a site that told the league's story from the players' perspective and offered a look back at its history.
"When I got a computer and went on the Internet I found out there was no site for the WFL (there are two now), so I started building it," Cusano said. "When I wanted to add some audio and video to it that's when I got in touch with Richie Franklin, who has quite a bit of game films. I started to do this for historical reasons.
"I have had the opportunity to do some research and some traveling and sharing this stuff with other people and it has grown into this monster now."
The Web site - welcome.to/wflhalloffame - contains recaps of the 1974 and 1975 seasons, along with game films, memorabilia, audio clips, team pages, uniforms, photo gallery and interviews with players.
Interviews with WFL players Anthony Davis, Tommy Reamon and Jere Brown are currently on the site, with conversations with WFL founders Gary L. Davidson and Don Regan and players Virgil Carter, Rufus Ferguson and more on the way.
"At first the players are a little hesitant," Franklin said. "But once they started talking about it and realized our Web site is legitimate, they open up. We talked to Tommy Reamon for two hours. Some things they don't remember and they have to think about it for a while because it was 25 years ago. Every player we have talked to has been great."
"I've written letters to some of the stars like Larry Csonka and Calvin Hill and they haven't gotten back with me. Everytime I write someone I send them a picture of them playing in the league. I try to send a color photo. Everyone, except for those two has written back to me."
According to Cusano the tales of the WFL's demise have become taller as the years have gone by. He said he wants the players to set the record straight on his Web site.
"A lot of those stories grow taller on down the line," he said. "That's the thing about our Web site; we're trying to present the real story about the players and everything. The players have a whole different version and that's the story we're tying to put out."
"The WFL has a lot of shame and all, but it also was really good football and that's the story we want to present in the players' words."
Greg Allred who is authoring a book on the Birmingham Americans said he enjoys seeing a player's reaction when he shows them game film of their WFL playing days.
"The most gratifying thing of all this is when I sit down with a former player and I tell them, "Let's look at something," he said. "It's amazing to them that you actually have them playing on film. I think it's great to sit back and watch the film and see the look on their faces."
Allred's book, entitled One Magic Season, focuses on the Americans' 1974 World Bowl championship season.
"It's primarily about that one season and the adversity they had and the triumphs they had," he said. "That one season was a very special and magic time for me and them and all the fans who were able to see them play."
- Tom Hultman