---
The World Football League did not have an exhibition season in 1974. However, WFL teams did have controlled scrimmage games prior to the season opener on July 10, 1974. The first ever "controlled" scrimmage was held between the Florida Blazers and the Philadelphia Bell on June 15, 1974 at Shippensburg State College in Pennsylvania.
This WFL game opener was also covered by Joe Marshall of Sports Illustrated, and the story appeared in their July 8, 1974 edition. Below is an article from the Orlando Sentinel Star, game rosters, and the game photo is from Sports Illustrated. The film clip from this game is property of WFL Films.
By Bill Clark
Sentinel Star Sports Editor
Shippensburg, Pa. - Here just a stone's throw from historic Gettysburg, the Florida Blazers addressed themselves Saturday to the task of becoming a professional football team. They succeeded in such a way as to lead many to suspect that this may indeed be a ball club.
Although it was only a controlled scrimmage-not a full blown game-the Blazers posted a 21-7 victory over the Philadelphia Bell with quarterback Bob Davis throwing for two touchdowns and rookie Richard James from the University of Cincinnati running 74 for the third.
It was a controlled scrimmage. They said it was anyway, but things got out of control more then once as feelings ran high. Aside from two or three times when individual players squared off, there was one occasion where at least 100 athletes were on the field - swinging and kicking. Amazingly a set of high school officials rounded up for the game somehow managed to restore order.
It was a milestone occasion in more ways than one here on the campus of Shippensburg State College in the foothills of the Blue Ridge Mountains.
First it was 1974's first football confirmation - professional, college or even Pop Warner - coming in fact even before baseball's mid-summer All-Star Game. Moreover, it was the first field test of the new World Football League which aspires to buck the haughty NFL.
Coach Jack Pardee's Blazers clearly passed their test superior in most departments to the Bell which is coached by former NFL running star Ron Waller.
Davis, who understudied Jet Joe Namath for about four years, led Florida to scores the first two times the Blazers were given the ball and the final tally might easily have been more one-sided if the 6-2 University of Virginia graduate had stayed in longer.
He ended with a phenomenal 12 of 18 passing day for 156 yards. Two touchdown passes traveled 25 yards to Jim Strong, one-time leading rusher of the New Orleans Saints, and 31 yards to rookie Henry Brown from Missouri.
Under provisions agreed upon by both teams each outfit was given the football for 15 consecutive plays beginning at its 30. If a first down was not made in four plays the ball was returned to the 30.
Jim "King" Corcoran, the somewhat legendary Canadian and U.S. minor league performer, quarterbacked the Bell at the start and guided his team in for a 7-7 tie on its first possession. Philly, however, could not match the Blazers consistency as a crowd of about 750 paying two bucks a head watched on a cool, wind blown day.
James running with the second unit took a handoff and swept right end to make it 21-7 on his 74 yard gallop. The 196 pounder shed two or three tackles at the corner and breezed untouched the final 60 yards.
That one run made the 6-2 newcomer the Blazers top rusher for the day with 83 yards on five carries. Stocky Tommy Reamon another rookie had 51 yards on 11 rushes and A.D. Whitfield, with eight NFL seasons behind him gained 41 yards on 10 carries as the Blazers rolled up 203 land yards to 92 for the Bell.
The Blazer defense may have been even better. Through the middle, Philadelphia backs John Land and Allen Thompson and others got some yards, but the door was shut outside due to some fine play by Blazer ends, linebackers and corner men.
With the wind gusting up to 35 miles an hour, the game got off two minutes before scheduled 2 p.m. kickoff time. On the first play Davis hooked up with former Cleveland Brown great Gary Collins for four yards and the Blazers were on their way. Seven plays later, Davis got good protection at the Bell 25 and fired quickly as Strong shook loose in the end zone. The WFL had been in action no more then seven minutes as the Blazers took a 7-0 lead - touchdowns worth seven in this league by decree of Commissioner Gary Davidson.
Davis almost had the Blazers ahead by two touchdowns on that same opening 15 play series, but a holding penalty destroyed the opportunity.
Philadelphia promptly tied the score, 7-7 on a 14 play drive with Land scoring from two yards out.
Behind Davis for the Blazers second unit quarterback Eric Crone from Harvard failed to complete in two passing attempts. Next came Buddy Palazzo from Southern Mississippi who hit on two of four passes for six yards.
For the Bell, Corcoran hit seven of 14 throws for 72 yards. His substitute Frank DiMaggio was 5 for 10 for 101 yards. The Bell had one interception while Florida threw two-none by Davis.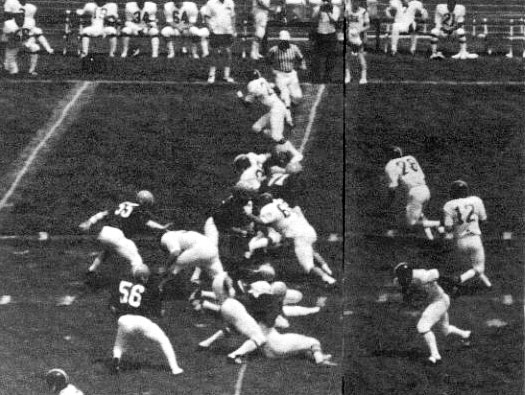 NOTE: The film clip is Property of WFL Films and may not be used without the written consent of the Website owners.