---
On April 4, 1974 the World Football League and the TVS Television Network reached an agreement that guaranteed the league a national Game of the Week. The games were televised on Thursday nights.
The World Football League and the TVS Sports Network announced in a May, 1974 press release the first eight games that would be televised beginning in July. During the season all televised games there after were announced ten days to two weeks prior to assure coverage of broadcasted games involving teams in contention or divisional championships. Eleven of the WFL's twelve teams were showcased during the first eight weeks of play. The Florida Blazers did not play on the TVS Network until September 26, 1974 when they hosted the Chicago Fire in week thirteen. The first WFL on TVS broadcast aired on July 11, 1974 when the Jacksonville Sharks hosted the New York Stars.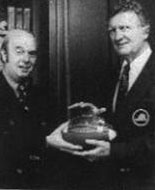 The TVS Network was expected to pay the World Football League $1.5 million for the rights to televise their games. TVS President Eddie Einhorn was very successful in selling commercial time to advertisers. The TVS Network brought the Firemen's Fund American Life Insurance Company, Chevrolet, and Bank American Card on board as sponsors.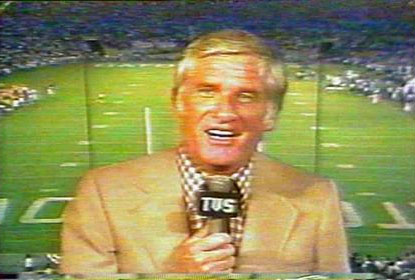 TVS then signed veteran broadcaster Merle Harmon as their weekly play by play announcer. They also signed former Baltimore Colts running back Alex Hawkins as the color commentator. Each week the WFL on TVS broadcast booth would have a third member as a "guest commentator." Some of the guests included George Plimpton, McLean Stevenson, Gale Sayers, Alex Karras, Paul Hornung, Don Perkins, Dick Butkus, Rosey Grier, Jane Chastain and Burt Reynolds. Chicago Fire quarterback Virgil Carter was the guest commentator for the World Bowl game. The TVS Sports Network also considered using a sideline reporter for their weekly broadcast.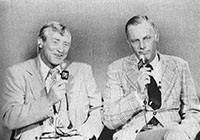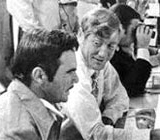 Alex Hawkins and George Plimpton during the inaugural WFL telecast. 2) Jane Chastain was the "guest" commentator for the Stars-Bell game in week 3, and the first female to broadcast a professional football game on national television. 3) Alex Hawkins with "guest," MacLean Stevenson in Houston in week 6 for the Sun-Texans broadcast. 4) Burt Reynolds and Alex Hawkins during the Sun-Steamer telecast in week 15 at Anaheim.
Date - October 10, 1974
Location - Anaheim Stadium, Anaheim California
Burt Reynolds and Alex Hawkins.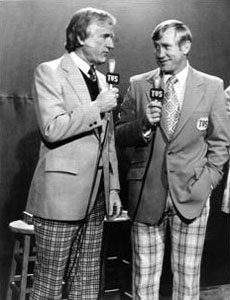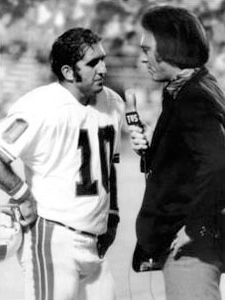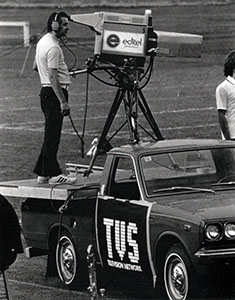 Going into Week Thirteen the WFL had played to nearly two million fans in person, and more then nine million fans were watching the WFL on the TVS Network. "We have been pleased with the reception the nation's TV audience has given the WFL," said Gary L. Davidson. He also added, "Our ratings are higher than even the sponsors had anticipated and our product (the games) have been better than even the coaches felt they would be."
According to a NTI Rating Summary the WFL was shown on 117 stations per week and to 80 percent of the country. "Our numbers have been encouraging," said WFL Vice President for Communications Max Muhleman. "We had hoped to deliver ratings that would average 5.0 to our advertisers in this first year (1974). Thus far we are averaging better than 6.0 ratings and more than thirteen percent shares of all television sets in use during our Thursday night time slots."
The WFL on TVS ratings were also very high in non-WFL cities. The league had extremely high ratings in Atlanta, New Orleans, San Francisco, and Washington D.C. The numbers in Birmingham, Alabama were in the 27.0 range the first few weeks of WFL televised games.
Alan Lubell from the TVS Sports Network claims that independent television stations covering the World Football League went from 100 stations into the 60's by mid-season. "We felt our credibility going down as the league's did," Lubell said. "The problem with the WFL was every time it got caught lying it compounded the situation by telling more lies. In many ways it got a lot of publicity; Gary Davidson, the WFL commissioner, told me he estimated that all the early publicity was worth $20 million. The bad publicity he never talked about, but that was worth at least a minus $40 million."
The TVS Sports Network carried a WFL regular season game seventeen of the twenty week schedule during the 1974 season. They also televised two WFL playoff games, and the 1974 World Bowl. Even though the TVS Network made money on their 1974 broadcast of WFL games they chose not to pick up the option for 1975. "While we have the option, I doubt that we will ever find a reason to use it, Alan Lubell said. "Maybe a new pro football league can go, but it would have to prove that by itself. When I talk to advertising people about the possibility, they just look at me." This decision left the WFL without a nationally televised game of the week. During the 1975 season TV coverage was done locally by television stations in each of the league's eleven markets. Cable TV carried WFL games in certain markets, but league games were dropped once hockey season opened. In June of 1975, WFL President Chris Hemmeter was asked about a national TV contract. He was quoted in Pro Football Weekly; "We're working on three possibilities, with TVS, with the Hughes Network and maybe one of our own." Hemmeter tried desperately to negotiate a TV package for the WFL. Although he was unsuccessful with a league television deal, Hemmeter was actually working on a deal that would showcase the World Bowl game that was scheduled the second week of January, 1976.
None of the above ever materialized. With the league unable to market its product the World Football League folded on October 22, 1975 with little to no television exposure. It has been reported that had the World Football League met credibility during 1975, CBS Sports was interested in televising WFL games beginning with the 1976 season.
Newspaper Article - WFL Needs TV But Does TV...?
1
July 11, 1974
New York Stars @ Jacksonville Sharks
2
July 18, 1974
Portland Storm @ Memphis Southmen
3
July 25, 1974
New York Stars @ Philadelphia Bell
4
August 1, 1974
Southern California Sun @ Memphis Southmen
5
August 8, 1974
Hawaiians @ Jacksonville Sharks
6
August 15, 1974
Southern California Sun @ Houston Texans
7
August 22, 1974
Chicago Fire @ Detroit Wheels
8
August 29, 1974
Birmingham Americans @ Chicago Fire
9
September 2, 1974
(No TVS Game This Week)
10
September 5, 1974
Philadelphia Bell @ Jacksonville Sharks
11
September 12, 1974
(No TVS Game This Week)
12
September 19, 1974
*Louisiana @ Birmingham Americans
13
September 26, 1974
Chicago Fire @ Florida Blazers
14
October 3, 1974
Charlotte Stars @ Chicago Fire
15
October 10, 1974
Shreveport Steamer @ Southern California Sun
16
October 17, 1974
(No TVS Game This Week)
17
October 24, 1974
Memphis Southmen @ Portland Storm
18
October 31, 1974
Portland Storm @ Shreveport Steamer
19
November 7, 1974
Chicago Fire @ Memphis Southmen
20
November 14, 1974
Florida Blazers @ Southern California Sun
TVS Network Games aired at 9 PM EST.
November 21, 1974 Philadelphia Bell @ Florida Blazers
November 29, 1974 Florida Blazers @ Memphis Southmen
December 5, 1974 Florida Blazers @ Birmingham Americans
*NOTE: The Houston Texans announced a move to Shreveport on September 18, 1974. The team traveled to Birmingham the next day to play the Americans in a nationally televised game on the TVS Sports Network, and were known as "Louisiana" by the WFL until September 24 when the team announced their name would be the Shreveport Steamer.

---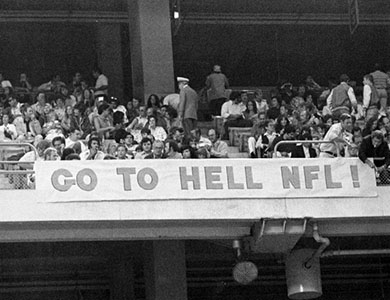 ---
Date - July 11, 1974
Location - Gator Bowl, Jacksonville, Florida
Sharks defense stops the Stars on fourth and one.
NOTE: This film clip is used with permission and may not be used without the written consent of the original owner(s).
Date - July 18, 1974
Location - Memphis Memorial Stadium, Memphis, Tennessee
J.J. Jennings picks up six-yards.
NOTE: This is not a TVS Sports Network film clip. This film clip is Property of WFL Films and may not be used without the written consent of the website owners.