---
During the 1974 season the Southland Corporation presented plaques to players who were selected as the World Football League Player of the Week. Below is a picture of the weekly award that was presented to JJ Jennings of the Memphis Southmen for week one of the 1974 season. The World Football League Website would like to thank JJ for providing the photo for this page.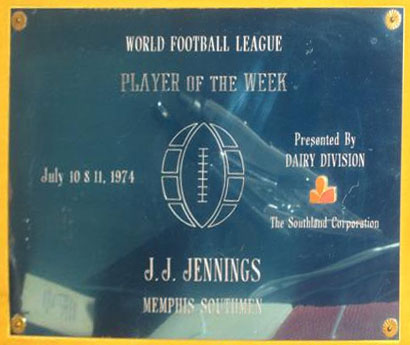 JJ Jennings
Memphis
George Mira
Birmingham
Alfred Jenkins
Birmingham
Mark Kellar
Chicago
Jim "King" Corcoran
Philadelphia
Cyril Pinder
Chicago
Bob Gladieux
New York
Tony Adams
Southern California
Rufus Ferguson
Portland
Tommy Reamon
Florida
Ed Marshall
Memphis
George Mira
Birmingham
Pete Beathard
Portland
Willie Spencer
Memphis
Al Davis
Hawaiians
Dave Roller
Southern California
Randy Johnson
Hawaiians
John Huarte
Memphis
Tommy Reamon
Florida
Warren Capone
Birmingham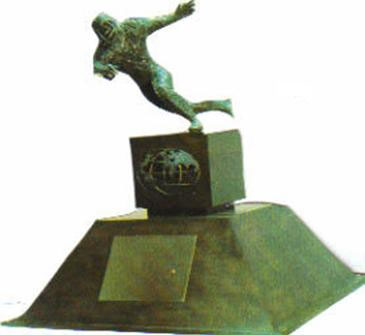 The World Football League MVP award was also presented by the Dairy Division of the Southland Corporation.
The trophy weighed 175 pounds, and was on a four-foot wide base. It was a welded-steel sculptured form of a football player, and was valued at $1500.00. The trophy was designed by artist Daniel Gluck.
The WFL also presented a $10,000.00 cash award to the league�s MVP. WFL coaches and members of the media selected the MVP and the winner was presented the trophy and cash award at halftime of the World Bowl on December 5, 1974.
At the time this was the richest cash award and the most elaborate trophy ever presented to a league's MVP. After the voting was done there were three MVPs. The WFL Tri-MVPs for 1974 were Tony Adams of the Southern California Sun, JJ Jennings of the Memphis Southmen, and Tommy Reamon of the Florida Blazers. All three WFL rookies received $3,333.00 each. No one knows the whereabouts of the MVP trophy although it was in Birmingham during the ceremony. Tony Adams was the only player present for the award. Tommy Reamon was also in Birmingham, but was in the Florida Blazers locker room during halftime of the World Bowl, and JJ Jennings was at a hospital in Massachusetts having his tonsils removed.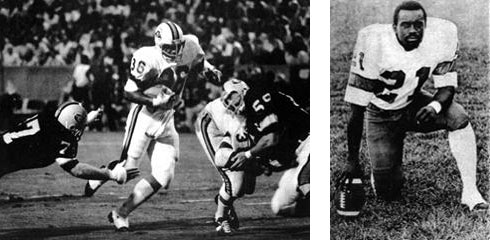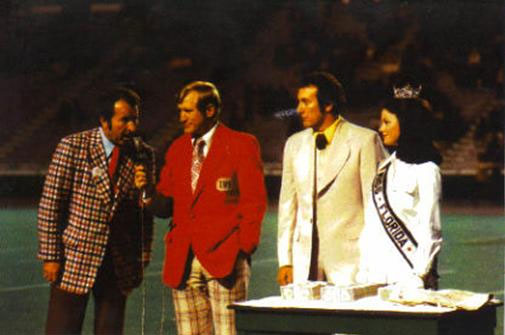 NOTE: This film clip is used with permission and may not be used without the permission of the original owner(s).