---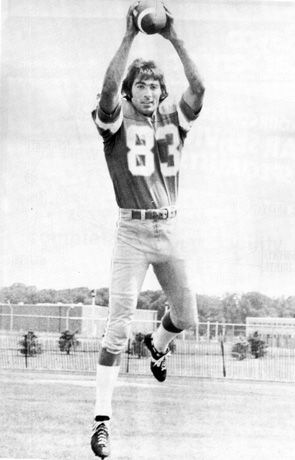 We spoke with Vince Papale on October 30, 2010 at the Novacare Center in Philadelphia, PA. This interview was the World Football League Web sites first "live" interview, all previous interviews were conducted via telephone, and we thank Vince for this unique opportunity. Vince was present at the Novacare Center to help conduct an open tryout for the Arena Football League's Philadelphia Soul - the Soul are slated to begin play in 2011. Vince was also in town to attend the first ever Philadelphia Bell WFL team reunion held later that evening at Chickie's & Pete's Sports Bar on Packer Avenue in South Philly. Again we thank Vince for taking time out of his busy schedule to sit down with us and reflect upon his playing days with the Bell in the World Football League.
WFL: When did you first hear of the WFL and what made you to decide to tryout for a pro football team at the age of 28?
VP: I really didn't know much about the World Football League at that time. I was playing for the Aston Knights of Seaboard Football League, which was a semi-pro team, and I was paid the astronomical amount of a pair of Adidas football shoes and a six pack of Bud (laughs)....and we had this game against...the team... I forgot the name of the team, but the guy who was the head coach of that team was Hugh Wyatt. He eventually became the personnel director for the Philadelphia Bell. I actually got a call from somebody saying that there was going to be a tryout for this new football league that was coming out - The Philadelphia Bell of the World Football League. I thought at the time...actually I thought I was going to get a tryout in the NFL with the New York Giants because George Young had been in touch with me, but he didn't realize that I was 28 and he didn't realize I didn't play college football. So I didn't have the pedigree and I didn't have the resume. That's when I found out about it (the WFL), so I found out through the tryout.
(NOTE: The team in question that played against the Aston Knights was the Wilmington Clippers)
WFL: What was your impression of that first Bell training camp and did you have as much competition and intensity as you did while trying out for the Eagles in 1976?
VP: Yes, yes the competition for the Bell for the original free agent tryout was 850 guys. Then, of course, the competition for me to get in there (to make the team), when I was in the training camp with Ron Waller was pretty intense. To me that was my NFL. My first impression was Coach Waller. It could be like 95 degrees out there and he would have that rubber sweat suit on and the long sleeves and it would be buckled all the way up and he would be sweating his balls off ...he would be sweating his butt off, and running us in up downs like you couldn't believe. It was one of the toughest experiences physically that I had ever been through, but it was extremely well run. I loved his offense. I was around some characters like King Corcoran, John Land, Claude Watts and (Ron) Doc Holliday. Ronnie (Waller) had taken me under his wing after the free agent tryout and gave me some individual tutoring and some mentoring prior to coming into training camp to get a feel of what I was going to be up against, so it was intense, but it wasn't overwhelming.
WFL: Did your first WFL contract include incentives and bonuses?
VP: Could have, I don't remember. I have it written somewhere. Actually I have it framed somewhere. All I remember was... I think... it was $16,000, and I said my goodness I am going to be paid $16,000 to do something I love to do and at the time I was working. I was a full time school teacher, a head track coach, a assistant football coach with sixteen masters credits with making around $12,500 for an entire year. I figured I can make $16,000 for six months - this ain't too bad. There may have been an incentive or two in there, but hey the incentive was to play in the World Football League, so I didn't need anything other then that.
WFL: Training camp is coming to an end and you've made the team. When did the coaching staff find out how old you were and did it matter?
VP: No, I don't think it really mattered too much with Coach Waller because he saw what I could do on the field. I don't remember when the timeline was because it's been so many years ago, but the thing with Ron Waller is that he was fair and he really gave me that opportunity like Dick Vermeil did and I don't think age and pedigree made a difference. It was matter of just going out there and getting it done on the field... having the talent to do it. Listen man, I never would have gotten it done if I didn't have the talent. I started out as a starting wide receiver. I actually caught the first reception in the World Football League because we had the first game and the first pass was thrown to me. It was a quick out, so I'll never forget that (smiling).
WFL: We ask everyone this question. When you first saw the 1974 Spalding WFL football what was your impression?
VP: It was wild. That gold (paint) would come off on your hands. Your hands would be gold. It was something different...you know... and it had that Gary Davidson signature on there... and it was perfect, but don't ask me about my first impression when they came out and had those striped pants and everything else. It looked like the guys at the Vatican... the Swiss Guard at the Vatican for crying out loud...those uniforms they were trying to get us to wear, but I loved the gold ball. I have a couple of them...stored very nicely and very proudly in my hall of fame room.
WFL: You kind of answered one of our upcoming questions. Color Coded Pants. Anything you would like to add?
VP: Well again it reminded me of the Swiss Guards at the Vatican. There was just no way and I'll never forget when they came out...I think we were playing the Southern California Sun and in that particular game when they decided to come out with it...we didn't know what the heck they were. We looked at them and said "Man, there is just no way they're going to have us wearing those pants and thank God they didn't." The gold football was enough. That's all we needed. Gary Davidson's signature was all we needed. That was fine.

NOTE: The World Football League Web site has actual footage from the pre-game warm ups when the Philadelphia Bell and Southern California Sun demonstrated the Color Coded Pants at Franklin Field on July 19, 1974. WFL Pants Plan
WFL: Its opening night at JFK Stadium on July 10, 1974 for the new World Football League and the Bell is hosting the Portland Storm. Describe to us to the best of your memory the atmosphere and the fan reaction on that evening?
VP: It was amazing. It was 60-70 thousand people. The stands were essentially packed except for the end zone. They wouldn't let them in there... Tony Bennett was there singing the National Anthem. I was blown away and there... must have been a hundred kids from Interboro high school where I was teaching school and I left there...they were all there for me...for the game. Having won the game...I couldn't believe I was playing professional football and afterwards being mobbed by my students...that was the best part. Somewhere in my scrap book I have this great picture of me with all of my students around me. It was really nice...very special night.
WFL: Everybody has a King Corcoran story. Tell us yours?
VP: (Laughing) Well, King had a way of not allowing you to say no and I guess my favorite was at training camp. Training camp.... as if it wasn't hard enough...at training camp he use to make me come with him...basically make me come with him in between practices when you're exhausted and go hang out at one of the local apartment complexes that had a pool... that happen to have some very nice good looking young ladies who would also be hanging out at the pool at that particular time. I sort of had to be his wing man for that. There are so many King Corcoran stories...some I can tell, some I can't tell, but they're all entertaining...you know and he always said "Hey man, the Lord is on top and Elvis is next and I'm right below Elvis working my way up the ladder." That's one of my favorite lines from him.
WFL: Tell us about some of your other Bell teammates and what are some of your fondest memories of them?
VP: Well...um Tim Rossovich. I'll never forget a game we had in Hawaii...after the game was over we saw Rosso and he was all scraped up in the front and we asked him what happened and he said "Well I was leaping from one balcony to the next and I slipped on one and fell"...actually one floor down. This was outside...you know like 13-14 stories up, so that was interesting and in my mind.
The trips, the camaraderie, being all around the guys, getting to the different stadiums... was just really special. How first class of an operation it was. I'll tell you one of my fondest...after they had the free agent tryout and I'm going to the next level...they had another invited tryout, so I got through the first 850 and then they had another 200 guys there. I'm there and I see this guy by the name of John Bosacco and I said "What the heck are you doing here." He said "Well, I'm one of the owners." John Bosacco I went to high school with the guy and he turned out to be one of the owners of the team. He said "what are you doing here." And I said I'm trying out (Laughing) so there I was trying out for a team that was owned by one of the guys I went to high school with, so pretty good memories with that you know...just wonderful.
Bobby Davis - I became really good friends with Bobby Davis. When we found out how the league had folded, it was at Green Streets and it was ladies night or something like that. We figured we get there really fast and have a good seat. We're sitting there with the bartender and he said "Hey did you hear the news?" Because the bartender knew Bob Davis... nobody knew who I was and he said "No what's the news." He said the World Football League just folded...he said "you got to be kidding me." Now this was before the days of the cell phones, so he puts it up on the news and there it was World Football League folded so he's has to go and make a collect call on the pay phone to his agent and he confirmed at that time that the league had folded and everybody on the whole team showed up at Green Streets that night and that was basically our farewell party. Because when we reported the next day as everybody knows the doors were locked. You couldn't get in to get your equipment, but eventually they held true and everybody got paid what was owed them and at that particular time and any personal belongings or equipment everybody was able to get it out which was cool.
WFL: Having heard the infamous stories, from rats in the locker rooms to fans crashing through the gates and onto the field during a game, what do you remember the most from playing at the old JFK Stadium?
VP: Well, the locker room..... and Tom Altieri our trainer...there was one training table and one whirlpool, and just the (poor) condition of the field because everything was at the old JFK Stadium. The enormity of it was beyond belief because it was wide open you know... it's like the old Soldier Stadium and very windy, but there would be ruts in the field because they would have the motorcycle drill show would be there, Rolling Stones concerts would be there...they would have the whole thing packed. Then we would have to come in a day or two days afterwards and practice there and if the field wasn't ready then we would just find some field right on the other side...other end of the bridge and that's where we would have to run practice at South Philadelphia's High School football field.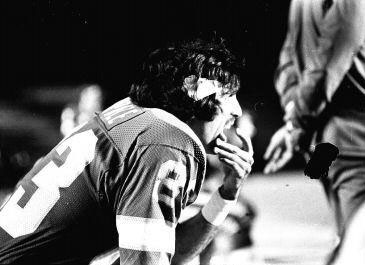 WFL: The Bell played at Franklin Field in 1975. What memories do you have from that season?
VP: The lack of crowds. Actually that's when we had... Hemmeter Plan was in play, and our big player that was suppose to draw all of the crowds was Ted Kwalick and he might have drawn maybe five or ten people. I just couldn't get over how playing in that stadium...that great stadium how empty it was and we had such a great football team at that particular time and it was really quite disappointing because I remember having gone in there with the Eagles when I was a season ticket holder and even though they weren't great teams it was always sold out, but hey I was playing in the stadium that the Philadelphia Eagles had played and who would know that one year later I would be playing with the Philadelphia Eagles, so maybe that was the thing that got me going.
(Laughing) Then I'll never forget this one time...another one of these situations in between practices where we're doing double sessions there is the King out there and he had this reflector on his chest getting his tan on his face, so who could ever forget the King doing that. Just a class act...a class act.
WFL: How did you feel playing for Ron Waller and what was the contrast between playing for Waller in 1974 and Willie Wood in 1975?
VP: Willie Wood was...you have to take this in the right vein Ron Waller was like an amphetamine and Willie Wood was like a soma...you know what I'm saying and I'm not saying that in a negative way. That's just their personalities. Willie was very low key, but driven and Ron was extremely motivated and real vocal and like to get into the action and his offense was absolutely incredible. I think he probably ran the first Run and Shoot offense I'd ever seen and it was ran to perfection with the receivers that he had and the quarterback King... nobody ran it better then King...you know Mouse Davis from Houston is the one who probably got credit for the Run and Shoot, but I swear that it was Ron Waller's offense that he was running. It was a little bit different with Willie, but with Willie came that pedigree and some of the guys that he had with him on his coaching staff ...and good stuff man it was just all great memories. Both of them I learned a lot from both of them. Willie Wood was a big motivator for me because he told me in spite of the fact I was thirty years old he felt I could play in the NFL. If I needed him for a recommendation then he would have done it.
WFL: On October 16, 1974 the Bell was hosting the Shreveport Steamer at JFK Stadium. The stadium held 90,000, but only 750 fans showed up. What was your impression of playing in front of the smallest crowd in WFL history?
VP: My goodness what happened? Where are the people because we had a pretty good team we were going on a run to the championship. Obviously they had lost faith because they had heard about the paper gate...the sugar gate...the first game where Domino Sugar gave out free passes. We thought everyone came and paid to see us play in that first game. I think people just lost confidence at that time, but hey it was what it was and I was still there playing, so it was good stuff.
(NOTE: The gross receipts reported for city taxes were equal to 22,000 customers paying full price ($7) for their seats. Many Bell insiders claim many more customers est 45,000... paid for their seats, although at reduced prices of $4 and $3. Major promotions with Domino Sugar and Campbell Soup reduced the actual full-price ticket values.)
WFL: In that game Steamer Wide Receiver Rick Eber claims he hid tacks in his taped fingers, so he could catch the slick ball in the rain. Do you recall anyone from the Bell offense doing such a thing?
VP: He did!? No, I don't recall anyone doing anything like that. It's like having that ultimate Stick Em, but I'll never forget our center...Ron Kecman or Bob Paschall...not sure who started...when he looked at the ball...the ball was all scratched. That's a great story. I forgot all about him doing that and it was pouring rain. It was absolute pouring rain and he made two or three finger tip catches in the end zone like nobody and then it turned out that he had the thumb tacks...and he taped them...put thumb tacks on his fingers. I'm going to have to tell that in one of my stories... talking about getting the edge.
(NOTE: Rick Eber of the Shreveport Steamer caught four passes for 91 yards and two TD's that evening against the Bell at JFK Stadium in the pouring rain. Vince Papale had a good afternoon as well catching three passes for 58 yards and one TD. The Bell lost 30-25)
WFL: The Chicago Fire forfeited the final 1974 regular season game against the Bell, ending the season on a low note, what was the mood of the players when they heard that their season ended with a forfeited game?
VP: I don't remember. I don't recall.
WFL: What was your outlook for 1975 and when did they contact you to play for the Bell in 1975?
VP: My outlook was that I was going to comeback and be a starter. Who knew because Willie Wood was coming in? You know you had to go through that same try out again. My outlook was extremely positive. I figured, hey why couldn't I be there again this year if I was there last year. I still didn't have any aspirations to play for the Philadelphia Eagles because during that time I was turned down for a tryout...because I know that a couple of guys that were playing semi-pro ball had gotten look sees, but hey it was what it was. I had a pretty good job teaching school at my alma mater again and I was working on my Masters Degree, so if I didn't play I would have gone back and finished out my education as a school teacher.
WFL: You caught one pass in 1975 and it was a 49 yard touchdown against the Southern California Sun in Anaheim. Former Bell kicker Bob Cooper said it was the best catch he has ever seen. Describe the play to us.
VP: Well sort of funny because I was put into the game and they lost my jersey, so I was wearing a guards jersey like a 66 or 68 and nobody knew who I was, and I couldn't believe we were in that stadium first of all in Anaheim. It was such a magnificent stadium. The ball was just lofted up deep down field. I just went up between two or three defenders and I came down with it and ran it in for a touchdown. My Dad was watching the game and he had no idea that it was me that caught the touchdown. The announcers didn't know who this person was because the number wasn't in the program because my number never made it to the game. Maybe that was foreboding for me, but I remember that was pretty fun. It was one of my best catches ever.
WFL: Speaking of numbers. Why did you wear number 83 in 1974 and number 44 during the 1975 season?
VP: Bob Colonna. Bob was our equipment manager and he was a huge fan of Pete Retzlaff from the Philadelphia Eagles and he asked me to wear number 44 it to honor Retzlaff.
WFL: We kind of touched on this question earlier. It's October 22, 1975 and the World Football League decides to fold after week twelve. Where were you when you got the news and how did your teammates take the news.
VP: Right. Well the teammates just took it with a grain of salt. You always knew that when your playing in league's like that you're playing on borrowed time. Who knew what was going to happen and you know things were going on around...you hear the stories. Hey they can't even launder their clothing. The payroll wasn't made; guys were staying with fans in the town. Hey you know...it was what it was. We had that shot. We had fun while we were there and like I said I was with Bobby Davis at Green Streets in Philadelphia and we all came together and had the party of all parties. Then we all met the next day and sort of said our goodbyes and went off and here luckily for me this Invincible story came about, so I got not only a second chance, but a third chance.
WFL: You've commented in the NFL Films documentary "Lost Treasures: The World Football League" the Philadelphia press didn't look favorably on the Bell, why?
VP: They just thought of us as a wannabe league. They looked at it as something not even as a feeder league for the NFL so to speak and that it was just a bunch of guys...athletes who were washed up and that sort of ticked me off because I wasn't a washed up athlete. I was a decathlete that qualified for the Olympic trials for crying out loud you know...so I was far from being washed up, and I thought I was in my prime at 28-29 years old and there was one announcer in particular...Al Meltzer...who just took offense...and I use to come home from practice and I'll never forget with my Dad...just be sitting there watching TV with my Dad and saying what's this guy got against us...all we are looking for is a opportunity or a chance, but hey we proved ourselves and did okay. We had our own little cult following which was cool and nobody has to apologize for anything that we did. The league didn't have to apologize, we ball players didn't have to apologize. We gave everything we had and fun while we were doing it. We played hard and partied hard.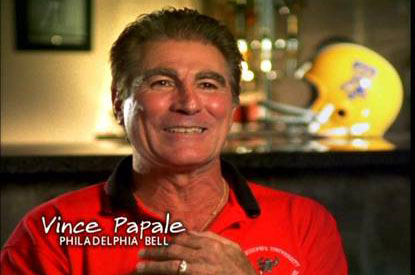 WFL: Tell us how the movie "Invincible" came about and how you felt about Disney leaving your playing days in the WFL out of the storyline?
VP: Well, I really wanted that to be in there first of all you know...I argued for them to get the WFL in there, but they left a lot of things out. The original script had my father left out, and I had to lobby for him to get in there, so that was one thing. Then I wanted to get my high school in there. I wanted to get St. Joe's in there. Disney has a way of doing things and not a criticism of Disney because the movie turned out to be successful, but what they wanted to do was to take a chapter of that life and of my life at that particular time when the World Football League had folded and I was coming off of the folding and I was actually waiting to go back and get my teaching job back, so I was a substitute school teacher and a bartender...part time bartender, but in reality I was a full time teacher working on his Masters and their thinking according to the screen writers simply was they felt the dramatic effect of making the Philadelphia Eagles might have been diluted if they had put the WFL in there which I didn't feel that way, but they know how to tell stories, and I was fine with that and I had to sign off on it obviously and that's how it came about.
You know the way the movie happened is real simple. Everybody thinks I write a book then they made a movie about that. Actually Rocky turned 25...2002...the fictional character I was always known as the real life Rocky when I tried out for the Eagles and I made the Eagles you know...a thirty year older and NFL Films decided to run with that and they did a feature that was shown on ESPN and then Hollywood saw it and one thing led to another and it became a movie, so it's four and a half years out now.
WFL: You're here in Philadelphia for the Bell WFL team reunion. How does it feel to be here tonight with your teammates from thirty-five years ago and what does that time in your life mean to you?
VP: Well it means a lot to me. If it weren't for the WFL then there wouldn't have been a NFL, and I'm not using that as a stepping stone or saying that it was a stepping stone. To me it's something I'm very proud of. I'm very proud of the fact that there were 850 guys at that original tryout...me and Dennis Lozzi were the only two that got to training camp and actually made the team. Then poor Dennis got his knee blown out in Birmingham.
I'll never forget that game in Birmingham...that big brawl that we had down there and Lozzi got his knee blowed out... and hey you know it's going to be so good to see guys that I loved back then and Ron Holliday who had such a tremendous impact on me. He took me under his wing...he was my mentor. Coach Waller giving me that opportunity... as crazy and nutty... and as tough as he was...I see him all the time and that's another thing I wish that in the movie that Ron Waller would have been given the just due that he should have gotten for giving me that first opportunity to play pro football. Once again they just didn't want to bring a whole bunch of people into it, so I'm really looking forward to it. Actually I'm real nervous you know...nervous in the nicest way...um how I'm going to be accepted because I'm the one obviously that went on and got the marquee out of it. That's why I really didn't want to say a whole bunch when I got there because Richie (Pollak) had asked me if I would get up and say a few words. I just want to be one of the guys and be recognized as someone who played for the Bell and not the Philadelphia Eagles and something I'm really proud of. I can't wait to see the guys.
WFL: Summarize your playing days in the World Football League.
VP: Awesome... Spectacular... Did the unthinkable... Incredible...Amazing... Fun... Funny... Heartbreaking...Just one of the greatest experiences of my life... Something I'm very proud of ...as I said...memories I will have forever and memories I'll cherish forever.
NOTE: The Vince Papale interview was conducted by Richie Franklin. This interview is property of the World Football League Web site and may not be used without the written permission of the Website owners.