---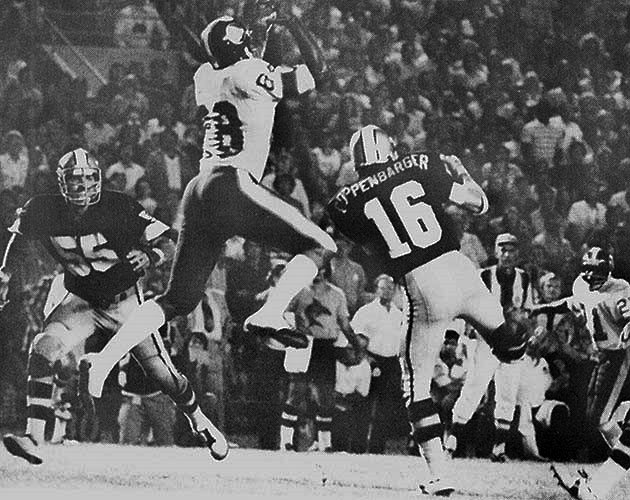 Ron Coppenbarger was a standout safety for Kansas State. After graduating from college, Ron's playing career included time with the Atlanta Falcons, Winnipeg Blue Bombers of the CFL, and the Jacksonville Sharks (1974) and Jacksonville Express (1975) of the World Football League. Ron played 9 games for the Jacksonville Sharks, before injuring his knee against the Hawaiians. He returned to the WFL with the Jacksonville Express, after turning down an offer to play for the New York Giants. Ron was a leader of the Express defense, and had one interception in an abbreviated 1975 season (the WFL folded on October 22, 1975). Since retiring from football, Ron has run several successful companies in the Florida area.
WFL: You played college ball at Kansas State, and then went to the CFL, when did you hear of the World Football League?
RC: I had actually played for the Atlanta Falcons. I hurt my knee in training camp in a practice. It didn't tear, but I had to immobilize it for a while. The Falcons released me and I had a former college coach who was working in the CFL so I went up there and played two games for the Winnipeg Blue Bombers at the end of the season.
WFL: How did you hear of the WFL?
RC: One of the coaches had called me during the off-season and asked if I was interested. I told him, "I don't know what I'm going to do, head back to the NFL, or try out this new league everyone's talking about." My college coach knew one of the coaches for the Sharks and he called him and said, "You really should sign this kid before he heads back to the NFL."
Jacksonville offered me a contract that was a little better than the NFL offers I was receiving, so I figured I would sign. I wanted to play, and I thought it would be better to be a starter for the Sharks than sit on the bench in the NFL and not do anything.
WFL: When did you join the team?
RC: I went down for training camp. We had camp at Deland, Florida. About two or three weeks before camp they brought down a bunch of players that they were thinking of signing and put us threw a lot of drills.
The difference in the NFL, unless you are a number one or two draft choice, or a two, three or four, you have a good chance of making the team.....past that, you have to be in the right place at the right time. The coaches usually have their minds made up after that, and that is what happened to me with the Falcons. The coach came up to me and said, "we would really like to keep you, but we know this kid, we've had him here for three years, is going to perform." As a player, you have to be there when someone gets hurt, or if there is a sudden change in the personnel. In the WFL there wasn't any of that. It was a new league, and all the personnel were new.
WFL: What were some of your memories of the Sharks training camp?
RC: I'd been through training camp in the NFL. I remember that in Deland, Florida it was incredibly hot. We went through two- or three-a-day workouts. The competition, between the WFL and NFL, the key positions, probably wasn't as good but overall it was a good league- I think there wasn't enough great players in key positions. There weren't enough good quarterbacks; good quarterbacks like George Mira, in the WFL.
One day in camp we were working out three-a-day practices. It was hot, and everyone was dead tired. Bud Asher was gettin' on his coaches about something and someone suggested that the offense pick their best guy and defense their best to see who the best was. So it turned out to be Tommy (Durrance) and me, goin' head to head, and I ended up tackling him. And we turned out to be friends.
WFL: As a former NFL player, what were your impressions of Sharks head coach Bud Asher?
RC: He was a character. We had played the New York Stars, our first game, on national television, and after the game we went up to the University Club for a celebration- all the players and coaches. Bud Asher got up in front of everyone and pulled down his pants to show the crowd his boxer shorts that had a "WFL" logo on them.
I have a photo in my office- we had a goal line stand in that game. It was Glenn Gaspard, from the University of Texas, and myself and we stopped New York on four plays from the goal line to win the game, 14-7. In fact, they took this photo around and the team did some promotions at local McDonald's with it. Everywhere you went around Jacksonville you saw this photo. It was a great win, and we played in front of 60,000.
When you are in that type of situation- a goal line stand- you simply react. Glenn Gaspard was a good middle linebacker, he wasn't real big but he had a lot of heart. In the huddle you talk about the other team's tendencies, but when the ball is snapped you just react.
WFL: What was your impression of the Jacksonville fans?
RC: Jacksonville fans are great and still great today. The Jaguars are supported. We had a USFL team here, the Bulls that they supported. I think the Sharks lead the league in attendance while we played there. They are 'football crazy' fans here.
WFL: You teamed up with Alvin Wyatt, Mike Townsend and Jerry Davis to form the Sharks secondary, what was that unit like.
RC: Alvin Wyatt. "Shine". He had a pink Cadillac and a phone in it. He was a character, ran his mouth a lot, but he could play he was a good cornerback. Mike Townsend came out of Notre Dame, and he was fast, he could cover a lot of field. Jerry Davis was a good player.
WFL: The secondary coach for the Sharks was Johnny Robinson, a former AFL All-Pro, from the Dallas Texans and Kansas City Chiefs. What did you learn from him?
RC: I learned more from Johnny Robinson in the two years I played for him, than I learned from all my coaches before. One of the first things he told me was, "If you want to learn how to play this safety position...you've got all the talent in the world, you can hit, you've got speed...you've got to get in that quarterbacks mind. You go room with George Mira, get in the quarterbacks head, follow him around, see how he thinks, and then you will become a great safety."
I spent a lot of time with George Mira, asking him what a quarterback would do in situations. When you get to the professional level it's the players who use their head that continue to perform. You've got to use your head in the NFL; you can't make it on talent alone. Johnny was a very smart player, and coach.
WFL: What was your impression of Sharks owner Fran Monaco?
RC: We didn't have a lot of interaction with the owner. While I was in Atlanta we didn't see Rankin Smith, and while in Jacksonville we didn't see Fran Monaco. He would come down to the field on occasion,
He called us out to his house in Deland, Florida to discuss Bud Asher. Bud was mostly a high school coach, he had coached some in college, but he was not a professional coach. In my opinion, he didn't have the experience to coach players of that talent. He didn't know how to relate to the players. There was a group of us, myself, Tommy Durrance, Fred Abbott and a few others. The whole team was concerned.
WFL: The Sharks lost several games in the final minutes or only by a few points. What was the mood on the team after so many close losses?
RC: I don't think we had come together as a team. It takes a while for a team, or group, to come together. Individual talent is one thing, but the team takes players, coaches, play calling, all of that- a team effort. I don't think we had come together to rely on each other. You take the offensive line. They take a while to come together as a unit- sometimes it takes a whole season. The secondary is also an area that takes time. You need to know each other's movements, and depend on each other for coverage. We were also learning a new system- through training camp and the season.
WFL: When the Sharks were not playing, did you watch the WFL's weekly nationally televised games on the TVS Network?
RC: Yes, I watch the WFL on TVS when we were not playing. Jacksonville was a great place to play and still today I have people still remember me the WFL in Jacksonville and recall the those days.
The 1974 season was exciting with a new league and especially in Jacksonville. I can remember the first game that was televised was in Jacksonville at the old Gator Bowl. We had over 60 thousand fans and of course we won the game. I will always remember the opportunity and be grateful for the opportunity the WFL provided for me.
(NOTE: 59,112 was the actual attendance for the inaugural home opener on July 11, 1974.)
WFL: What was your impression of Charlie Tate?
RC: Charlie was great. He knew the game of football, treated the players as men, and we had confidence in him. I don't think the team had confidence in Bud Asher. Not to be unfair to Bud, he may have been a better coach in time, but Charlie had been a coach and he knew how to handle situations. Bud would try to coach the offense and would override his assistant coaches at times and call some crazy plays that didn't work. You don't know what the coaches are going through, but it does undermine the authority. Players would be in the huddle saying, "What? Is this play gonna work?"
WFL: The WFL was notorious for giving away free tickets to its games. In Philadelphia, 100,000 tickets were given away for the team's first two home games. What was your impression of this practice after the news broke about false attendance reports?
RC: In Jacksonville, out of 50,000 fans, probably 35,000 paid to get in. Giving away free tickets was a great way to promote the WFL and the game. I think that some of the owners didn't have the financial backing that was needed to run a team, but many companies give away free or complimentary items to promote themselves. The WFL had to market itself. We were going up against the NFL. We hoped that people would come to the game, like the product, and then come back again. Of course, in Jacksonville, unlike New York, Chicago or Philadelphia, we weren't up against a NFL team.
The Jacksonville fans were great. The Jacksonville media was great. There is a core of people here that love football and will support you- no matter how bad you play.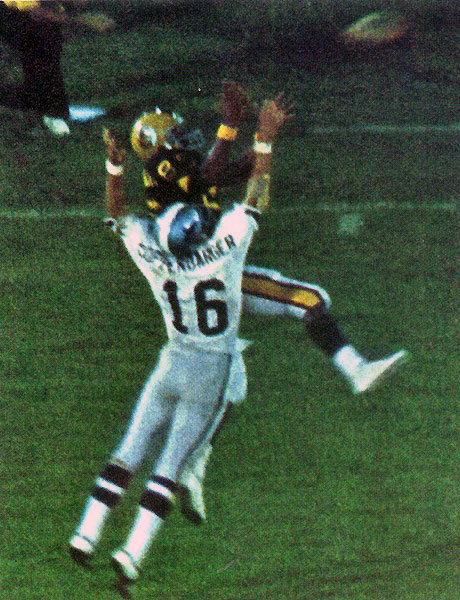 WFL: In October, you were the leading tackler in the World Football League. The Sharks hosted the Hawaiians, at the Gator Bowl, and you were hurt and lost for the season. How were you injured?
RC: I intercepted a pass. I was in mid-air and Jerry Davis, who was a cornerback, a right cornerback, was diving through the air and he hit me in mid-air and flipped me over, and it tore my interior and posterior ligaments- just tore my knee all up. The ball was a bit under thrown, I dove for it, we had a coverage where the strong safety goes over the middle and covers deep, and he didn't know I was there and just dove for it, he was a little bit behind his man and I had already intercepted the pass.
It was a brutal hit. I landed on my head. My helmet came off and I broke my nose. I was lying there and the trainers and everyone were looking down. They carried me off the field, I've always been able to get off a field before, but there was nothing holding my knee together it was completely blown apart.
They took me to the Jacksonville hospital that night at about 10:30 and operated on me at 12- they didn't wait at all. They gave me some morphine shots, and I called my parents in Oklahoma and said, "this doesn't look good at all." It was a three-hour operation. They did a pretty good job putting me back together. I went from a 4.4 forty, to a 4.6 or 4.7- it devastates your mobility and speed.
WFL: How did the financial troubles of the Sharks affect your recovery?
RC: There were a couple of times when we hadn't been paid for about three weeks, but I wasn't married and I would've played for free. I loved the game of football. The money didn't matter. In those days players weren't paid what they are today. Most of the guys on the Sharks had second jobs after the season was over. I signed for $18,000 in 1974, and eventually got all my money. The economics were different. Today players make millions of dollars, and the reserves make a minimum of about $200,000.
WFL: Did you and the players ever express frustration to management about not being paid?
RC: We all lived in the same apartment complex. I went to all the practices and at night we would sit around and talk about the team. We heard all sorts of things about the Sharks, and the financial problems, but we all wanted to play football. People there loved the game, I can't speak for everyone, but that was the sentiment.
The league paid a little bit more in 1975. They brought in some good talent; Calvin Hill, Csonka, Kiick and Warfield. I remember standing on the sidelines, and Fran Monaco was trying to sign Ted Hendricks to a contract to play for the Sharks, and they brought him into the Gator Bowl, and I remember looking at him and thinking, "this guy is a mountain."
WFL: It was rumored that former Hall of Fame, and Chicago Bear linebacker Dick Butkus was going to invest in the team.
RC: Yes. Dick Butkus' brother was our equipment manager. He would come around to our practices, I think he knew Fran Monaco and I think he was trying to invest in the team. We also heard that some of the owners, that couldn't finance their teams, would leave and the WFL would reorganize for 1975 with eight teams. I don't know why Dick Butkus didn't invest in the Sharks, it didn't work out.
WFL: When did you hear that the Sharks would fold?
RC: Charlie Tate had called a meeting the night before the news broke in the media. He mentioned to us that, "the team would be shut down" and that he "hoped something would change". I didn't attend all the meetings, I was on crutches, and it was too difficult to get around. That was pretty much how it happened- at a team meeting.
WFL: Who were some of the players who stood out on the Sharks?
RC: Carleton Oats, Fred Abbott. Fred played strong side linebacker, and I was a strong safety. Don Brumm. Don loved to drink beer. We came out of New York and they gave us some Carling Black Label beer, and I turned to Don and said, "you're gonna have to drink this, I think it's awful." Don would sit on the team plane and trade you food for beer- he loved to drink beer. We used to go to a place called "Annie T.'s" after the games and they gave him a bar stool, cause he was there drinking beer all the time. I don't think the guy ever ate.
WFL: What were some of your most vivid memories of WFL?
RC: Philadelphia. We played there, the field was torn up and there had been a horse show the day before, and there was horseshit all over the field. We were running around and playing in that. We had to get tetanus shots after the game. If you had an open cut, and that stuff gets to it, you would be in trouble, you could get lockjaw. Try to cut on a field like that. You plant your foot in a big pile of horse crap and it's all over.
I remember us riding to the game in school buses and Shark owner Fran Monaco rode to the stadium in a limousine, and we hadn't been paid for three weeks, and I was thinking to myself, "Why in the world are we doin' this? Why are we bustin' our heads trying to make these guys money and they're traveling like that." It didn't sit too well with the players.
New York. We played at Downing Stadium. The field was just old and worn out. We lost our first string quarterback, our second, and then our third. I had played quarterback in high school and Johnny Robinson came up to me and said, "Hey Ron! You can still play can't ya?" I said, "Yeah, I can try". So Johnny said, "Great, if this guy gets hurt you're going in." I stood there- stunned. I remember praying, "Please Lord, don't let him get hurt." I could have gone in there and thrown the ball a bit. I probably would've handed off to someone like Tommy (Durrance) and say, "here, you take it".
(Note: Jeff Davis, a reserve running back came in as the Sharks QB after the New York Stars knocked out starting quarterback, Kay Stephenson, and then backup QB, Kim Hammond.)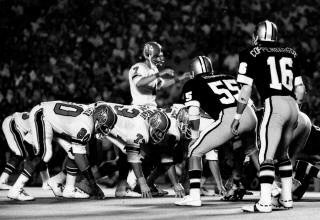 Chicago. We had gone there to play the Fire. The day before the game we were going to work out at Soldier Field and we were getting dressed and we realized that we had everything, uniforms, pants, helmets but they hadn't brought our shoes! We were all standing around without any shoes on. We went out there in our stocking feet. We had them sent airfreight for the game the next day.
Memphis. Our first game against Larry Csonka, Jim Kiick and Paul Warfield. I had played against John Riggins in college, and he and Larry were similar runners. You knew what Larry Csonka was going to do- he was gonna run over you. I remember the first time I tackled Larry Csonka. It was an off-tackle run and Fred Abbott had hit him and had him by one leg and was spinning him around and I had three of four yards to run up and I hit him as hard as I could and it didn't even budge him. I believe I tackled him eight or nine times during that game.
WFL: Jim Kiick?
RC: I was not as impressed with Jim Kiick, but Larry Csonka was for real.
WFL: What was it like covering Paul Warfield?
RC: Playing safety I didn't have time to cover him one on one. I thought Gilliam... John Gilliam was better than Warfield. Although both of them were great. You can't tell one from the other, but Gilliam I was very, very impressed with him. He was very smooth, and I really didn't have a chance to cover Warfield as much. They're all very great football players.
WFL: Was the Express really geared up for "The Trio" on your regular season opener in Memphis on August 1, 1975?
RC: Oh yeah...we were geared up to play them. We figured out that Larry Csonka was making more money per quarter as was our team was for the whole game.
WFL: They signed for a million a season.
RC: Yeah...something like that.
WFL: The average pay in the World Football League was $35,000, and that may be on the high end.
RC: My last year I made $32,000, and I was supposed to be the highest paid safety in the WFL. Whether I was or not I don't know. I know the first year I played at $18,000.
WFL: When were you contacted about playing for the Express?
RC: Charlie Tate called me. I had received a lot of offers from the NFL, and was real close to signing with the New York Giants. I had lead the WFL in tackles before I was hurt, and my knee was healing well from the operation, so I called Johnny Robinson. Johnny said, "Go to the NFL. If it doesn't work out you always have a job here." The WFL had brought in several players; Calvin Hill, Csonka, and the league was starting to show signs that it was past its problems. I thought maybe there would be a merger if the league could survive. I also had just gotten married and thought that Jacksonville would be a good place to rehabilitate my knee and play football with the Express.
WFL: What it is like for a player when you play your first game back from an injury?
RC: Until you get that first game under your belt you wonder if it will hold up. You've played football in grade school, high schools and college and you've always played a certain way. You always think if there is something you need to do, or something you need to change.
WFL: Your first game for the Jacksonville Express was the exhibition game in Chicago against the Winds on July 12, 1975. What are your memories from that game?
RC: Playing in Chicago, in June or July, it was cold. It rained like cats and dogs, and there was a thunder and lightning. It looked like there was a fireworks show outside the stadium. It was the first game that I had played in that season after rehabilitating my knee. The Winds had John Gilliam and a running back, Mark Kellar who were good football players.
John Gilliam was really good. I intercepted a pass against him in that game. He was smooth, and he was the best receiver I ever played against in the WFL. He could cut, at ninety degrees, and run all at the same speed. I played against Cliff Branch in college. After three years of football you start noticing tendencies that you can play against. I played safety; I was more of a centerfielder like in baseball, so I wasn't covering him more than I was covering a zone. John Gilliam liked running the post pattern and the quarterback under threw him and I was there to catch the ball.
(Note: Cliff Branch attended the University of Colorado, and was a fourth round draft pick of the Oakland Raiders. Branch played 14 seasons, all with the Oakland/Los Angeles Raiders.)
WFL: Tell us about the exhibition game in Jacksonville when the Express hosted the Hawaiians with Calvin Hill.
The game in Jacksonville, we were playing against the Hawaiians, and I remember looking across the field and seeing Calvin Hill and thinking, "This guy has got to be a lineman. He's got high-top black shoes on but he's wearing a running backs number." Later on I realized it was Calvin Hill. He was so big and strong- he stood out on the field.
It rained so hard that game that the Gatorade containers were floating on the sidelines. On one play I was covering the tight end and he was running an "out" pattern and when I dove for the ball, by the sidelines, I went up underneath the water- that's how much water was on the sideline. It just took my breath away. It was coming down in buckets.
WFL: So the field conditions were terrible
Oh yeah...At that time the Gator Bowl didn't have a good drainage system. In the south there are always bad thunderstorms... all the time. I can remember the first two or three games it was always wet. In Jacksonville, even in that thunder and lightning I bet there was still 10,000 or 15,000 fans in the stands.
WFL: Did you have a good feeling for the Express in '75?
RC: Yes, we had a good team. Defensively we had Steve Foley, and of course he was a rookie that year. I remember trying to talk to Steve Grogan. Steve went to Kansas State, and the team wanted to sign him, and I tried to talk to him. Steve was a 5th round pick of the Patriots, and I told Steve this league is going to make it, and we got some good players coming. Obviously, he didn't listen to me, and he went to the Patriots, and did very well.
We had some good players. We had a good defensive backfield. They took the best players from the '74 team and put them on the '75 team, and bought in some others. The whole league did that.
(Note: Steve Grogan was a fifth round pick of the NFL's New England Patriots in 1975. Grogan played 16 seasons with the Patriots leading them to Super Bowl XX against the Chicago Bears.)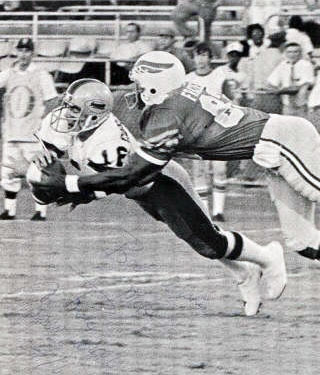 WFL: During the 1975 season, you were teamed with Fletcher Smith, Abb Ansley and Steve Foley. What was that group like?
RC: Fletcher had played some football. He had played with Johnny Robinson, when Johnny was older and at the end of his career, Fletcher was a rookie at that time. Johnny was really smart. The safety position is like a quarterback. Abb Ansley was a rookie and so was Steve Foley, and it was my third year of playing football. Fletcher had played ball for seven or eight years. He could show the guys things on the field, and all of us could hit ya.
WFL: During '75 season the Express are playing quite well. What do you think George Mira and Tommy Reamon bought to the offense?
RC: I think George Mira bought his brains. Besides that his athletic ability. I got the ultimate respect for George. His knowledge of the football game, and then Charlie Tate. Basically we had the same coaches we had with Bud Asher. We started out with a year under our belt under Charlie Tate's system, and our defensive system, so we had the nucleus of a good team from the prior year that we now knew what we were doing. You asked me about the three close games that we lost in '74. We weren't a team. We were becoming a team. We got some good key players. We got a couple of receivers, and Tommy Reamon. Tommy Reamon was a good running back.
WFL: What was your impression of Express owner Earl Knabb?
RC: I remember the first time I met Earl Knabb. I had come down to Jacksonville to sign my contract for the '75 season and when they introduced us he was wearing overalls. I will never forget that. He was great guy. I never knew why he wanted to own the Express, or any football team, whether he just loved football or what. Earl was a man of his word, and everyone in MacClenny (Florida) knew him and he always did good by our team.
WFL: Did Earl Knabb ever share with you guys any of the challenges you face running a new league?
RC: No...not really. I remember about ten years after the WFL folded I was in MacClenny on business and I ran into Earl, and he invited me over to his house, and he had all of these football films, and he said if you want any just take them. We sat down and talked about why it didn't make it. His heart was in it, and he loved the players.
WFL: Is he still alive today?
RC: No, Earl passed away about four years ago...five.
(Note: Earl Knabb passed away on October 27, 1999. He was 84 years old.)
WFL: Ron, we are slowly trying to put together a film library, and a library of news articles and photos. Do you know of anyone who can help us with that?
RC: I have news clippings and pictures, and probably some film. I have about 15-20 game programs too.
WFL: Would you feel comfortable donating or making copies of your film?
RC: I will have to try and make you copies. I think I got them all transposed to VCR tapes. I would have to duplicate them. The film I got is actually our breakdown film. It's either going to be all offense or defense. It is the same film we watched in our tape meetings.
WFL: Coaches film?
RC: Yes, it's coaches' film.
WFL: Do you have '74 and '75?
RC: I can't recall. I know I got some '75 because I know I got some offense because George (Mira) is there. I probably got 3 or 4 of them.
WFL: There was big rock concert following one of the Sharks games in 1974. Do you recall the band that played that night? Being from Jacksonville, could it have been the Lynyrd Skynyrd band?
RC: No, I don't recall, but I know they tore the field up.
WFL: With the NFL's Jaguars playing in Jacksonville now, do the fans still remember the Sharks and Express?
RC: Oh yeah...yes, because that was really the first professional league they were ever involved in. I had somebody about six months ago come up to me and introduced herself as the President of my fan club. I didn't even know I had a fan club. She said "I remember you. You were #16," and I said yeah. "We had a big fan club, and you got hurt," and they were all sad, and they came to the hospital to see me too. They still remember. The Jacksonville fans were great fans.
WFL: How would you summarize your playing days in the World Football League?
RC: The WFL not only gave me, but hundreds of other athletes the opportunity to fulfill their professional football career dreams. In 1974 the NFL only had 26 teams, which allows for 1040 positions open for the NFL rosters. This makes it hard for a college athlete to break into the 40 man roster of a NFL team. The WFL was the conduit for college athletes to accomplish their dream.
NOTE: The Ron Coppenbarger interview was conducted by Jim Cusano and Richie Franklin. This interview was slated for the World Football League Hall of Fame Web site, but was never posted, and is used with permission. This interview is property of the World Football League Web site, and may not be used without the written permission of the Web site owners.