---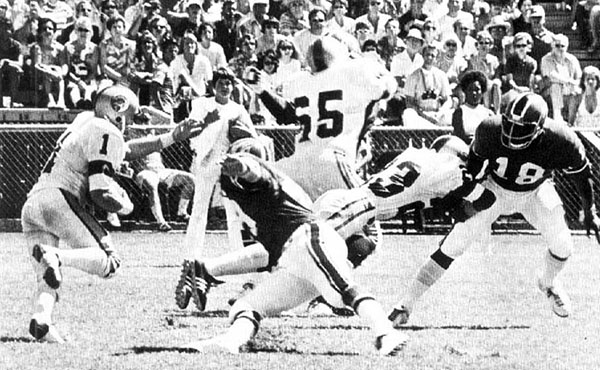 The World Football League Web site spoke with former Hawaiians defensive back John Moseley. John, after a successful career with the University of Missouri, signed with the Hawaiians in 1974. He continued his career in the WFL in the 1975 season. John openly discussed the players, coaches and his greatest moments as a player in the World Football League.
WFL: When were you first contacted to play in the World Football League?
I got a telegram from the Honolulu franchise on NFL draft day. I had a teammate at Missouri, John Kelsey; the Hawaii team drafted John. Over spring break they flew John and I out to the islands to talk to us about joining the team. We talked to Danny Rodgers, Mike Giddings and George Najarian- George was very involved in the negotiations and the discussions over dinner.
I had an agent, who was a member of the Missouri House of Representatives, and he thought signing with Hawaii and the WFL was the best for me. I was drafted by the St. Louis Football Cardinals- they were somewhat interested. The Cardinals drafted me late- I'm 5'8 and about 160- and I never really talked to them. My agent handled the discussions. I decided to sign with the Hawaiians, being from Missouri, it seemed like a great opportunity for my playing career. The idea of playing in Hawaii was exciting, and with my size I thought that the WFL would be a great setting for me. I was also contacted by the CFL, but decided to go with the WFL.
WFL: What was the Hawaiians training camp like for you?
Training camp was wild. Over 100 players reported to camp at Riverside, California- the heat and smog were unbearable. Any time you join a new team or start a new league you sit around and say to yourself, "man that guy looks good- he looks fast". We were playing with some guys who had experience and some who were just out of school like myself. The camp was hard- two a day practices and controlled scrimmages against the Sun. Mike Giddings, the Hawaiians coach, was a former Marine, and in great shape, and he would conduct these mile runs for the players in the heat. He also had all types of physical tests and situations to put us through. I was really motivated to make the team, it was very important to me. Some of the guys that Hawaii brought in they had signed to no-cut contracts, so they couldn't be traded or released. That made the available slots on the team less- so there was a lot of competition.
WFL: Tell us about your secondary coach, Matt Hazeltine.
JM: Great guy…loved him. Unbelievable great guy and we hit it off very well. I had a lot respect for him.
WFL: The Hawaiians opened the 1974 season at Orlando, Florida against the Blazers. What do you recall from your first professional football game?
In Orlando, my brother and his wife came down for that game against the Blazers. I had been gone from home for a while and was glad to see familiar faces. The Hawaiians had training camp in California and then we traveled to Florida for the game, so we were away for a while. The Tangerine Bowl at that time was very small, and it smelled like a stockyard. We lost 8-7. We then played the Southern California Sun at Anaheim and lost 38-31. So after about two months we were finally heading out to Honolulu to see where we were going to play and try to find places to live.
WFL: So the team is finally going to Hawaii for the first time. Were you able to find a place to live?
We flew over to the islands on Wednesday night after our game with the Sun, and on Thursday started looking for places to live. The University of Hawaii had an athletic dorm and they allowed us to stay there until we found something. John Kelsey and I, and about four other players decided to take them up on the offer. The tropics are different and it's not uncommon to see cockroaches and things in there and I think that some of the guys saw that and walked away. There were a few guys from UH staying there and they made martinis, which I thought was nice of them, so we drank martinis all night.
During the rest of the week, we were preparing to play Detroit, and during all this time I bought a Fiat Spider from a guy in the Navy. All these Navy guys were living over there and sometimes you could pick up good deals when these guys were shipped out.
WFL: Tell us about the first home game in Honolulu.
Our home opener was against the Detroit Wheels. That was a very memorable game, and it was my birthday. I believe the game was July 21st. I had a punt return against the Wheels in the fourth quarter of that game for a touchdown. The league was playing on Wednesday nights but Hawaii, being isolated, wanted to play their games on Sunday. Very memorable game for me, and it was my 22nd birthday, but it all went by very quickly. You went from worrying about making the team, and then you go into a new place trying to set up your life.
We had good attendance in Hawaii. I think we had over 10,000 each game, but it seemed like more. One thing about playing football in Hawaii is the sun. The sun is extremely hot, and there was some adjustment to that. We had only been in Hawaii for three days, the same as the Wheels, so we really didn't have a home field advantage.
NOTE: John Moseley returned the punt return for a 66-yard touchdown against the Detroit Wheels in the fourth-quarter. The Hawaiians defeated the Detroit Wheels, 36-16 for their first win of the 1974 season.
WFL: What were your first impressions of Hawaii islands?
We played at Honolulu Stadium. Aloha Stadium wasn't available- there had been building delays due to the fact that it was being built on an ancient Hawaiian burial ground. Finally, they got it blessed or something, this was out by Pearl Harbor, and the construction continued. When we arrived in Hawaii we played downtown in the old Honolulu Stadium…Hula Bowl- a rickety old, wooden stadium that was actually an old minor league baseball field.
WFL: Did the community support the Hawaiians?
The community held a luncheon for us, which was well attended. At that time, the World Football League had interest in going into the Philippine Islands, and Mexico for that international feel, and that would add considerably to the cost of running a team. There was also the added travel time to and from the mainland, and with us playing our games on Sundays that put considerable pressure on the other team's schedules. In the WFL, the owners shared the operation costs, the travel costs, equally, and I think that was the only way to make the Hawaii franchise work. They were really hungry for pro sports over there. Hawaii was anxious for sports. Being in Hawaii really added cost to running a team.
WFL: Tell us a bit about Jim Fassel the quarterback, and Jim Fassel the coach.
I definitely remember him. I remember him making the team, and then I thought…I remember him doing more coaching after Randy Johnson showed up. Quarterbacks…defense we didn't hang out that much. I remember him being a nice guy. I remember him more as a coach than as a player on that team.
In the second year the last game we played…he came back. We lost some players because the league was kind of folding around us, and guys were concerned about getting paid, so some guys chose not to play. I remember Jim came back and he was the quarterback for that game, and he was pretty rusty, and I had been a defensive back, but I was playing wide receiver. I remember getting smacked around some because of some badly thrown balls. To tell you the truth…he was a good quarterback you know. I remember him that first year, but I don't remember that much.
NOTE: John Moseley played wide receiver and defensive back for the Hawaiians on October 19, 1975 against the Southern California Sun. The Sun defeated the Hawaiians, 26-7. John caught one pass for 6-yards, and rushed one time for one yard. John had one tackle on defense, and returned one punt for 3 yards. This was the final game ever played in the World Football League.
WFL: For a new league the WFL had some good quarterbacks. You mentioned Randy Johnson. Name a few more you remember.
JM: Danny White…Matthew Reed…George Mira. Mira was kind of like the deal with Randy Johnson…where you had that experience. Wasn't it Danny White and John Huarte? Birmingham…Memphis had the same thing. You had the young quarterbacks, but then there was that guy who played quarterback before in the NFL. Maybe the younger guys had the stronger arm, and maybe run a little faster, but the guys with the experience played initially. Danny White and Matthew Reed got plenty of playing time even though the other guys came in and won out.
WFL: You mentioned you scored a touchdown on a punt return against the Detroit Wheels. Tell us about your interception for a touchdown against the Houston Texans in week 9?
JM: Yes, it was against the Houston Texans. Yes, I remember that, and it was in Hawaii. I got the game ball for that, and I still got it…a gold and orange ball, so I got it. It was signed by my teammates with the score. It was the fourth quarter. I intercepted the pass and scored. Then they got the ball back. Then we immediately scored again either another interception or a fumble, so the final score was kind of deceptive. I definitely remember that, and I still got that ball, and I'm going to hang on to it.
WFL: Playing against the Houston Texans. What do you remember about Jim Nance?
JM: I remember playing against him. Big…very big. One reason I remember that is because I remember watching him on television in the old AFL…I think it was the Boston Patriots at that time. All of this stuff runs together. He was big and you recognize that name.
One interesting thing about that Houston team. They had a receiver. I don't remember his name, but he got into trouble with the league…I think this is true as strange as this sounds he was somehow taping…
WFL: Rick Eber
JM: Okay…like taping tacks to his hands and you know we obviously knew about their wide receiver we were playing against. We were thinking to ourselves, "Man, I hope this guy doesn't cut me or something."
WFL: Who were some of the toughest WFL receivers you played against?
JM: John Gilliam of the Chicago Winds was a smooth runner and a great receiver. John was a classy guy, a professional. He came into our locker room, he knew Calvin Hill at the time, and he talked to all the guys and was very gracious. Ike Harris of the Southern California Sun was a great receiver, and Dave Williams was also. Up in Oregon, the Portland Storm, had Greg Specht, and he was a year ahead of me in school, and he had some skills. The Birmingham Americans had Alfred Jenkins and Memphis had Ed Marshall. We had a rivalry with the Sun from our training camp, so we were familiar with their personnel more than any other team due to the scrimmages we had in training camp. There were no exhibition games that first year.
Memphis had great receivers. I think Memphis had an identity crisis. They were the Southmen…Grizzlies (laughs). They had all kinds of names. They were well supported, and they had a good team.
WFL: The team started out at 1-7. Then the team started to turn it around after the Hawaiians started to bring in some NFL veterans.
JM: In training camp we started with 100 guys and cut that down to 37. During the season, after a 1-7 start, guys started disappearing like crazy. The NFL had gone on strike that year and when the strike ended a lot of veteran players were suddenly available. I don't know if they were players who were leaders in the strike movement or players at the end of their career, but many of them came to the Hawaiians. Mike Giddings had been an NFL coach, and we went from being a rookie team to a team of veterans. We had a tremendous change over. It was obvious that football was a business.
Our owner, Chris Hemmeter, was a driving force in the league and he signed many players who were due for the 1975 season and they came early; John Wilbur, Randy Johnson, Willie Williams, John Isenbarger, and Vin Clements- they had all been through this before. They were pro football veterans. Norris Weese was a good quarterback for us, but Randy Johnson brought experience in reading defenses and calling plays. These guys knew what to do. They had the experience and knew how to prepare for games. We went from a rookie team to a veteran team with more confidence and experience.
WFL: When the WFL experienced financial troubles in 1974 were you concerned?
Oh yeah. I was only 22, didn't know anything, and in Hawaii the financial aspects of the business were good. When Detroit and Jacksonville folded I remember thinking, "Did I make a mistake?" That's when you realize that football is a business. The alumni weren't going to bail you out. As a team, we discussed the league's problems, but I was young and really didn't worry about it. The owners of the team would come down and tell us that the team was fine, but we were more concerned with the league as a whole. Mike Giddings did a good job of holding us together and the NFL veterans helped out a lot.
We prepared well, and due to the financial soundness of the team, I think that we had a better mentality than some of our opponents. In 1975, I bought a round-trip ticket so I could guarantee that I had a way home if the league didn't work out.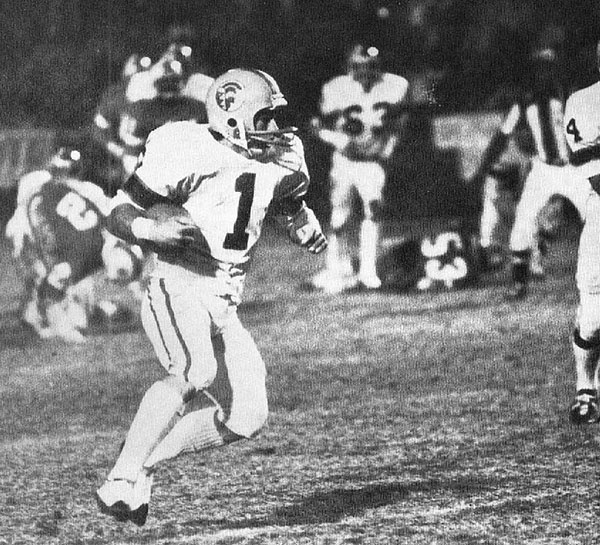 WFL: What were some of the more memorable games you played in?
We played the Chicago Fire at Soldier Field and rolled up on them 60-17. We were fighting for a playoff spot and we came in there on the tail end of a three game road trip. With the Hawaiians we would travel to Birmingham, swing through Memphis and Jacksonville, and then go up to Chicago using Birmingham as our "home" base. In the fourth quarter the game was out-of-hand and everyone was very relaxed it was good to get some revenge from the 53-29 loss they handed us earlier in the year.
We were down in Florida playing the Jacksonville Sharks. There were 44,000 fans in the stands of the Gator Bowl, and TVS was televising the game nationally on Thursday night. It was August 8th and we were going to play that game, and we were out on the field, and they delayed the kickoff because they were showing Richard Nixon resigning the presidency of the United States up on the big screen at the Gator Bowl. That was a real experience. I think the Gator Bowl had a big screen. I'm almost certain they did.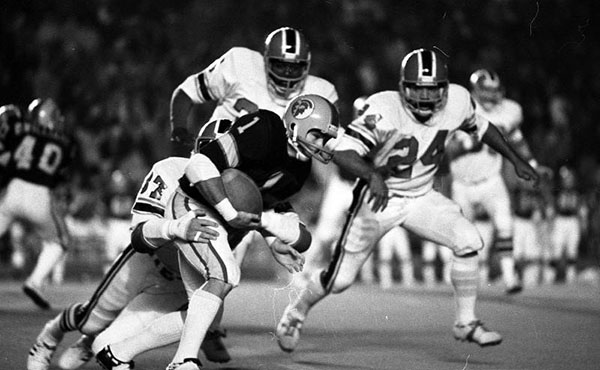 WFL: What were your memories of the 1974 WFL playoffs?
We went to Southern California and beat the Sun, and then lost to Birmingham 22-19. I returned to Hawaii, where I stayed for a while, and there was some money that I was to receive, money that I had deferred from my contract, and I didn't get it. When the WFL talked about reorganizing in 1975 I was very cautious about signing with Hawaii. The league had come up with a profit sharing program that was to guarantee a certain percentage to the players. I had been contacted by the St. Louis Cardinals and was talking to them about playing, and the CFL called again.
WFL: When were you contacted regarding playing in the WFL in 1975?
George Najarian flew into Kansas City and we met at the airport and we talked about the "Hemmeter Plan" and the Hawaiians. I recall thinking that if there wasn't any profit than there wasn't going to be any money, and I wasn't really interested in going through that again. The CFL was trying to sign me, but after talking to George, I decided to go out to Hawaii for the 1975 season. The owners of the Hawaiians did offer the returning players a guarantee as far as the amount of money you would receive- about $700 a game. George was a good salesman, and I really liked Hawaii.
WFL: What was training camp like for you in '75?
In 1975 we had training camp at a country club- Makaha Country Club. It was a golf course that overlooked the Pacific Ocean, on the south shore over by Pearl Harbor, and we would practice out on the grounds and the fairways of this golf course. We were located on a hillside and the field was sloped and everyone had back problems from going through drills on this playing field. The surroundings were unbelievable. There were mango groves and lush foliage all around us- it was like training camp in paradise. I would fill my helmet with mangos after practice. I had been through camp before, so I was resolved to being successful.
We had player coaches in 1975…John Wilbur…Adrian Young. I think it was to cut costs more than anything. One of our coaches was Adrian Young, who was a resident of Ireland. After the games, and on the road, we would socialize and we'd be sitting there getting crazy with one of the coaches on the staff. Adrian "Ado" was a great player with the Philadelphia Eagles, and he teamed up with Tim Rossovich to make a crazy duo.
WFL: Who were some of the Hawaii players that stood out on the team?
Tim Delaney was not fast, he was out of San Diego State- he was the leading receiver in the WFL, and he had a great way of shielding defenders from the ball. He ran perfect routs and had great hands. Tim wore this facemask that was a single bar across his jaw. He had it moved down so he could see the ball better and the defenders would just load up and smack him in the face every time they could- it didn't faze him a bit. I think the defenders tried to knock him out more than cover him. Tim was a poet type of person, quiet, and he smoked these awful cigarettes from Mexico. I think they cost five cents…great player.
Chuck Detwiler was a wily guy, tough. He was my position coach. He knew how to read a quarterback and how to deliver a blow. He wasn't a big guy but he could play. Chuck couldn't wait to get into the locker room at halftime, so he could have a cigarette. He would be sitting on the bench, with all the other veterans, lighting up during the halftime break.
WFL: Do you think the Hawaiians player/coach concept worked for the Hawaiians?
JM: I don't know. Everything is kind of clouded by the fact the league folded, and it seems that season was totally incomplete to really answer that. You look at the history of the first year… where we didn't start out gang busters that second year that I remember, but we had been through that, and the whole thing with these veterans is you make the playoffs and then anything can happen.
I liked it. I liked Adrian. I liked Wilbur…John Wilbur was completely different than Adrian Young. John Wilbur went to Stanford…has his MBA in different things. He followed George Allen around. He started out with the Rams and then the Washington Redskins. I think he may have been one of the guys that may have been tainted a little bit for the strike. He was one of the guys that was a representative, and I think Chuck Detwiler may have been one of the Union reps with the St. Louis Cardinals, and there may have been some retaliation. It was kind of weird going out on the road and hanging with the coaches. I knew these guys, so we would go out and get beers. We had a rule the first year. It's a pretty standard rule. Coaches would go out, and we would go out too. First of all you didn't fraternize. If the coaches were at the bar and a player came in you would leave, and if the players were there, and if the coaches came in, well they would leave. You didn't want to mingle too much. That kind of change when we had player-coaches.
I remember there was some friction between the offensive line and defensive line. Marv Marinovich…you probably know that name because of Todd Marinovich. Marv was our defensive line coach, and he is well documented vegetarian, and a real health fanatic. He had played for the Raiders. He was a big defensive lineman. He had trimmed down and got into shape. He was into stretching, and I didn't hang out with him, but I was interested in flexibility as I was always pulling muscles. I got to where I was leading the team in stretching exercises. I showed an interest.
Marv had a thanksgiving dinner for the defensive linemen, and invited a few other teammates, and I was one of the ones that got invited…you know Levi Stanley and everybody. It was kind of interesting. He flew in an organic turkey. At that time the only beer you could get in Hawaii was Primo and Olympia beer. You couldn't get Budweiser or beer like that, so Marv had Coors beer shipped over because he thought it was the most organic beer. You know his son; Todd never had a Big Mac. There was a real friction between Wilbur and Marinovich and the defensive line and offensive line. Part of it was because you had a player-coach in the trenches. We would have all kinds of fights and things like that, so it was kind of an interesting deal.
WFL: The WFL owners, in search of a fan base, spent millions on several NFL stars at the expense, some believe, of the well being of the league. What was your impression of the multi-million dollar signings?
There were several former NFL players that had signed with the Hawaiians- John Gilliam, Calvin Hill and Ted Kwalik. Some of these players were assigned to other teams in the WFL to help promote the league. I think the owners thought that if they were going to make it they would need drawing cards and big names in other cities. John Gilliam went to Chicago and Ted Kwalik played for Philadelphia.
WFL: What was your impression of Calvin Hill?
Calvin Hill was a classy guy, hard worker, professional- he had the notoriety and gave us a lot of confidence going into the season. He included everyone in on things and he represented the team well. Calvin was hurt in the beginning of 1975. He had gone down with a knee injury in the third or fourth game; it was a big deflating deal. There had always been questions about the stability of the WFL, and when Calvin Hill went down there was worry that the Hawaiians would go down with him.
Another interesting aspect of Calvin's injury was that the Hawaiians signed Duane Thomas to replace him. Duane Thomas had played with the Dallas Cowboys and actually followed Calvin in the backfield and he did very well. Duane was the first NFL player to refuse to speak to the press- and they roasted him for it. He was a devote Muslim. In the '75 season we still practiced in the old Hawaii stadium and all the players would show up in t-shirt and shorts and Duane would show up in a business suit, and he would always conduct himself in a professional manner. I would give Duane a ride home from practice- he never had a car- and we would talk philosophy and history and everything else but football while we were driving. I found Duane very interesting. I liked the guy.
Calvin Hill was a very classy person, and he really fit in with the team, and he was really a team player. Having someone like Calvin Hill there…we had some pretty good running backs that first year, but nobody like Calvin Hill. When he hurt his knee it was a noticeable black cloud for some reason. It was really a big deal.
WFL: Did Calvin Hill stay with the Hawaiians after his injury?
JM: I think he did, but I'm not sure about that. I think he did. I think he was a real classy guy. I think I remember him being around. We didn't make the whole season that year. I don't think he stuck around until the bitter end, but I remember him being around some of those games. I don't think there was any hope he was going to come back that year. I believe I remember him being around.
WFL: What was Aloha Stadium like compared to the old Hula Bowl?
Aloha Stadium was first class. It was the first time I had ever seen retractable seats, it was Astroturf, and I had played on grass at Missouri and I could feel a difference in my legs. We played the Jacksonville Express, it was the home opener for the new stadium, and their quarterback, George Mira was tackled and tore off part of his finger on a zipper that held the turf together.
WFL: Who were some of the memorable coaches in the WFL?
The Chicago team, the Winds, had a coach named Abe Gibron. Abe was a frumple looking guy, he had an old, torn, baseball cap and an old sweatshirt on and would stand there on the sidelines swearing at you- he would just keep screaming at everyone. He was very interesting. I liked him- he was a character. I didn't have any interaction with him, but he seemed like a real football guy. He seemed like a likable guy, but a crusty old guy too.
WFL: When did you hear about the financial troubles in 1975?
We had a meeting about the finances and the league, and some of the guys walked off the team- the handwriting was on the wall at that time. We met at the old Hula Bowl, and the coaching staff told us that the league had folded. We were given our jerseys and I stayed awhile in Hawaii before I headed back home.
WFL: What did you do after the folding of the WFL?
After the WFL folded, I came back to Missouri and decided to sign with the NFL and the St. Louis Cardinals. I was cut the last exhibition game of the 1976 season and retired from professional football. In '76 I had a different attitude going into training camp, I realized that it was a business, not a game, and that changed my outlook on playing football. There were players out in Hawaii that I played with and it was obvious that they were past their prime and really didn't know what to do for a career after football. I had a different attitude in that camp than what I had in the Hawaiians camp.
NOTE: The John Moseley interview was conducted by Jim Cusano and Richie Franklin. This interview was slated for the World Football League Hall of Fame Web site, but was never posted, and is used with permission. This interview is property of the World Football League Web site, and may not be used without the written permission of the Web site owners.