---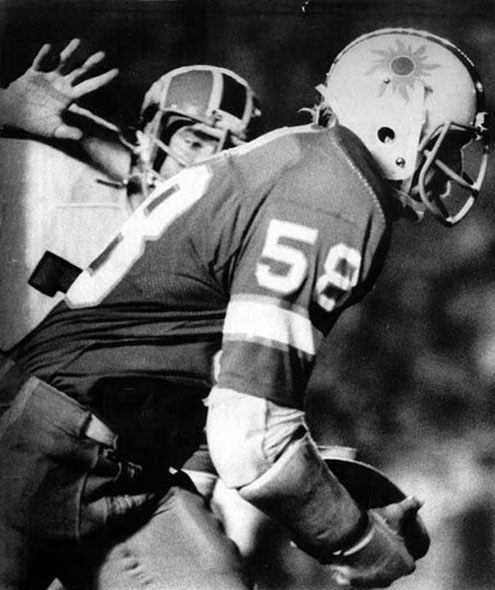 Eric Patton was a respected and feared middle linebacker in the World Football League. Born in Compton City, California, Patton received much acclaim during his high school playing days at Mater Dei in the mid-'60s, when he earned All-CIF and county all-star recognition as a middle linebacker. Patton received scholarship offers from Stanford, USC, and Notre Dame. Patton chose Notre Dame and had a distinguished career playing for the Fighting Irish. Upon graduation, Patton was drafted by the Green Bay Packers, but was released prior to the season. Patton signed with the Southern California Sun of the World Football League in 1974.
WFL: When did you first hear of the World Football League and who contacted you about playing football for the Southern California Sun?
EP: I had played college football at Notre Dame and was drafted in the fourth round by the Green Bay Packers in 1972. I went up there and worked through training camp and was cut. I spent a year out of football and went back to Notre Dame to take some graduate courses. I had always felt that I had more to prove, that I could play the game. I had heard of the World Football League from a newspaper article and always knew that I was going to play.
I was in coaching at that time, high school football, and asked a former high school coach of mine if he thought I had a chance. He said, 'there gonna need some football players' and he felt I fit the mold and that I should look into it.
From the press releases I knew that the WFL was going to have several teams in the league. I was originally contacted by the Hawaii team. The Hawaiians coach, Mike Giddings, had quite a few contacts in the NFL. He had run camps and written scouting reports and knew NFL talent well, and knew that I had been a fairly high draft pick the year before and he came over to the house and we talked for a while about playing for the Hawaii team. I said I was interested but would prefer to play in California, and in the meantime made contact with the Sun, whose offices were in Newport Beach, and accepted an offer to play in Southern California. It was exciting to be back in professional football.
I made contact with the Southern California Sun, Gerry Okuneff, the director of player personnel, and signed the contract and went to camp a few weeks later.
WFL: What were your memories of the Sun training camp?
EP: It was exciting, a new opportunity. It wasn't the Green Bay Packers camp where I was looking across the field at Ray Nitschke, who I watched as a kid playing in the Super Bowl, and here I was trying to beat him out of a job. I think it was the last year he played, but he was still a legend. Dave Robinson, Fred Carr and Tommy Joe Crutcher were all there, so here are all these guys from the Lombardi era- the linebackers. The starting middle linebacker, the position I played, was Jim Carter, who was an All-Pro. The Packers had an impressive collection of talent. Bart Starr had retired that year, so there was a lot of glamour with the Packers and coming into that as a rookie was special.
The Southern California Sun camp was a bunch of guys like myself who were trying to make a career in professional football or trying to hang-on for a couple more years. The Sun did have some 'up-and-coming' stars; Booker Brown, James McAlister, Kermit Johnson and Tony Adams.
WFL: What was your impression of Sun owner Larry Hatfield and head coach Tom Fears?
EP: I really liked Tom Fears. He was up front and honest. In the camp, there was an aura of disorganization. These coaches were trying to create something out of nothing. They (the coaches) all had NFL experience and knew what a professional camp should be like and it was close to NFL-style. There were a lot of guys coming and going, you didn't have the veterans, or the traditions- like rookies having to get up and sing at meals. We tried to have as professional camp as possible.
I would see Larry Hatfield once in a while. He would come down to camp, or hang around, but he really wasn't around that much. We, of course, knew who he was. Gary Davidson (WFL Commissioner) came down and checked out the operation, but they certainly didn't spend a lot of time with the team.
WFL: Who were some of the defensive players on the Sun you 'bonded' with?
EP: Dave Roller was one of the first. He had been in the NFL for a short time. Dave and I were both married and had children- the married guys tended to 'hang-out' together. Jack Connors and Eric Johnson were both good friends of mine. I went to high school with Kevin Grady, who played offensive guard for the Sun. Joe Carollo, who played in the NFL. Joe brought a lot of experience to the team. Dave Williams. Dave Witcher. The older guys brought an aura of stability and experience to the team. The Sun had a younger team than some of the other WFL teams in 1974. The Hawaiians, especially, had a young, rookie team.
WFL: The Sun traveled to Birmingham to face the Americans I their home opener. What were your memories of that time?
EP: I was injured in training camp and missed the first two games of the season- at Birmingham and home against the Hawaiians. I broke my toe in camp- a freak accident. The starting linebacker was Ken Lee, who had played for Buffalo of the NFL, and played college ball at the University of Washington. The WFL drew well in Birmingham, and the crowd was great, the trip was good. I heard from the guys that everyone was excited about getting started- even though we lost 11-7.
My first game back was against the Jacksonville Sharks. I was on special teams. There was a spectacular end to that game. We won 22-19 on the last play of the game. We weren't playing that well, but everyone knew that Tony Adams was a good quarterback- he just didn't have a lot of experience. Jacksonville had this running back, Tommy Durrance, who we just couldn't stop. They moved the ball on us all night long. They didn't score much. The 'play' really came out of nowhere. Tony Adams just took the snap, stepped back, and threw it up to Dave Williams. It was a 'Hail Mary'. It was a prayer. We kinda walked off the field thinking, "what did we do to deserve this?"
The Sun traveled to Houston to play the Texans in the Astrodome. I came in and played well and started from that game on. That game was in stark contrast to the opener in Birmingham where we had drawn 35,000, I think there was 10,000 or 15,000 there that night. The WFL was suffering from rumors about free tickets and padded houses.
WFL: When the rumors of free tickets and the false attendance reports came out, did that worry the players as to the financial strength of the World Football League?
EP: We were all pulling for the success of the WFL. We all wanted it to go. It wasn't the free tickets that were an embarrassment- it was a shame we had to do that to get people out to the stadium. The Southern California Sun actually drew quite well, as did Birmingham and some of the other teams. The league had real problems in Detroit and Philadelphia, where they just couldn't get people to come out to the games. The free tickets were really no big deal. We thought we had the financial backing to go a full year and put on a really good show. Looking back, you've got to wonder what they (the WFL owners) were thinking about if they couldn't at least get through one year.
WFL: When did you start to see issues within the Sun organization?
EP: We were about two-thirds through the season when our first paychecks were late. In 1972 and 1973 I taught at a private school and coached football and I made about three or four times more than I did playing football the year before. I was used to getting' by without much money, and a lot of the guys were used to playing in college, where they didn't get a lot of money- you played for room and board. The players weren't out to make a lot of money, I think it was the life style, the glamour of playing professional football that was the allure.
The late paychecks were the first sign of trouble. A lot of times it wasn't the fact that they were late, it was the cover-up that made things worse. I remember one time Curly Morrison came to the team and said, "the secretary that does payroll just quit, and we had to hire someone else." It just didn't sound right. After a game against the Shreveport team, they had just moved from Houston, some of our guys knew their guys and they talked and they had said, "yeah, we haven't been paid and there's no money", and that was kind of the way things went. We had heard that many of the clubs weren't getting paid. Curly Morrison eventually told us that they were trying to reorganize and that things would be worked out. The players were all willing to wait if that's what it took to make a go of it. It didn't affect our play on the field.
I was Christmas shopping with my wife at K-Mart and we were in the TV section watching the World Bowl where the Birmingham Americans were playing the Florida Blazers and the vision of the sheriff's department confiscating the uniforms due to some debt- that wasn't something we needed in the public relations department.
WFL: Did players from other WFL teams share their situations with you?
EP: In Detroit, the guy who was the backup center in Green Bay was the starting center there- and we would we say, "How are they treating you? How's the travel? Are you getting paid? Are you getting your laundry back? Do you have clean uniforms? When you go on road trips are you getting your per diem?" Many of the guys just felt that if they could hold on the league would turn around. If we could survive one year and get a television contract we would be fine.
The Sun traveled quite well. In fact, early in the season, we would spend the night before a game in a hotel near the stadium. Later on, we would stay at home and drive to the game that morning. Early on, we also would have these fantastic pre-game meals. Everything you could want. It was almost excessive. As the season progressed, instead of steak and potatoes before a game we would have cheeseburgers and pancakes. Tom Fears stood up in front of the team one night and told us, "I've been speaking to a nutritionist and they feel that a lot of protein isn't good for you so we are switching to cheeseburgers!" We didn't know anything about nutrition, but we did know the difference between steak and cheeseburgers.
WFL: What was it like for you playing in Green Bay and then playing in Hawaii with the WFL?
EP: That was a great experience. It happened towards the end of the season, as we were having money troubles, and we spent a day-and-a-half after the game on the beach at Waikiki. There wasn't a need for us to stay that long. We didn't have the money, but it was a great experience. I always felt that the Sun was a first class operation. Our locker rooms were at Anaheim Stadium. We worked out at a park that was close by, and we did practice at the stadium at times. In 1975, we went to camp and trained where USC trained. There wasn't any difference between the Sun and the Rams in that respect. We never lacked for the necessities- equipment, good trainers.
WFL: What was it like for you to travel to some of the smaller WFL cities- Detroit, actually Ypsilanti, Michigan- Portland and Shreveport?
EP: We traveled to Detroit. The stadium was in Ypsilanti, Michigan, and you could actually hear cows mooing in the field next to the stadium. We played before bigger crowds in high school. That was a good sign that the franchise was not going to make it. Detroit had thirty owners- something crazy like that- if you had a couple of thousand dollars you could own a football team. I had an uncle of mine who met me at that game and it was kind of embarrassing. It was a crazy league in that way. You would play in big time stadiums one day and in some smaller ones later.
WFL: The Sun had knack for winning close games in the end.
EP: In Chicago. Keith Denson, we called him 'the flea' because he was so small and fast. Keith caught a last-second pass to beat the Fire, just like we did against Jacksonville.
WFL: What made the Sun defense so good?
EP: We had a lot of guys that picked up the system well, and played together well. In talking to a lot of the teams, many of the other WFL teams had a lot of changes in personnel- there was a revolving door, players would come in and out. In the 70's if you made an NFL team you pretty much had a job for the year. In the WFL there were guys who were there one week and gone the next.
On film we would see the same guy playing for Jacksonville one week and for Shreveport the next week.
We had a lot of consistency with us throughout the year. We didn't have a lot of changes.
WFL: Who were some of the defensive players on the Sun that stood out?
EP: Dave Roller was very flamboyant. He was out to promote himself, and make tackles. Sometimes he would go the wrong way and make a great play, but he would open us up to something that myself or another linebacker should compensate for. Dave had incredible talent, and having Charlie De Jurnett there also helped- he controlled the line of scrimmage and complimented Roller. We had some good linebackers. Jim Bakker and Cleveland Vann were solid- undersized, but fast. The defensive backs were good- Eric Johnson went on to play in the NFL.
WFL: Do you recall a certain game where the Sun defense came together?
EP: Going back to the game against the Texans, in the Houston Astrodome. We weren't playing that well going into the game, and the Texans had Jim Nance, who was a great running back. That was the game where I won my starting position from Ken Lee. I came in and played well. We blitzed, and stopped Nance a couple of times close to the goal line and on some short yardage plays and we were all young, the league was young, and we were looking forward to long careers. That was the game I remember the most.
We had a lot of good players on that team. Charles De Jurnett played for the Kansas City Chiefs for years. Dave Roller played in Green Bay and Minnesota. Eric Johnson played in the NFL and USFL. Tony Adams, Kermit Johnson and James McAlister all played in the NFL.
One day, in the middle of the season, Brian Stenger- he had been a legend before me- and he had gone on to play for the Steelers after Notre Dame. He came to the team. I was always interested to see how we compared to NFL talent, and Brian told me that he thought we had a lot of good players on the Sun.
WFL: Prior to the playoff game against the Hawaiians, Kermit Johnson, James McAlister and Booker Brown left the Sun due to missed paychecks. The Hawaiians on the other hand added some former NFL talent. How did that make you feel?
EP: We felt like things were coming unraveled. Those guys were our offense. It was hard to replace them at the end of the year, and it was hard to get up for that game. It all came down to dollars and cents. I don't really blame them, you have to look out for your investment and your future, and it added to the feeling that the WFL was headed down the tubes. From a personal standpoint, I think everyone played hard, we felt like we should have won the game.
WFL: The WFL fell victim to the "Star Syndrome"- the signing of NFL talent for huge bonuses and salaries that were paid during the '74 season to heighten interest. What could the WFL have done differently to succeed?
EP: I don't really blame guys for making big money. When you look around the WFL, guys like Larry Csonka and Calvin Hill gave the league credibility. They were worth the money they were getting paid. As a player, you learned quickly that a person's salary didn't always equate to their performance on the field. One of the things the WFL proved to me was that there is a lot of players out there with a lot of talent who just didn't get a chance in the NFL. The "Stars" had a presence with the public. If the public doesn't have confidence in the fact that what they are watching is a quality product, then they aren't going to watch or spend the money to come out to the games. You need to have that image that what you are offering is comparable to the NFL. What was an issue for me was the 'stars' who came over, took the money, and then 'cashed out'- they didn't perform or work hard.
WFL: What was it like playing against Larry Csonka, Jim Kiick and Paul Warfield of the Memphis Southmen?
EP: Playing against Memphis was a thrill. I was psyched, very 'pumped up' about that game. I was in my stance on one play, looking over the Memphis offense, and I looked straight at Csonka and he looked up at me and grinned.and with this big grin he winked at me, as if to say, "O.k. kid, I've been through this a number of times, a few Super Bowls, this is just another day at the ball park." Playing Memphis, and against superstars like that, was a thrill for me.
WFL: You also played against Calvin Hill?
EP: Calvin Hill hurt his knee in that game. I also blew out my knee during that same game. The old stadium at Hawaii had high grass and I had long cleats on, and I planted my left foot and was hit high and the twisting motion tore my knee apart.
WFL: Do you recall the play that Calvin Hill got hurt on?
EP: No, just that we couldn't stop him. I think I was already out of the game. He ran right through us. Then he went around end, and into a pile, and he got hit and tore his knee up, and he didn't get up, and was gone for the season.
I just remember someone saying.it was kind of black humor, but you certainly don't want something to happen with an injury of that type. Someone said I'm glad. That is the only way we could stop him. Of course he was able to recover.
Ken Bowman, who was the center for the Green Bay Packers, and he was the center for the Hawaiians. I always liked Kenny Bowman. When I was at Green Bay, he was one of the few veterans that would talk to me. We weren't friends, but I always liked him. He went to law school, and got his degree when he was in Green Bay. I just remember seeing him, and talking to him for a little bit about the injury, and he said it was a bummer. That's one of the times you run across someone you played against before.
WFL: Who contacted you about playing in the WFL in 1975?
EP: We were waiting and hoping that a package would be put together to allow us to stay in Anaheim. The "Hemmeter Plan" came forward. Our impression of the plan was that all the money would be put into escrow before the season, so that the problems of 1974 wouldn't resurface in 1975. All the teams would have to be capitalized before a game was played.
We received our back pay- pay missed from the 1974 season. That held us over during the off-season and we all came back and felt good about our chances. Then, as the season progressed, the same troubles came up again. The Chicago Winds folded. Teams were in trouble. Owners were suspect. The Sun players were hopeful that we could finish the season, and that everything would work out.
One day, after the Sun folded, we were sitting in Larry Hatfield's office. Guys were wondering what they were going to do- go to the NFL, get jobs, all of that kind of thing. Larry leans over to me, my leg was in a cast due to my knee injury, and said, "You know Eric; out of everyone here you will probably make out the best." He was referring to worker's compensation payments. I remember thinking, "my contract is more than worker's compensation." That's when I realized that we weren't going to be paid after the league had folded. Traditionally, in the NFL, you would receive your pay spread out over the number of game you played. In the WFL, you would receive 1/52 of your pay each week, and when the league shut down we were out of luck.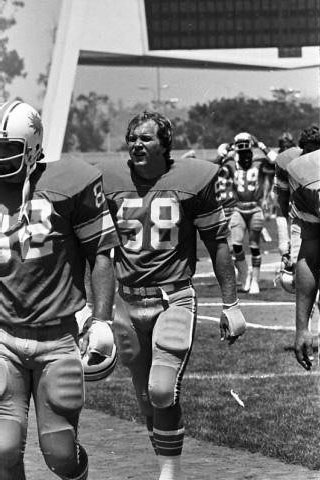 WFL: Did the players take any legal action against the league?
EP: The players had contacted an attorney, Doug Paty, who also represented the team. We were so stupid in those days that we didn't realize he was representing the Sun, and we were basically told that 'nothing could be done.'
WFL: When did you hear that the WFL had folded?
EP: I was injured and used to help the coaches break down game film. The Sun had let go of Ed Cody, our defensive coordinator, and we were working out at Los Alamitos and Tom Baldwin came up to me and said, "That's it. The league is done, it's over." I remember there was a meeting with Tom Fears, he called the team together, and to his credit, he was always a players' coach, he told us, "if anyone wants a tryout in the NFL, I've got a lot of contacts and I'm willing to call for you. It's been a pleasure working with all of you." Tom Fears was very gracious about the situation.
WFL: When you look back at your two years in the World Football League who were some of the toughest players you remember?
EP: Ben Davidson of the Portland Storm. Ron East of the Hawaiians. They were great players- quality guys. Jim Nance of the Houston Texans. Some of these guys were legends that I had grown up with. The WFL gave to me a feeling that I was executing at a higher level of play in a game that I loved.
WFL: Any crazy stories us about from the Sun or WFL?
EP: One crazy thing I remember was one night in Shreveport. Ernie Wheelwright had been involved in some legal proceedings in Louisiana and order to appear in the court for a deposition or something. He didn't attend. At half time of our game against the Shreveport Steamer, these federal marshals came in and took Ernie out in handcuffs. It was a crazy league and all kinds of stuff happened.
WFL: What was your impression of Anthony Davis?
EP: He was a great player. He added a lot of credibility to the program. Pat Haden, J.K. McKay- they were all good players. Daryle Lamonica came over to the WFL and gave us some credibility. I can remember watching Joe Carollo play on the L.A. Rams when I was a kid, and there I was playing with him on the Sun. To me, it was more than the money, it was the memories- the moments. Guys like Mike Ryan, Paul Siler.Kevin Grady were some others.
WFL: What would you like to tell people about your WFL experience?
EP: If someone said, 'we'll take the WFL years away from ya and give you some more time in the NFL' I would turn it down. The best years of my football career were in the WFL with the Southern California Sun. We didn't have the media attention; the hoopla, the money, but the things I learned in the WFL have made me a better football coach today. I wouldn't trade those days for anything.
NOTE: The Eric Patton interview was conducted by Jim Cusano. This interview was slated for the World Football League Hall of Fame Web site, but was never posted, and is used with permission. This interview is property of the World Football League Web site, and may not be used without the written permission of the Web site owners.