---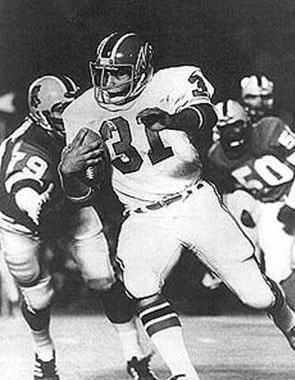 Mark Kellar signed with the Chicago Fire after leading the nation in rushing with 1,702 yards. A college standout at Northern Illinois University, Kellar signed with the Fire and the new WFL. Despite being injured at the mid-point of the season, Mark was second on the Fire in rushing with 778 yards on 189 carries and scored 9 touchdowns (leading the Fire). Mark also added 28 receptions for 342 yards and 6 touchdowns. Mark led the Fire in scoring with 108 points (15 touchdowns and three action points). In 1975, Mark signed with the Chicago Winds and in their brief history rushed for 179 yards on 62 carries and caught 19 passes for 181 yards. When the Winds folded after only a few months of play, Mark was assigned to the San Antonio Wings where he rushed for 187 yards on 66 carries and scored 2 touchdowns. When the WFL folded, Mark signed with the Minnesota Vikings where he played for three years before retiring from football.
HOF: When did you first hear about the World Football League?
MK: I was a college senior at Northern Illinois and I'd led the nation in rushing. I was drafted by the Minnesota Vikings in the sixth round and while I was up there visiting, I got a call from the Canadian Football League and the World Football League at my hotel. I talked to both the CFL and the WFL and the Chicago Fire of World Football League. Bill Byrne told my agent John Garrity, that their first draft had gone off and they didn't expect to sign many of those guys but their second draft is coming up and we're going to draft me first. It was a great opportunity to play in Chicago. I was from the Chicago area and when the WFL was formed it seemed like an alternative to the NFL. I thought that it might be a good chance to do some speaking engagements and make some money. In Minnesota I knew I would be behind some other guys, so I thought I would see what the new league was about. I was young kid, 21, and never had any money. I wanted to stay in the area, play football, and the Fire seemed like it was a first class operation. I think I signed for a bonus of $4,000 or something like that- not much by today's standards.
HOF: What was your first impression of Fire owner Tom Origer?
MK: Tom was a straight forward guy. Tom passed away 12 or 13 years ago of a heart attack. He was a young man. He treated me well, and paid me every penny I was owed. He was a good businessman and had enough money to run the team the right way. He represented us well, spoke well. We had nice offices; Tom hired good people to run the team. The coaching staff was good. He was disappointed that the other owners didn't have the money to keep the WFL going. Tom wanted to make sure it was a prudent investment. In the beginning it was, and later it wasn't. He had a real estate empire in Chicago and didn't want to pay for the mistakes of the other WFL teams. Finally, he gave it up. My first interaction with Tom was when he held a press conference to announce the signing of Jim Seymour, Steve Wright, Virgil Carter and myself- we all signed on the same day. That's when things were getting to be fun. That was quite a day for a young kid like me just out of school, standing with these former NFL players and representing a brand new team- it was exciting.
HOF: The Fire held their training camp in Lake Forest, Illinois. What was that like for you?
MK: It was neat, it was hard. I knew I was going to stick it out and make the team. The contract was a guaranteed contract if I made the team. I started off sixth on the depth chart at camp- camp started on June 10th and our first game was July 10th. There were a lot of guys there trying to make the team. The workouts were tough. Fire coach Jim Spavital was a real drill sergeant when it came to practice, and we had two-a-days for quite some time. Since I was fresh out of college I'd never seen anything like it. The heat, the contact, it was quite a time in my professional career.
HOF: You were nicknamed the "Baby Bull" by the Chicago media because of your running style. How would you describe your running style?
MK: I didn't have a lot of speed or moves, so I looked for holes and went through them. I just as soon take somebody on rather than go around them, kind of like a Csonka. They called me all kind of things. For the most part I tried to do what I could. I went back to Northern Illinois for a game and they were putting together a list of the 'Top 100 Runs' of the century- I had rushed for 4,000 yards in three years and didn't make the list........at all. That pretty much shows you what kind of runner I was. I was more effective between the tackles when running for the Fire- I didn't dance around much. Cyril's style and mine played off each other well.
HOF: One of the greatest quotes of all-time was when you told the Chicago Tribune, "I don't have much speed. When I run the forty they have to use a calendar to time me." Do you remember that quote?
MK: Yeah I do, that was pretty funny.
HOF: Who were some of the Fire players that stood out in that training camp?
MK: Virgil Carter. He was an incredible professional and a great quarterback. Cyril Pinder was great. See, I was a Chicago kid and I grew up watching the Chicago Bears, and to stand there and look over and see Cyril lining up next to me........well, it was something. He was a well-built kid, about 26 or so, Cyril is a great guy, and he really helped me a lot. He taught me a lot about the pro game, in fact we now work for the same company. Every now and then we'll reminisce about the ol' days. Camp was fun and when the season started it was a gas.
HOF: What was your impression of Jim Spavital?
MK: I didn't know anything about Jim. I knew what we ran in college, and that's what I grew up with. When Jim came in I just wanted to learn the system. We had some class players; James Scott, Jim Seymour, Virgil Carter, some good tight ends and some great running backs like Cyril. Jack Dolbin at wide receiver gave us a lot of speed. I knew I had to work hard to make the team.
HOF: The Fire opened up the 1974 WFL season with a home game against the Houston Texans. 42,000 fans sat in the stands at Soldier Field, what are your memories of that game?
MK: I was nervous, really nervous. You know, the thing I remember the most about the game is the fact I fumbled twice. The first time I touched the ball I fumbled. I don't remember any good runs or plays, just those two fumbles. As a running back you're trained not to give up the ball, and when you do it twice- well, it's not good. The coaching staff believed in my ability, and so did Jim Spavital, so they just kept me in the game until I calmed down. It was great to win, especially in front of so many fans. The Bears weren't very good in those days, so we thought if we could be competitive people would come out to see us.
The second game against the Jacksonville Sharks I played better. I felt like I belonged, I scored two touchdowns and caught a screen pass and ran for about 40 yards- I got the game ball. I finally realized that I could play and felt like I was contributing to the success of the Fire. Then we went up to Portland and had a great game there.
HOF: The Fire started off the season with wins over Houston (17-0), Jacksonville (25-22) and then traveled to Portland, and beat the Storm 26-22. With a 3-0 record, the Fire traveled to Hawaii where you beat the Hawaiians 53-29, and you set a WFL record with five touchdowns in a game. What was that like for you?
MK: Hawaii was interesting. We flew out of Portland on Thursday morning following the win over the Storm. We had played on Astroturf in Portland and then took on Hawaii. We hadn't played two games in a four or five day period before - nobody had. They rested us a lot. We practiced pretty hard on Saturday and then played the game on Sunday at 3 PM. As a player you try to concentrate on the game but being in Hawaii, lying on the beach, it's hard to focus on football. I remember one day we were on the beach at Waikiki and Rudy Kuechenberg and some other guys were trying their hand at surfing. Suddenly, Rudy goes under the waves and comes up- without his teeth! He had lost his teeth and the guys were just bustin' up on the beach. Rudy was our defensive leader, and without his teeth, it would be hard to understand what he was saying on the field. The funniest story I remember is that after the game, Jim Spavital, our coach, gave me a game ball. Then he announced he had a special presentation to make. He got up in front of the team and pulled out a wooden plaque with a big, open-mouthed, stuffed fish mounted on it. In the fish's mouth was a set of false teeth! We all cracked up! He presented it to Rudy, and the guys just laughed and laughed- it was the funniest thing ever!
The game was one of those game's where you can't do anything wrong. Everything we did worked. I ran hard and just ended up in the end zone. We rolled up on them 40-10, or something like that, before they came back to make it a game- but it was really out of hand at that time. I rushed for over 100 yards and had five or six receptions. It was like being a kid again. We were making up plays in the huddle. It was just great. On one pass, I was running a pattern in front of Jack Dolbin and Virgil intended to throw to Dolbin but I reached up and caught the ball and ran in for the score- we couldn't do anything wrong. Virgil came over to me and said, "Mark, I wasn't throwing' to you but that's exactly what you need to do. Go get the ball."
After the game we get on the plane and come home and there was 4,000 fans waiting for us at the airport. The Bears were not playing well and the city really rallied around us.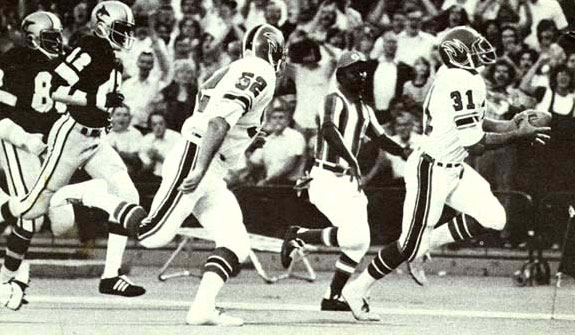 HOF: Do you feel the press treated the team well?
MK: Yeah I thought they did. The Chicago papers treated us well. There were always stories about teams being in trouble, and players not getting paid. That always hung around, it never went away. Then, finally, it reached us.
HOF: Were you surprised at the reaction from the Chicago fans?
MK: The Chicago fans were hungry. They'd watched for a lot of years a real mediocre Bear team. Tom Origer knew that if gave them something to get excited about they'd get behind it. It wasn't that surprising, we had some name players. It was something to do on a Wednesday or Thursday night- come down to the city and see the Chicago Fire.
HOF: What was your first impression of the WFL ball?
MK: It was weird. That yellow ball was different, but it carried like anything else. I like they felt the ball would attract some light and make it easier to see at night.
HOF: The Fire returned home to play the Florida Blazers and lost 46-21, what was the mood of the team after losing such a big game and suffering their first loss?
MK: I don't really remember much about the game. Florida had a great defense. They were tough to do anything against. I think we made it a close game in the first half and then some mistakes put it out of reach.
(HOF note: Trailing 21-16, a Chuck Ramsey put was blocked and returned for a touchdown. On the following series, Virgil Carter threw an interception to linebacker Billy Hobbs who returned it for a touchdown and a 34-16 Blazer lead.)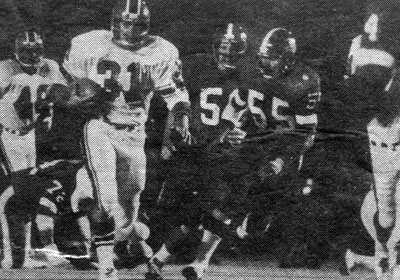 HOF: When you play football in front of such small crowds. As in the WFL, did that affect your play?
Yes, in College, at Northern Illinois, I played in front of some small crowds so it never bothered me much.
HOF: What are some of the most memorable games?
MK: I remember going down to Birmingham and playing down there. It was a terrible day, it rained like crazy. We were playing in Hurricane Carmen. We lost the game 41-40. We were a young team and I think I learned a lot that day- it was a miserable game to play. I think we were starting to come together and then we had a rash of injuries and it was over. We played the Detroit Wheels in Ypsilanti, Michigan and we had heard about the problems that team was facing. I got hit the hardest of my career in that game. The Wheels middle linebacker, Dominic Riggio, hit me right under my sternum- I didn't think I had any air left. It was a pass play and the ball wasn't thrown to me but he hit me anyway.
HOF: You were injured playing against the Southern California Sun. How where you hurt?
MK: That was my last game. It was a running play, up the middle, nothing special. We were down around the three yard line and I got hit and I was close to the goal line, and these guys stood me up and took a shot at my leg. It broke a bone in my leg and tore my ankle up. I knew right away I was hurt. It was almost like being suspend in a time warp or something......I knew I was stood up, and I knew I was in a vulnerable position and I knew they were going to take a shot at me...it was pretty painful. There was some talk that it was intentional. The Sun had this guy, Dave Roller, who yelled out, "break the leg!", and they did. Whad'ya gonna do. I walked off the field and thought I was going to be okay. I woke up the next morning and couldn't walk on it at all. The leg was broken clean but the ankle was torn up, the fibula was broken. Going into a cast for four weeks was probably the best thing for me- to stabilize the ankle.
HOF: Where you're lying on the field hurt, looking up at the Soldier Field lights, what's going through your head at that moment when you thought your season with the Fire might be over?
MK: You don't worry about your career. You think you'll be alright. I knew my body and thought I could come back and play after some treatment. I thought I could take a week off and come back. When they put me in a cast, that's when I knew it was more serious. The ex-ray showed the break on the leg.
HOF: Fire receiver James Scott was injured against the Sun- he tore up a knee. The next week, against the Memphis Southmen, Virgil Carter breaks a finger on his passing hand. Within two weeks, the Fire is without the three key players who all led the league in their individual statistical categories- What was the mood on the team?
MK: It wasn't good. We were bringing people in daily in an effort to improve the club. When you do that people get tense. It wasn't going to be a good situation to be around. I was in the training room, getting treatments. But I know the guys didn't give up. The quarterback situation wasn't a good one without Virgil- we had Maurie Dagineau and Bill Cappelman. We also lost receivers Jim Seymour, and later Jack Dolbin. The team was falling apart. It became a bus stop- guys were comin' and goin'. We lost our chemistry, and then we lost eleven games in a row. I think it really revolved around Virgil Carter. When he was gone, the Fire was gone.
HOF: Do you think the coaching staff gave up a bit when it looked hopeless?
MK: It was pretty devastating. There wasn't much to draw from talent wise. Then when the front line offensive people go down in two games it's tough. I didn't travel with the team because of expenses. The crowds stopped coming out and we continued to lose games. Management brought in Leroy Kelly. He was a great runner but he just didn't have the legs at that time.
HOF: How did Tom Origer handle the Fire's eleven-game losing streak?
MK: I always thought he was a good guy. He always thought it was unfortunate that we had suffered all these injuries. He was under a lot of pressure to help pay the bills from the other teams. Tom was being asked to put in more money and he basically said, "Look. I run my team, this is my team, I'm gonna pay for my team and when it doesn't work I'll pull the plug." I remember him calling me one day and saying, "You know what. I'm gonna honor some guys contracts but I can't honor all of them." I had a lot of mixed feeling about that because the guys who where there since training camp deserved to be paid. He said, "The league's folding, and I need to reserve some of my capital." Tom was an honest guy, who had to make some tough decisions- it wasn't easy.
HOF: The Fire established themselves as an offensive powerhouse early in the season. Who were some of the players that stood out on that offense?
MK: I think we had some good names on our offensive team Virgil Carter was really smart and good get the ball into the right hands. Steve Wright was a smart offensive lineman. Guy Burdock was a great center. We had two guards- Glenn Hyde and Dave Bradley. Glen was a great athlete, and he played football after the WFL in the NFL and USFL. Dave Bradley was a veteran with a lot of experience. Don Burchfield, our tight end, was small but also played hard. Our defense was scrappy, they played well. We had a good defensive backfield and we won some games. Harry Howard and Joe Womack were as good as any in the league. They had played around, and had a desire to win. We had a hard-working group of guys and that's important when you're putting together a new team in a new league.
HOF: The WFL played a twenty-game season. What was that like for the players?
MK: It's tough. Twenty games catches up with ya. I remember working out with Jack Dolbin and at the end of the year he just didn't have anything left in the tank.
HOF: In your opinion what could the WFL have done to survive?
MK: They should've had the people in line to put the money in escrow. That would have guaranteed the season. There were some guys in the league for $100,000. Tom Origer hated the fact that the owners had to foot the bill for the teams that didn't act responsibly. I think a 10 or 12 game schedule would have helped. At the time it was a great deal, a good opportunity and was probably the best time of my life.
HOF: Do you think the Chicago Fire could have played the Chicago Bears and been competitive?
MK: That's a tough one. We didn't play in their league. I think Virgil Carter was a better quarterback than the Bear's Bobby Douglass.
HOF: In 1975, did you consider going to the Minnesota Vikings?
MK: I was coming off the injury and I wanted to see what I could do. Dave Osborn was there, Chuck Foreman, Oscar Reed- they had a good group of backs there. I didn't want to be the reason that some one was going to leave. I didn't want to go to camp and get released on the last day. I guess I wanted to go to the WFL and play there for the season.
HOF: When did you hear about the Chicago Winds?
MK: I was in touch through my agent, John Garrity. Gene Pullano signed me to a nice contract, gave me a good bonus. He was in the insurance business. I got paid a signing bonus, I got paid for a couple of weeks while in Chicago and then I didn't get another penny.
HOF: It's a new year, what was the Winds training camp like?
MK: We were in Naperville, at Naperville Type College. About the third day of camp I got speared. We were practicing without pads and Ralph Anderson spears me in the back and I was in the hospital for ten days with a bruised kidney.
HOF: What was your impression of Winds coach Babe Parilli?
MK: We came out of camp and played our second exhibition and Babe was gone. Then management brought in Abe Gibron, I think for the fans, but Babe had been through the first year of the WFL and I like that.
HOF: The Winds were trying to sign Joe Namath to a $4 million contract. How did the Winds players respond to that? That's why the Winds' uniforms were green and white. Just like the New York Jets.
MK: I really don't remember that. Maybe they thought having Parilli would help bring in Namath.
HOF: Were you optimistic about the Winds' chances?
MK: I was. We had John Gilliam and our quarterback was Pete Bethard. There was myself and Cyril Pinder and some of the other guys. I thought it was going to be different, but obviously it wasn't.
HOF: How was the Winds' offense different from the Fire?
MK: We tried to run the same kind of offense we had with the Fire. The Winds didn't have James Scott, but we had some good receivers- John Gilliam, Margene Atkins, some good running backs but no one to pull the trigger. It was a convoluted league then as well.
HOF: The Winds opened the 1975 exhibition season against the Jacksonville Express. What was the opener like for you?
MK: No one showed up. It was raining. That was a tough five games that year and then we folded up. Team morale was lousy. Coach Gibron,. I like Abe Gibron but he didn't run a good camp. He didn't run a good program. It was pretty disgusting. We had one game where I remember not even wanting to play. The Chicago fans didn't support us. They got burned the year before and on the other side of town the Bears had brought in some new guys and a guy named Walter Payton.
The fans would look at the Winds and we had John Gilliam, Pete Bethard and Abe Gibron. They didn't see a reason to go. There were rumors that we weren't gonna make it from the start. They were bringing in guys from the start trying to make it work.
HOF: The Winds won their first game of the season defeating the Portland Thunder, 22-15. 3,470 fans showed up for the game. How did you feel seeing 3,500 fans where there used to be 35,000 just a year ago?
MK: You know it isn't good. I asked myself, "What's goin' on? Why are all these guys comin' in and why aren't people coming to the games?" Playing for the Winds wasn't a good time for me. It was horrible. I started off the year in the hospital, we got beat, and Coach Gibron didn't have a good offense to run. The best thing about the Winds was John Gilliam. He and I would run around the city, speaking here and there. I had the best times at these things. The fans were great and the engagements were a lot of fun. I started doing those in the Chicago area after I was out of college- that was the highlight of the career. The fans weren't going to support the Winds but they supported the players.
HOF: When did you hear that the Winds were folding?
MK: They told us one day before practice. Gene Pullano and Abe Gibron were there and they said that the team was done and the league would be assigning our contracts to other teams. We were told that the next day we would find out where we would be going. There was a lot of suspicion about how the team was doing, so it came as no surprise. I really put 1975 out of my mind.
I got shipped down to the San Antonio Wings and I hated it there. I was honoring my contract. I signed a contract that was guaranteed by a letter of credit by a bank in Chicago so I had to play- even though I didn't get a penny. I went to play with the Wings and didn't get paid for six weeks- they had a lot of talent down there....Johnnie Walton was the quarterback, Jim Strong, Lonnie Warwick of the Vikings. The last thing they needed there was a running back who wasn't getting paid. I was living in this little apartment they gave me and it was awful. I was living off of my signing bonus. My wife came down and after three weeks we went home. I was eating dinner at a take-out Mexican food place across the street. Then Perry Moss, the Wings coach- he was a good man, traded me to the Charlotte Hornets. When Moss told me I said, "I'm not showing up, I'm going home." I called my agent and asked, "Are all our papers filed?" We had to file drafts against the letter of credit in Chicago each week I didn't get paid. He said, "Yea." So I told him I was heading' home. Then we filed a lawsuit against the World Football League, Gene Pullano and the Chicago Winds, and the bank in Chicago. I think in February of 1977 I got something finally. They owed me about $50,000. The judgment came in my favor and they didn't have it. They offered $34,000 and I took it. I think I got $20,000 by the time it was all over.
I came home in October of '75 and the Vikings were playing the Bears at Soldier Field. Minnesota was 9-0 and I went down to talk to Mike Lynn. He said, "We're 9-0, and we're gonna be 10-0 after tonight. Come on in next year and get a fresh start. We've got a chemistry here, and I'm not gonna bring in a rookie now."  I respected that, after seeing the opposite for the past two years. When the WFL folded, I decided to work out and get ready for my chance with Minnesota.
I had a pretty good career in the NFL. I enjoyed it. I didn't play a lot behind Foreman. But I learned a lot from Bud Grant.
HOF: If you had to sum up your experience in the WFL what would you say?
MK: It was, we were stepping into a league that had no foundation or history but it was the most enjoyable experience as a football player. I hold that very dear to me. My year with the Fire. Meeting those guys and going through life with those thoughts- it was short lived. You appreciate those times the most. I wouldn't trade it for anything at all.
NOTE: The Mark Kellar interview was conducted by Jim Cusano and Richie Franklin. This interview appeared on the former WFL Hall of Fame Web site, and is used with permission. This interview is property of the World Football League Web site and may not be used without the written permission of the Web site owners.