---
Ed Marshall spoke to us about his experiences in the WFL and then with the New York Giants of the NFL, where he played under former Southmen head coach John McVay. Ed led the Southmen in scoring and receptions and is considered one of the premier receivers to come out of the World Football League. Now residing in southern Texas, Ed is involved with business and reflects back fondly on his days in the WFL. A great storyteller, Ed was gracious and we'd like to thank him for this interview.
HOF: When did you first hear about the World Football League?
EM: A buddy of mine, Cecil Pryor, gave me a call. He was in Canada. He had called me and mentioned a new football league was forming. I think it was late 1973, he told me a new league.the World Football League was forming with Japan, China- the whole nine yards, you know. He told me about the Toronto franchise and that he had left my name with one of the coaches there. I just let it go, didn't think much of it. Then I came in from patrol and John McVay was on the phone. He had called the dispatcher where I worked. We talked a bit about the league, he asked if I had played any football- I had played, you know, some pick-up football in the adult leagues around the city- and if I would consider going back to play pro football. He explained the situation to me and I told him, "Sure, I'll give it a whack- no problem!" I had to clear it with my chief ranger- to get the time off. It was fine with him, and we set up a date for me to fly to Toronto so they could take a look at me. Before I got on the plane, the parliament kicked the Toronto Northmen out of Canada, so they needed to relocate. they ended up in Memphis.
HOF: Did John McVay call you and tell you about the situation in Canada?
EM: No. They had me on file in the front office and sent me a letter explaining the situation. So I went down there (Memphis), visited the city- it was fine. Memphis State was our training camp.
HOF: What was that first training camp at Memphis State like?
EM: Fifteen million roaches trying to get at one piece of bread. Everybody who had a dream was there. Everybody with a fantasy. A field of green shorts, blue shorts, and polka-dot shorts- there must have been a battalion of people out there. The team had some of their guys there- guys who were going to make the roster, or had a better than average shot.
HOF: Were you confident that after the first few workouts you had a good shot of making the roster?
EM: Yeah. I thought I could make the team. When I assessed the other wide receivers there I could see that I was the third or fourth best there. Then I started measuring the height, speed and catching abilities they had and I thought, "Man, I've found a home."
HOF: What was you first impression of John McVay?
EM: John was a straight-up guy. He was a little odd at first if you did not know him. You might have thought he was a bit. different. He was very intelligent, a student of the game. He told you one thing, "get up, go to work!" He was great. He wasn't the type of coach who would come up and rag on you. He would tell you in a polite, calm voice. "you got to catch the ball, tuck the ball, and go to it". Everything was in that same tone the whole year. We were all grown men, mature adults, and it was a chance of a lifetime, the adrenaline should've been goin' the whole time. We had Danny White, John Huarte up there at quarterback- we had experience. I had no idea what the other teams in the WFL would do. But we had a great offensive line. Jay Fry, who I ran into in Ottawa, when I was in Canada, came down and coached our line. He always had a great offensive line with the Rough Riders, and they won the Grey Cup up there a few times. He had Wally Highsmith, Ron Mikolajczyk, Justin Canale, Charles Bray. you could see the chemistry forming in camp. We had JJ Jennings, Paul Miles and Willie Spencer in the backfield, but we were missing some speed. That's when we signed John Harvey from the CFL- he played with the Montreal Alouettes.
HOF: What kind of runner was John Harvey?
EM: Harvey was like O.J. He was 6-3, weighed about 185. He had some moves but they were straight ahead and then to the side. He was our electricity man. He had the moves and speed- he could fly. JJ was the bull, him and Willie Spencer.
HOF: What was your first impression of the WFL football?
EM: Coming from Cincinnati of the NFL and Ottawa of the CFL and looking up at this greenish and orange football and having to catch it. I thought, "they'll pay me the same cash to catch this ball. I can dig it!" I was glad I had another chance to play ball. I was just starting to understand the pro game and I was cut from Cincinnati. Then I went up to Canada where I got a raw deal from Jack Gotta in Ottawa. I knew the odds were against me 'cause they can only have a certain number of Americans on their teams up there. I don't want to speak poorly of Jack Gotta but he had his guys. I thought I could be a good ball player.
HOF: What was it like before your WFL opening game against the Detroit Wheels?
EM: We were like kids. Looking forward to it. Butterflies in the stomach. Couldn't wait to get outside. We'd go on out on the field- with your pads on and your helmet and you'd start to get a smell of the crowd. first game. first pro game in Memphis. some of us had come back to football after a few years, some guys came down from Canada. I like to talk it up, go through my thing. You'd walk up to one guy. "Ready, man. This is history!" You'd get a feel for the crowd (and we had good crowds) and man you'd think, "we gonna have some cheering in here. a stampede!" We'd go back into the locker room for the final words, a game prayer, and you'd come down that tunnel. and I tell ya if some one didn't pay their electricity bill you could've plugged one of those guys' fingers into the light socket and light up the whole block.
HOF: Memphis and Birmingham had the fiercest rivalry in the WFL. It must have been nice to get some revenge on Jack Gotta.
EM: Oh man. with a little sauté sauce on it too. We were within the same area of the country. It was great. I don't have anything against Jack Gotta, but you'd go to play at Legion Field and there would be thousands of people sittin' there- that's a killer deal. Then they'd come to Memphis and we'd have Liberty Stadium full of 30-40,000 people. We had Elvis Presley and Isaac Hayes in the crowd, the fans would be goin' crazy, and we'd be ready to get down!
HOF: Where there certain moments in those Birmingham games you remember.
EM: The first time we played Birmingham, the Americans beat us like a government mule. 58-33. Alfred Jenkins went crazy. They spanked us like little bitty babies! We returned the favor when they all came down to Memphis. We destroyed their momentum that night.
HOF: Was there any particular play or pattern you like to run the most?
EM: I liked all my patterns. Danny and John, from the timing we developed in camp, they liked the quick post. John Huarte like to call the "582" pattern where the outside receiver runs the "2" pattern which is the post, the tight end would run the inside pattern or the "8", and the receiver would run the "5" or the slant outlet. When the tight end runs a sideline pattern it pulls the strong safety over, which creates a gap for me between my cornerback and the 4-3 safety and if you can needle it in there it's over! Danny liked to ask me in the huddle, "Ed, can you run a seven?" The seven is a corner pattern, and when you've got the other team's corners used to breaking it in all game- you go to the corner pattern and you've got those corners easin' inside, and you break it outside it's gonna embarrass them. Dan would send me straight deep, John couldn't throw deep.
HOF: Having two talented quarterbacks on the team must have allowed the Southmen to do a lot of different things offensively.
EM: John Huarte was a run oriented quarterback. Dan was my kind of quarterback. He would come in and we'd light up the skies! John was very experienced, very poised. They balanced out each other. We had a great offensive line and some baby bulls back there running the ball- we'd just unleash them.Spencer, JJ and Harvey. All of them could catch the ball too.we were fortunate. When Danny got in the game- ah, man.get the camera.its highlight time!!! Oh man, we fired it up. All those WFL cornerbacks talkin' all that smack.I'd just think, "man, they just dropped some nitro in this engine and you guys better look out!!!" When a cornerback starts talkin' like that you know they're scared of you. We never talked back, just listened. See, you don't want to give them any respect. When you score a touchdown.you just flip the balls to the ref- don't even look at the corner.
HOF: JJ Jennings mentioned to us that he liked John Huarte because he was partial to the running game.
EM: Yeah. JJ was a typical running back. He loved to run that football- "gimmie the ball, gimmie the ball!" We couldn't feed everybody. John McVay spread it out. He'd beat down the defense with JJ and Willie and John- all good size guys. Here comes Danny. Take the roof off, here we go!!!
HOF: Were there any WFL cornerbacks you liked playing against?
EM: Miller Farr of the Florida Blazers was a good technical player. Tough defender. I burned him a couple of times. I remember one guy, Alvin Wyatt of the Jacksonville Sharks. A guy about 5-9, 5-10 and he had some speed on him. John called a fly pattern and I had Alvin Wyatt on me and he came up to play a "bump and run" and I thought, "Oh Jesus, here we go!" Then he backed off at the last minute. I took off and John under threw me and I had to stop and come back for the ball, then Wyatt dove and tripped me up at the one yard line. I got up and he looked at me and said, "You got lucky" and I said, "Thanks, 'preciate it." I went back to the huddle. Danny White came in and he looks at me and says, "Ed, what can you do?" And I say, "Anything you want me to!" On the next play he throws me an "out" and I eat Wyatt up- touchdown! I gave the ball to the referee and didn't even look at him.
HOF: Who, in your opinion, who were some of the talented receivers on the Southmen?
EM: Roger Wallace. Tim Beamer. Jack Ettinger, he was from Arkansas. Wallace was from Bowling Green. Roger had some speed- about 4.6- and he returned kickoffs and punts and he had a tremendous set of hands- he had a lot of heart. He was only 5-11 but he ran good, disciplined patterns. Jack Ettinger was about 6-3, 180 or 190 pounds - didn't have a whole lot of speed but he could catch it- he got hurt a lot though. He wasn't blessed with a whole lot of speed but he had a good pair of hands. Tim Beamer, excuse me- he'd line up at the wide receiver, and cornerbacks. man, it was ten- eleven yards all the time!
When I was playing there was the "bump and run", and now the defensive coordinator is calling plays for the cornerbacks to roll up- see, they're trying to take the cornerbacks hands off the receivers.they're trying to create more scoring. When you allow five yards to bang the receiver you can "roll up", you can have the cornerback come up or send out a linebacker to lay down a little smack on him. That's one way to nullify the speed. you always would ask yourself, "Can he play?" In Memphis we had good receivers, we didn't have that problem.
HOF: In 1974, the Southmen started the season at 3-2 and then won eleven games in a row. What brought the team together and started the streak?
EM: We had John Harvey running hard, but coach McVay started playing Danny White more. We had a great offensive line but with John Huarte it was first down, second down, pass. run, run, pass. What we did, was this. we needed Danny to get in to play. With John we would run up on the score and get Danny in there. When Danny got in he'd have to run the plays the coach sends in- run this play, run that play. Wally Highsmith would look at Danny and say, "Danny you run plays you wanna run." Danny would go up top right away. All of a sudden we win two straight games, then John got injured and Danny led us to three wins in a row. The fans are coming out to see this- we were lighten' it up. Danny White was lighten' up the candles. When John came back, we had two good quarterbacks. John would give Danny a spell, or Danny would spell John and we didn't miss a beat.
HOF: Having two good quarterbacks could only help the team?
EM: Sure. Danny was learning from John all the way. He was learning to call the running game. When the defense would start putting eight men in the box- excuse me- some one better get the flagman moving, we're getting ready to roll- goin' up top!!! We had that offensive line and the baby bulls back there running the ball and the roadrunner, John Harvey- we were really blessed with the personnel we had in Memphis.
HOF: The offensive line was dominating. Were they close off the field and on?
EM: They were animals. They had mutual respect for each other- we all hung together. We all went out and had good times together. Highsmith, Canale and Bray all had experience, and they had savvy. They had all been playing up in Canada and all had "snap" up there. Mikolajczyk was a rookie and he was fast. He could run with the backs.
HOF: In the WFL, what teams gave you a good fight?
EM: Florida with Jack Pardee was always known as a defensive minded coach and he had a lot of veteran players. If we were gonna see what kind of team we were, we would measure it by how we played against the Blazers. They had Rickie Harris, veteran safety, old' eagle sittin' back there- he was gifted. Miller Farr at cornerback, Chuck Beatty and Billy Hayes- he was with me at Cincinnati. When we were playing, we noticed that our offensive line was handling them well. That's when the secondary starts comin' up to make the tackles. you can't have those little guys comin' up to take on the "baby bulls". that's a collision! JJ is 240 pounds, running at full speed- Pardee isn't gonna know what his secondary looks like. We'd go up top on them- I burned Miller Farr 40-yards on a post pattern. Miller looks over at me and says, "won't happen again". Miller Farr was an all-pro in the NFL that made me feel good. Then I burned him again- on a crossing pattern. After the game, that's when guys talk. Hayes comes up to me, and we'd talk about the NFL politics and what was goin' on. Hayes and Farr said to me, "Good luck, we'll see you in the championship!" We beat 'em twice during the regular season.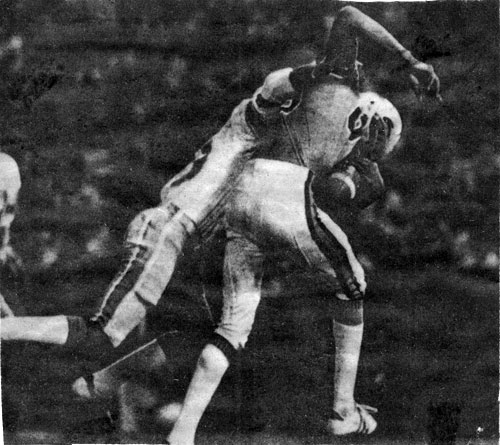 HOF: What was it like to play for an owner like John Basset?
EM: John Basset was class. He brought in coach McVay. He didn't spare a penny- whatever Memphis needed, they got. John had the area- the Delta, great football country. He went out and got the media interested in the team and the community. Then you had the GM, Leo Cahill- who everybody wanted to shoot! Leo was tight! When he would come to the game, we would try to get him escorted out of the game by security. Tellin' them all kinds of stuff.Leo was a great guy, he just had the job that nobody wanted. We would say to him, "LEO! I want more money!! And he would say, "I'm paying' you what you're worth!!!" We didn't want him around us- bad vibes, man.
HOF: JJ Jennings told us that after games or practice the guys would head over to Paul Miles' condo for parties and everybody had a great time- Isaac Hayes would be there, and other celebrities.
EM: The team owners- Elvis Presley, Isaac Hayes, Charlie Rich, and Danny Thomas all supported us. They'd had parties and we'd be invited to everyone's homes. We had a party once, and I remember Paul Miles trying to take a picture of Isaac Hayes. and his bodyguards came over and wrestled the camera away from him and took his film! You didn't take no picture of Isaac unless he wanted you to! It was a neat thing, cause all the people there supported the Memphis Southmen. We were one of the luckiest teams in the league. We didn't have to worry about cashing paychecks or anything like that. He treated you like the pro that you were and the pro that you should be. I felt like I was back in the NFL- everything was first class.
HOF: When the WFL started having problems did you ever worry about the survival of the league?
EM: I signed a personal services contract, just like Csonka, Kiick and Warfield. See, John wanted to get into the NFL and he wanted to bring players with him, so he had us sign a personal services contract that meant that I would get paid regardless of the team or leagues' survival. He would have to pay me each week, even if he released me. When we started hearing about Detroit, the Wheels- they went belly up. And teams like Shreveport, one team would fold, another would pop up. and I thought, "this can't be good." There were still teams that were makin' it. I thought the WFL would try to spread some of the money around to keep it goin'. we would go play some teams and there were only 5000-6000 people there and some of them were on free tickets. You have to do that, gotta promote your product, but people will try to get tickets for free first rather than pay.
I remember, in 1975, we heard that the WFL was going to go with eight teams. We were practicing and this guy came riding in on a motorbike. He handed a Western Union telegram to John McVay. He reads it, calls a meeting and tells us, "the WFL has folded". Guys were thinking, "no more football". I don't think eight teams could have supported the WFL. We went back to the locker room, showered, and I remember standing' there thinkin', "I'm never gonna see this equipment again. yeah, I'm taking mine with me!" The next day we had a meeting about what was going to transpire. Some guys hung around for awhile, the NFL was still playing, the CFL was finished- there was no place to go. Guys would go out and try to find a job, which was no problem 'cause we played with the Southmen. The better players went on to sign with the NFL. We had to fight the stigma of being labeled as "second class".
HOF: The Memphis Southmen and the Birmingham Vulcans wanted to get into the NFL, what did the team do to convince NFL owners?
EM: At any cost he wanted to get into the NFL. We thought we had the best players, along with Birmingham. We were prepared to get in. Birmingham had good talent. Anthony Davis and Tommy Reamon were also out there, so was George Mira, Pat Haden- there was a lot of talent in the WFL.
I remember we went on the NFL Today show on CBS. We held a ticket drive to get 40,000 season ticket holders. John Basset told NFL commissioner Pete Rozelle he could keep the television rights- Basset didn't want them. Rozelle turned him down flat. Memphis had number one draft choice Danny White, and he was going to play for this new franchise- that was a slap in the face for the NFL. Then you have Larry Csonka, Jim Kiick and Paul Warfield who had just won a Super Bowl, jumped to the WFL, and now were going to play for this new expansion team in Memphis- that ain't gonna happen!!
HOF: In 1976, you joined the New York Giants and were reunited with Coach John McVay and running back Larry Csonka.
EM: We had a few guys. The Giants needed help. They some players that were prejudice against WFL players, and you had to go ahead a prove yourself again. I can understand having to prove yourself, I don't have a problem with that, but how can you prove yourself if you don't get the opportunity. When John McVay took over for Bill Arnsbarger, John brought me in, Willie Spencer, Larry Csonka; Gary Shirk- Shirk was a better blocker than Tucker who had been in the league for 13 years- he was worn out. We went 3-3 the last half of the season and scored touchdowns through the air and ground. When I got there we were playing against Seattle and Craig Morton decided to throw to me instead of Tucker and I brought down a touchdown. Then Detroit came in and we blew them out. Suddenly, Craig Morton is my friend. he'd come up and say, "Ed, I really underestimated you." I said, "no problem man."
Craig Morton had seen it all, why didn't give a guy a chance. If we are at this level of football, somethin' must be there- he must have some athletic skills. He didn't have the curiosity. He would throw bombs to Tucker, a tight end. I would think, "what is this guy doin'?" In practice, I would have to go to coach McVay and tell him "how am I going to get my timing down if he doesn't throw me one ball out of the forty-eight he throws." I'm his third read. people would say, "stop Tucker, you stop the Giants passing game."
HOF: How would you summarize your experience in the WFL?
EM: A great time. I was given an opportunity to prove myself as an athlete, a professional and a man.
NOTE: The Ed Marshall interview was conducted by Jim Cusano and Richie Franklin. This interview appeared on the former WFL Hall of Fame Web site, and is used with permission. This interview is property of the World Football League Web site and may not be used without the written permission of the Web site owners.