---
Bubba Wyche joined the World Football League in 1974 as a member of the Detroit Wheels. An experienced quarterback in the Canadian Football League with the Saskatchewan Rough Riders, Bubba also had a great college career at the University of Tennessee, where he played in the Gator Bowl, Cotton Bowl and Orange Bowl. Bubba was the veteran leader of the ill-fated Wheels, a team notorious for its off-field troubles, and we appreciate the time he took to tell us about the league and the Wheels, and also his time with the Chicago Fire and the Shreveport Steamer. Bubba now lives in Georgia where he runs his own business.
HOF: You played football with the Saskatchewan Rough Riders of the CFL. Who contacted you to play for the new Detroit franchise of the World Football League?
BW: I was in my fourth year with the CFL and I was the backup to a fella by the name of Ron Lancaster and he was the Johnny Unitas of the Canadian Football League, that's the best way to describe him. I didn't have a lot of opportunities to start, and when it came apparent that the WFL would become a reality, I received many "feelers" from various personnel to see if I, in fact, was interested in participating. Of course, any and all opportunities that were available to me were of interest at that time. As it turned out, the WFL held a draft of sorts, where a player of interest would be contracted to that particular team. At that time, gentlemen from the Detroit Wheels organization, Sonny Grandelius, invited me to Detroit to play in a celebrity golf tournament. I went and played in this golf tournament, and enjoyed it. I got to play with players from the Red Wings, Tigers and Lions; there were a lot of area "stars" in the tournament along with many key personnel from Ford Motor Company. I recall playing with gentlemen named, D.L. Tope. The whole time I'm playing golf with this guy I had no idea of his position with Ford, and later I realized he carried a lot of clout because every time he said something there was a representative from Ford Motor Company there to see that things got done. Later on during the day, on the back nine, I asked one of the participants what his status was with Ford Motor Company, and it turned out that he was one of the top five or six people with the company.† That led me to an interesting position that provided me with an automobile. I approached Mr. Tope and asked him what the opportunities where to find an automobile- I would be flying up here and wouldn't have time to find a car on the day of training camp. He told me to go to see this individual at the "Executive Parking Lot". So I went there and there was Thunderbirds, and every kind of Ford car imaginable was there, and this gentlemen says, "I've been instructed to tell you to pick out what you want." I picked out this white-on-white Thunderbird, $7,200 dealer's cost, top of the line Thunderbird. The opportunity to play in the tournament was great, but to get a car for $7,200 that was worth three times that was even a better pleasure.
HOF: When did you first sit down and talk terms with the Detroit Wheels?
BW: I had a representative, a lawyer, who always represented me at that point in time and he was doing all the negotiations for me. As it turned out the Wheels offered me what appeared to be a flattering contract but the unknown fact was the lack of funding the WFL had as a whole and that turned around to haunt all of us in the end. The WFL depreciated in its funding and the contract was flattering for me to come down from the CFL and play football. I was also talking to a west coast team, the British Columbia Lions, as it turned out it was more favorable to go into the WFL under the assumption that it was going to make it and it was going to be a success. As it turned out it did not, but never the less it was a wonderful experience.
HOF: The Wheels had 32 owners and were led by a 28-year old president, Louis Lee. What was your impression of the Wheels organization in those early days?
BW: Well at that time I was very impressionable. They would walk me into these very nice offices and put me up in a very nice hotel and all of the pre-signing activities were very flattering. The ownership and the participation in investing in the team were pretty diverse. However, I think there were some primary owners that had more stock or dollar investments that they had put up and I did get to meet quite a few of those owners as well, and they felt very comfortable coming out to training camp and talking to the players. I think they got a big kick out of that. So I met quite a few of them that way. At this early stage of the WFL, I had absolutely no concerns or worries that it wasn't going to work out. At that point in time it seemed like a first class operation. You would see all the finest front office activities, secretaries working, promotions, ticket drives, and that gave me no indication that in a very short period of time it would be a difficult financial situation.
HOF: Did you take part in any publicity appearances before the kickoff of the WFL season?
BW: Absolutely. The golf tournament was one of them and it was quite publicized. I met with a few people from the Detroit Lions and there was an opportunity for the fans to see that there was going to be an option to the Lions. The media, as a whole, was quite interested to see what was going to take place in the WFL.
HOF: The Detroit Wheels were unable to secure a lease with Tiger Stadium and were forced to play 40 miles outside of Detroit in Ypsilanti, Michigan. The team played at Rynearson Stadium, what type of stadium was it?
BW: The facility wasn't awful. At that time I realized that it was a new league and there would have to be some considerations made in order to make the new league work. We were trying to get a TV contract, advertising, and publicity that would be in everyone's best interest. As players we made considerations to see if the league succeeds. The stadium wasn't like going into the major stadiums that I played in with Tennessee. You also didn't have the fan support like in those stadiums. But those were the things we would have to overcome in order to make the WFL work. The dressing room facilities weren't as nice, and some times there wasn't enough room or hot water. Some times on the sidelines you couldn't get tape if you needed it. To me, the fact that the WFL players were willing to try to create an opportunity, along with the owners and the front office staff, to make the league a success we simply needed to overcome those limitations.
HOF: The Wheels coach was Dan Boisture, what was your impression of him and his staff?
BW: I saw a lot of coaching staffs with my brief time with the Wheels, to my place with the Chicago Fire, and then with the Shreveport Steamer. I knew some of them through my playing career with the CFL, and I feel, they, the individual coaches and the staffs were all giving their best individual effort that they could. I don't know if I would put them up with Tom Landry or Don Shula or anything like that, they were coaches that were hired to be in a new league, and what they had to do was a tough task because they had a lot of new personnel and they were trying to overcome many difficulties that were new in many cases. The coaches weren't bad, they gave their best effort.
HOF: During training camp, what was your evaluation of the talent on the Wheels' roster?
BW: Initially, I went to several pre-camps or mini-camps, for that reason, just to see the type of players that they were looking at and who would be available. Those first camps were "weeding out the dead wood" so to speak. They had local talent and players who had played some college ball, some who had been kicked off the team or others who had quit. The Wheels were looking at a lot of different players and or caliber of players. So, I was a bit disappointed at first with the players they were bringing in, but then I realized that they were looking at the local talent and by the time the regular training camp took place there were some quality players there, many with NFL or CFL experience. Many of the guys I knew from the CFL and I wanted to give everyone an opportunity to show what they could do, so we could get this league going. Initially, you're right; I was concerned about the caliber of players in the mini-camps.
HOF: What was your impression of the WFL ball?
BW: Initially it was a booger. I think the focus was to have some excitement for the fans. The gimmick was that the ball was orange in color. It was a Spalding ball, so the football wasn't any different; it was just a different color.
The first time we ever saw this new football, believe it or not, was on game day in Memphis against the Southmen. The trainer pitched me a ball, on the field, and I picked it up and started warming up with it. Suddenly, I looked down at my hands and this dye was all over my hands- it had come off the football. That's how new this football was. Not only was it new for the fans in the stands, but it was new to the players on the field who were seeing it for the first time as well. Apparently, the dye was so fresh on the balls it was coming off and everybody's hands were orange- we were all running around with orange hands.
HOF: The Detroit Wheels opened their season in Memphis against the Southmen. What do you remember about that game?
BW: We had gone down to Memphis, the weather was great, and we stayed at a nice hotel. One of the Wheels' owners invited me up to their penthouse suite. The city was looking forward to the game. Memphis had a lot of quality players, big name players, that had played in the NFL and they were a good team. I think we threw for 270 yards or so, it was a good opening game for the Detroit team. The Memphis team was full of talent; they had a lot of players who went on to play in the NFL.
We had a center, David Limebrook, who was a rookie and he got the jitters so bad that on the first snap of the game he threw-up on the ball. After the play, he came back to the huddle and threw-up again. All the guys are staring at him, some of them trying not to crack up, and I said, "Either get it together or get out of here." In those situations you pretty much tell it like it is. It was the first game, we had traveled to Memphis, and he was a bit shell-shocked by the whole spectacle. The players, I think, looked to me for leadership. I had played football for a few years. I wasn't the league's greatest quarterback or anything like that, but I had a good grip on the offense- I had helped the Wheels' coaching staff design many of the plays in the play book.
We had a strong passing attack, with a fairy limited running attack. Detroit had some strong players and some weak players. The rookies needed help adjusting at times and we did what we could to help.
HOF: The next week you traveled to Hawaii. Did you make adjustments on offense based on the loss at Memphis, and what was it like playing football in Hawaii?
BW: That's a good question. I think any league, any player in any league, approaches the game in different ways. We felt that we could throw the ball well and everything else would fall around that. Playing in Hawaii was great. My mother came out, she planned a trip with a friend to see me play, and the travel arrangements for the team were first class. I think we stayed five days to get over the jet lag. We stayed near, or close enough to the beach, to do some traveling.† The game was a close game, well played. Even though it's Hawaii, when the game starts itís a game. You need to put on your game hat or you'll find yourself in a bad situation. Many of these guys played in the NFL, and had experience, and if you weren't careful, or had your mind somewhere else you would get hurt pretty quick.
HOF: Who stood out on the Wheels offense?
BW: Our running back was named Sam Scarber. Sam was big; he came from Edmonton of the CFL. Sam was a hard-nosed running back who could not only take a hit but also give one out when he was tackled. We called him "Cakes", cause' he had a big ol' butt. We had a tailback with quick feet, Jesse Mims, who was fast and had some moves. Lee Fobbs and Billy Sadler were good players as well. I thought our offense was competitive with the rest of the WFL; however, we needed some secondary receivers. Our primary throwing game, I thought, was going to be good; 'cause I was running it and I knew what I wanted to do. I wanted the secondary receivers to keep hunting for the ball, not just running a pattern- I think it took them time to realize that. Hubie Bryant was built like a scat-back. He was a little guy, real quick feet, sharp cuts, good hands and a real deep threat- Hubie drew a lot of attention when he lined up. He could hurt you long, or he could hurt you on the short pass with his running ability after he caught the ball. Jon Henderson was more of a tall, lankier, receiver, who is good in a passing attack 'cause you can put the ball up in the air over the defenders head and he could bring it down. At that point in time I felt we had a good passing game with those two guys.
HOF: Hubie Bryant was traded to the Florida Blazers for defensive end Don Ratliff. Do you think that trade was completed for financial reasons?
BW: Absolutely. Things like trades and personnel disappearing for what ever reason started to take place and that was one of the indications of the difficulties starting to creep into the picture. As an optimist, I wanted to focus on the positive aspects, and as time heals all wounds, I guess I've forgotten the bad and only remembered the good. We made many moves for financial reasons. We adjusted personnel, and I feel Hubie was traded for financial reasons only.
HOF: The Wheels played their first home game against the Florida Blazers. 10,631 fans came out to Rynearson Stadium in Ypsilanti and watched as the Wheels drove inside the five yard line with seconds remaining and lost the game 17-14.
BW: I remember that game, the home opener. There's a prime example that indicated a lack of experience in the organization. We were on the goal line and had many weapons to score. Our coaching staff, and I don't know who was calling the plays at that time, the head coach or the offensive coordinator, sent in three straight times an off-tackle run where the running back, Sam Scarber, would hit on an angle off the tackle and it was the same play three times. I could see the defense recognizing the formation on the second time, and realizing it was a duplication of the previous play, and then again on the third and they just knocked us back. I could see it, and here it was the first game of the season, everyone's trying to make an impression, trying to do well and I didn't want to call an audible. We could have run a variety of other plays to score. The inexperience of the coaching staff in sending in the same play three straight times and my inexperience in not wanting to step on any toes in our first home game and call another play simply cost us the game. I wasn't looking to create any problems with the play calling, and I knew the second they brought it in it was the wrong call. The players were wondering to themselves as well. It was a new team, new players, new coaches, new league and no one wanted to do anything but make themselves look good. After the fact we could've done something different. We could've run a quarterback sneak and punched it in; the Blazers were crowding the hole that much. They saw the formation, the line up of the running back and keyed off on it. We should've done something different, Florida had it too easy.
I was disappointed with the crowd- 10,000 fans. But we were making considerations. It was a new league and we realized it was still young, that things would perk up, that word-of-mouth advertising would get things going and people would see the type of players we had after the first one or two games. That ended up being wishful thinking. The NFL just had such a hold on everything, and without a major television contract it was hard to get out to the fans.
HOF: Did playing out in Ypsilanti hurt the team?
BW: That's a good question. It probably prevented a lot of people from coming out. I myself, personally, loved it. I lived on a place called Ford Lake, and I enjoyed Ypsilanti quite a bit. I think the setting did affect the turnout at the gate.
HOF: The Wheels played Memphis and Birmingham both twice in the first six games of the WFL season. How tough was that for the team?
BW: It was tough in a variety of ways. Birmingham had many coaches on it that I knew from the CFL. So when we played them I tried to make an impression on the guys that I had played against before in Canada. The Memphis team was simply a big strong group of guys. At the beginning of the season they were the cream of the crop for the WFL. They had a lot of talented players that made it tough on us because we had young inexperienced players, talented but inexperienced. Birmingham was the team I liked playing against because of the connection to the CFL.
Americans coach Jack Gotta was an old friend from Canada, and when played them in Birmingham I didn't throw an incompletion the entire first half. As we marched down the field, I'd liked to look over at the sidelines and smile at Jack, just to see if he was noticing how I was playing.
HOF: The Wheels played Birmingham twice, losing at home 21-18, and in Birmingham 28-22, so you gave them a good fight.
BW: I feel that we should have won both of those games. There again, I don't want to be too negative, but the lack of experience in coaching hurt us against Birmingham, because they had the experienced coaching staff and they were making adjustments that made things difficult for us and we didn't counter. We did play them well.
HOF: On September 2, 1974, the Wheels traveled to London, Ontario to play the Portland Storm. Were you excited to be back playing in Canada?
BW: We traveled to London, Ontario, and it was a beautiful day. Being back up there brought back a lot of memories. Ontario is very beautiful and clean, and the air is so much sweeter to smell, so that aspect was nice. The Portland team was about on a relative plan as the Detroit team, and the game went back and forth, and I remember several plays that were called put us in a tough field position or caused us to miss some scoring opportunities. When youíre a player, you are a student of the game, a "yes sir" kind of guy....and it was difficult 'cause I was seeing a couple of calls that were questionable. I thought as a team we needed to get through that and try to continue to improve.
HOF: Portland owner Robert Harris wanted to move the Storm to London, Ontario. The game was played in Little Stadium to promote the league and the crowd was announced at 5,000, despite the fact that eye witness accounts had the crowd at around 2,500. What were your memories of Little Stadium and the facility?
BW: We traveled by bus to the game from Detroit. To call it a stadium was a stretch. I do recall it had seats on both sides of the field. It was outside of a military base, a huge facility. It was more like a fair ground, and we had to walk a great distance to get to the field. The dressing rooms were limited, there wasn't much room. The field was wide open and there was a lot of room from the field to the stands. There wasn't a lot of people there and I'm sure the game was not that well publicized. The London, Ontario sports fan is not exactly a true WFL fan.
It was presented to us that the league was trying to promote itself in Canada, and going over there identified with the name "World Football League". I think this was one attempt to create some excitement and success for the league. I have played in some great stadiums, but in the WFL you got the feel that they were attempting to create something professional with very few resources.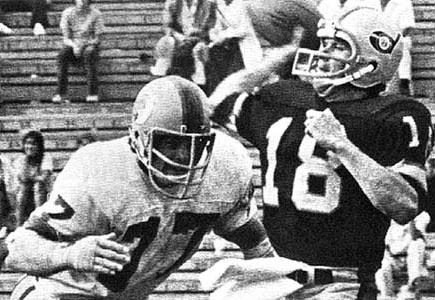 HOF: Detroit players were constantly asked to make sacrifices to remain in the league and to keep playing football. Did that ever get tiresome?
BW: I think that was the beginning of the end. We got very disappointed and disgusted about the sacrifices we were asked to make. In the beginning of the season, we overlooked the shortcomings of the league and addressed it as an opportunity to pursue a career a lot of the players would not have the opportunity to pursue. Many of the guys from the NFL or CFL were qualified and were looking for a chance to perhaps put them back in those leagues. The sacrifices we were asked to make became too overwhelming.
The players on the Wheels were not getting paid at all. We didn't even get food money. So it was devastating to some one who had high aspirations of getting into pro football and then couldn't get food money or compensation for your work.
HOF: When did it first hit you that the Wheels were in financial trouble?
BW: There were little signs. A secretary would disappear, and then her typewriter would disappear. Then you'd call the office and the phone would ring for an unlimited amount of time. That gave you the indication of poor management or lack of funding. Then our paychecks were delayed with petty excuses, almost unbelievable excuses. Things like; "administrative problems", "hold ups at the main office", "the WFL has requested that we hold back because the league is going with a unified distribution of funds to the players". We would stand there and say, "Home office? I thought this was the home office?" Or "Unified funds? The league doesn't have any money!" Eventually the delays became weeks, and weeks became months, and the whole thing started to fall apart.
The team, the players, would get together and we'd talk. I was the captain of the Wheels, along with two other players, and we would go to management and discuss the troubles. There were no personnel left. Management would fire the trainer, the laundry attendants, and we couldn't get towels or tape. Even though those salaries were cut there wasn't any money to give to the players.
I lived on Ford Lake and defensive tackle Mike Taylor moved in. Then one of the defensive coaches, Owen Dejanovich, and his wife moved in and we eventually had a commune setting. It included players as well as coaches; I know they were not getting paid as well. In some ways the coaches had it harder because they needed to maintain a positive attitude for the players despite what was happening to them. We would share expenses, meals, everything.
Owen Dejanovich and I became close friends. He was a defensive coach with the British Columbia Lions of the CFL and I knew him from my playing days, and he let me know that times were very tough financially. Eventually it hit all of us, and it was obvious what was going to happen. Even with all this going on, it generated more friendships and brought the team closer. Players had to move in with each other, share meals and food, split bills, and it was a tough time for a group of people who had aspirations of this being the best of times.
HOF: There were rumors that John DeLorean was trying to buy the Detroit Wheels, do you remember that time?
BW: Yes. I suspect that a lot of rumors were generated by the team to create a positive atmosphere for the league and the players. At that time, John DeLorean didn't become a wealthy man by going into ignorant business ventures. Even though his name was mentioned, I don't think he was "any man's fool", he saw that this was an up-hill battle and that he would be throwing away good money after bad.
HOF: There were also rumors that the Wheels would relocate to Louisville, Kentucky or Charlotte, North Carolina. Where the players hoping for relocation?
BW: The players were interested in anything that would create a positive return. I think that this was another example of management trying to stimulate to hang on a little longer. It all became false hope. A new city, new owners, new money coming in- blah, blah, blah. There was hot air and propaganda to keep the enthusiasm as long as it could. There really wasn't anything more clear than the lack of attendance, the lack of media attention, lack of enthusiasm- all of it was showing the demise of the team.
HOF: With all the financial problems going on, in late September you were charged with assault by Albert Chester, the Wheels accountant. Was that meeting an example of how you went to management on behalf of the players?
BW: I was one of the captains of the Detroit Wheels. Myself and two other co-captains were in a meeting with Albert Chester to see what the status of compensation was for the players- we hadn't been paid in weeks. Players were having medical problems and couldn't receive treatment, some couldn't eat, others didn't have a home or a place to stay, many of the players were missing practice 'cause they didn't have the money to pay for gas or even a bus ticket- and on down the line, just horrible, horrible stories.
Albert Chester was the comptroller, the accountant, the CPA for the Wheels. I honestly felt that he was put in that position as a scapegoat. Being put in that position as a scapegoat, knowing that he had no where to turn, and he had no options. †There were no funds and that made it difficult for him to negotiate. Here we sat, three football players, big 6-foot-5 co-captains all around the accountant. I think the atmosphere of intimidation that he was feeling was very clear. As it turned out, it became a heated discussion where falsehoods were being stated and myself and the other co-captains were just saying, "Look, that's not accurate, that's not what's taking place. You've got people here who can't even eat three meals a day." We said to him, "Stop telling what's going to happen, and let us see something happen." Eventually, it got to the point where he was so intimidated he was sitting there shaking........just shaking. Heated words, heated conversation. Nobody touched anybody; there was no physical contact that took place. It was nothing more than a business meeting that got heated because there was nothing but lies being told to us and we simply weren't going to listen any more- we had nothing to lose. We weren't getting paid; we were just getting beat up and playing for a team that was going nowhere. See, a lot of these guys had careers to think about. They were hoping that if the WFL didn't work out they could return to the NFL or CFL. The manner in which we were treated was abuse- simply, physical and mental abuse that we had to endure. You went out and played as hard as you could, under horrible conditions and then you were being told these lies. We knew deep down, although we didn't want to believe it, that nothing was ever going to happen.
HOF: Did the management of the Wheels ever give the players an explanation of where the immediate funds (ticket receipts) were going? Under such conditions you would think that they would give you $20 or so to buy food.
BW: Yes, they did. They had so many creditors asking for money. Even small payments. They were overwhelmed. You'd think that they would've given us a small stipend for food, but when your budget is a certain amount and your gross income less than that you won't have any money for anyone. I suspect some of the owners started to pull out their investments when things turned bad. They wanted to minimize their losses as soon as possible- it was a business for them, and investment. The players of the Wheels heard every excuse in the world, every promise possible, and reasons why it wasn't happening and why, rumors that we were moving- all of that was created as a false sense of hope. The persons that held on the longest were the people that were going to get hurt the most. Then we all walked away.
HOF: The Wheels won their only game of the season over the Florida Blazers 15-14 in Orlando. What was it like for the team to finally end up a winner against a team that went to the World Bowl?
BW: Even though it was a win, the original teams were very much different than the World Bowl teams. Players moved around, joined new teams, and many of the weaker teams in the WFL got stronger. We enjoyed the victory, it was nice to have a win, but at that time we were simply going through the motions on both sides of the ball.
HOF: Terry Hoeppner caught a pass from punter Dale Livingston to set up a Billy Sadler touchdown run that won the game for the Wheels. I imagine it felt good to finally get that win after all the adversity.
BW: Absolutely. That is the part that is most appreciated by any and all players. The camaraderie that you get to experience by being in a team sport like football. Under the most adverse conditions there is always something good that can come out of it. In this case, it was the opportunity to play with players who had played around the country and in other leagues and put all of that together, and yes, there was some joy in coming from behind in the game and winning. It's a great feeling, a fleeting one, but a memory that no one can ever take it away. Those kinds of things were a small part of it. At this time, the Wheels players were doing it for their own benefit- by their own will power.
After the game, when you shower and put on your clothes and walk out to the bus and you feel the bumps ad bruises, and the scares, and you reach for your wallet to buy a Coca-Cola and there's nothing there, not even a dollar, the battle gets the best of you.
HOF: When did you hear the Detroit Wheels were folding?
BW: It was obvious it was going to happen. There were signs all around us. I think the exact point in time was before a practice, there were a lot of rumors going around, we went in to the practice field and the trainer and equipment manager just told us, "No more practice, no more team- it's over. Go home." The players were scrambling around picking up helmets, jerseys, footballs and pants before the bill collectors came in and confiscated all the assets of the team. I walked out with my football helmet- I still have it in my trophy case today. The only physical memory I have is that football helmet.
HOF: You were drafted in the dispersal draft (the draft that included the players from the Wheels and the Jacksonville Sharks) by the Philadelphia Bell. How did you end up playing for the Chicago Fire?
BW: Jim Spavital, the coach of the Fire, knew me from the CFL. I was fortunate enough to be a fairy accurate passer and Chicago had lost their starting quarterback Virgil Carter. Virgil was hurt, and they were looking to bring in a qualified quarterback with experience 'cause Virgil would be out for the remainder of the season. There were statements like, "You and Virgil are going to be the future of the Chicago Fire" and "it will be a great training camp, there would be a real battle to see who will be the starter in '75". That's how I was swayed to go to Chicago, because of Jim Spavital's knowledge of me from the CFL. I don't think there was a trade with Philadelphia, nothing official like that, players were just being sent to teams that could afford to sign players.
HOF: What was it like playing with the Fire?
BW: The situation in Chicago became very much like the situation in Detroit. I received one paycheck and I was there for quite a few games. You saw the same scenario in Chicago that I just left in Detroit, just a few weeks later.
HOF: The first game you played for the Fire was against the Charlotte Hornets in Charlotte. What was your impression of the Fire personnel?
BW: Chicago actually had pretty good personnel, probably better the Detroit Wheels. Chicago had a lot of injuries so a lot of the players, key players, were trying to overcome bruises. The talent was there. I was really excited about going to Chicago and playing for a coach that I knew, a coach that had experience. Jim Spavital was a hard-working, gutsy coach, an old school coach, who was willing to get it done. He was a "school of hard knocks coach". I appreciated that kind of atmosphere. Behind the scenes you'd see secretaries disappear, and then you'd see their typewriter disappear. Office spaces closed, phones not answered. It was hard to swallow. It was tough to take a second time. The enthusiasm was there, but the reality was another slap in the face. You couldn't get away from the negative aspects.
HOF: One of the Chicago Fire players at that time was running back Leroy Kelly. What was it like playing with him in the WFL?
BW: Leroy was a great player. He was on the back end of his career. He still had plenty of moves, his feet weren't as quick but he could play. He wasn't the only one; there were other players as well. The situation for Leroy was even more difficult to endure. He was a key player for the Cleveland Browns for many years and being in the limelight of the NFL for so many years and being one of the greatest running backs in NFL history at that point in time to be subject to that type of atmosphere in the WFL probably made it tougher on him to keep optimistic about everything. If a guy, who has done as much as Leroy Kelly in the NFL comes to the WFL and is capable of helping the league make it but is not compensated for that really made it tough. I suppose the lack of effort that took place in the latter part of the season by some of the players was due to the disappointment they were subject to.
HOF: Did you ever discuss the status of the WFL?
BW: Briefly. Towards the end of the season you wanted to act like you wanted it to make it. On the other hand, reality was slapping you in the face. So you really tried to stay away from talking about it, it was such a downer. There were only negative things, and you knew that you probably wouldn't get paid for playing.
HOF: The Chicago Fire forfeited its final game in Philadelphia, and folded. What did you think your future was at that time?
BW: Well, during the last games of the season, people were talking about reorganization, already talking about next year, and how to fix the problems that were there. Everybody wanted success and wanted it to happen- including myself. I think the owners of the remaining teams went into some sort of draft so the players couldn't just go around and sign with anyone. I in fact was talking with several teams up in Canada, and Shreveport was the only team that contacted me from the WFL. I think that was because it was pre-negotiated as to what players would be available to what teams. A short time after that, the Shreveport team contacted me. I had an opportunity to renegotiate my contract with the Steamer and certainly did so with the same lawyer I was working with at the time. I came out with a wonderful, no-cut contract in Shreveport. I was one of the lucky ones. No other player on the Steamer had that luxury. That came to haunt me later in the season, but I had paid my dues and got me a competent attorney that pieced this contact together for me.
It was tough during the '75 season when I was getting paid and nobody else on the team was- nobody. Virtually, the players, I don't want to say blackballed me- they were professionals- but they were looking at me saying, "why don't you share what you're getting with us?" Well there again, if I had I would have ended up back where I started with Detroit and Chicago. It was very tough. It was a rough situation in Shreveport.
HOF: What was it like in Shreveport during training camp?
BW: I went to Shreveport as the starting quarterback. We had gone into practices, two-a-day practices, which was the preseason practices. Anybody that knows football, who has experience in football knows that the defense is weeks and weeks ahead of the offense. The offense is primarily timing, the defense is "get up and go".† And for some reason the coaching staff was allowing full speed to the quarterbacks on day one, the first week of training camp. The defense was literally running over the offense which is trying to piece together timing plays and all of these things that take timing and weeks and weeks of practice to blend it into a unit. They started scrimmaging, full speed on the quarterback, which is basically unheard of in training camp, due to injuries. I injured my rotary cuff so bad that I couldn't play the entire season. They went on to injure D.C. Nobles, another quarterback. Edd Hargett, who came from the Hawaiians, was left to run the team. They started taking us out of there in wheelchairs. There again, inexperienced coaching.
HOF: What was your impression of Steamer head coach Marshall Taylor?
BW: I think he was very enthusiastic and optimistic about the chances for success of the team and the WFL. My impression was that he was better suited for college than for professional football. When you get to the pros, guys like Jim Nance and myself are making a career and a livelihood for their families. The "gun-ho" type of atmosphere is great for college, but I felt we were not in a position to listen to that type of college atmosphere. I don't think Coach Taylor realized this. Don Maynard, the former New York Jets receiver, knew that we were out there working hard and needed to be treated like professionals. We never would have gone through the preseason injuries that we did. When I was hurt, they told me, "You're fine. Get back out there."
HOF: One of your team mates was WFL all-time leading rusher Jim Nance. What kind of player was Jim Nance?
BW: Jim was a great big, barrel-chested, huge legged running back that did a lot of punishment when he ran. He had a lot of experience, knew how to read blockers, and knew how to recognize and read defenses and his NFL experience really helped him become a great running back in the WFL. He was a big load to bring down.
HOF: How would you evaluate the Steamer roster?
BW: They had a lot of unique individual talent. We didn't have a lot of great players, the team wasn't too well molded, and it didn't take advantage of the strengths of the team.
HOF: How would you rate the Shreveport fans? Especially coming from Detroit and Chicago?
BW: They were fantastic. Shreveport fans were great fans. They were deprived of sports, and the city really rounded up and supported the team. I can recall going into restaurants and drug stores and being asked for an autograph. We visited a lot of hospitals and did a lot of speaking engagements in Shreveport. The fans were really warm and appreciative of the opportunity to have a team. The reaction was very much different than in Detroit and Chicago.
HOF: When did you hear that the World Football League had folded?
BW: Rumors were all around. Guys were wondering, "when am I just getting' in my car and drivin' home?" The end results were becoming apparent. I lived in Shreveport, by a lake, and myself and some of the other players were sitting around and one of the equipment managers came over and said, "there's some padlocks on all the equipment rooms and they're not ours!" We sat there starring at each other.
There was no team meeting, no phone calls- only word of mouth. I suspect that if they had a meeting of some sort it wouldn't have gone over very well at all.
HOF: Did you pursue football after the WFL?
BW: No. I had two knee injuries. My first major surgery was in 1968. So, my left leg was giving out on me and my arm, which was my best asset, was done- if you can't throw or run you can't really play quarterback. I returned to my business in Georgia.
NOTE: The Bubba Wyche was conducted by Jim Cusano and Richie Franklin. This interview appeared on the former WFL Hall of Fame Web site, and is used with permission. This interview is property of the World Football League Web site and may not be used without the permission of the Web site owners.