---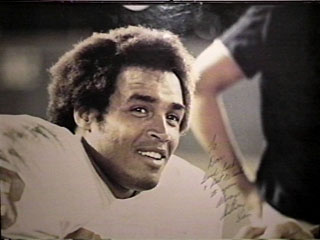 The interview with Anthony Davis was conducted on July 26, 1999. Anthony, speaking from his home in Beverly Hills, openly discussed his WFL career, his football career in the CFL and NFL, and his post-football days of entering into the entertainment and land development business. "A.D", as he was called by WFL players and spokespersons, led the league in rushing with 1,200 yards and an incredible 16 touchdowns when the league folded on October 22, 1975. Davis then ventured on to the Toronto Argonauts of the Canadian Football League and the Tampa Bay Buccaneers and finally the Los Angeles Express of the USFL. When he walked away from professional football, "A.D." starred in several motion pictures and pursued his own business interests.
HOF: In 1975, after being nominated for the Heisman Trophy, you were drafted by the New York Jets of the NFL in the second round. The Southern California Sun of the WFL was interested in signing you to a contract. Was the Sun more attractive to you because of your career at USC?
AD: I was a top draft pick out of high school for baseball. I was a switch-hitting power hitter, had a great arm, and no real weaknesses. I was the first true two sport athlete. In my senior year, I was drafted by the Minnesota Twins and the New York Jets, and I felt I was slighted by the NFL. When I tell you this, I was a very flamboyant in-your-face type of player. I think the NFL wanted me in New York because of that. I was upset about the way I was drafted; I made it clear I wanted to play for the Rams.
HOF: Do you feel the NFL handled your situation differently due to your potential to join Major League Baseball?
AD: The guy who drafted me out of high school by the Orioles, the Brewers didn't want to give up my rights. I couldn't give up the money the Sun offered me. I couldn't give that up. A poor kid with no money, I couldn't turn down that kind of money. I don't know of anybody to this day who could return kicks, catch and run like I did. Only Eric Metcalf had really shown the versatility that I had in my career. The knock of me was my size. Barry Sanders is smaller than me. I'm 5'10", 200 pounds.
HOF: Was there a lot of bad press about the WFL, and did the league suffer from an attack from the NFL?
AD: They (the NFL) didn't like that. I think Csonka and Hill they're careers were towards the end. But I was fresh. I was a member a new paternity of great players coming out. I was the marquee player coming out that year. I paid a price for signing with the WFL. Even though Walter Payton was a great player coming out of Jackson State, he didn't have the name credit that I had. He didn't have the great game against Notre Dame. For them (the NFL) to lose me rubbed some people the wrong way. It was really funny the New York Jets situation versus the WFL. Everybody wanted me but the management questioned my ability, how do you not sign your top pick and question his ability? They really didn't have a break away back. They had Emerson Boozer, Matt Snell and Joe Namath. It's really funny. I received an award, from the Washington Touchdown Club gave me an award for being the back of the year in Washington, D.C. and I was there with Joe Namath in his room. I said, "Joe wouldn't it be somethin' if I was drafted by the Jets and I played in the backfield with you." He said, "Man, we need a break away runner like you." Three years later I was drafted by them. I always thought he had somethin' to do with that.
HOF: So the New York Jets never came to the table with a serious offer?
AD: No. Weeb Ewbank came out. Charlie Winners, who was the coach then, came out and they questioned whether or not I could even start with the Jets. I said in the paper, "If I can't start with a team that is 2-12, I don't deserve to be in pro football". That's what I said. New York went crazy. I had more letters and calls from New York. That goes to show you why some organizations do what they do versus other organizations. You win championships in the front office, not on the field. In the WFL, the Sun, that's the kind of organization the NFL needed, they built an organization that wanted to win. You can question the overall size and talent of the players and who could complete in the NFL, we had guys who could complete in the National Football League, we had great management with the Southern California Sun.
HOF: Did Sun coach Tom Fears approach you and tell you that you would be the featured back?
AD: He mentioned to me what he expected, I knew I could perform. I need the opportunity to show that I had the talent to play pro football.
HOF: When the 1975 season approached, you were excited about the WFL and your chances to win the title?
AD: Yeah, we had some talent on that team, Lamonica, and some guys.
HOF: Your first professional game was against the San Antonio Wings, what were your feelings heading into the season?
AD: I was ready to go. I had some veteran guys to learn from. Lamonica, Roller, Ernst, and DeJurnett, these were all talented guys, and I learned a lot from them. We played the San Antonio Wings in Anaheim, 20,000 fans were there. I ran for over 100 yards. It felt good to break into the WFL like that.
HOF: On July 14, 1975, in the WFL preseason, you scored five touchdowns against the Memphis Southmen and their premier players; Larry Csonka, Jim Kiick and Paul Warfield, what was you memory of that game?
AD: Csonka, Kiick and Warfield were the big draw in the WFL at that time. There was a good crowd and I ran for over 100 yards. After the game, Larry Csonka came up to me and shook my hand and said, "Man, I don't know what they're (the NFL) thinkin', but you've got a great career ahead of you." That meant a lot coming from him.
HOF: You mentioned the talent on the Sun, who were some of the players you respected?
AD: Lamonica was a cagey veteran, an ad-libber, I learned a lot from him. Haden spent seven years with the Rams, and Ernst spent some time in NFL camps. Roller went to the Green Bay Packers.
HOF: You opened the 1975 regular season against Portland and San Antonio, the third game of the season you played the Hawaiians and against former ALL-Pro running back Calvin Hill. What do you remember from that game?
AD: That was the game he blew his knee out. A night game. We didn't talk or anything, I didn't meet him. He was having a good game against us and he ran right around the end, and Jack Connors came up and hit him low and blew out his knee, we went on and won the game. Calvin Hill was one of the "greats".
HOF: Was there a point in the season where you thought, "this is really beginning to roll"?
AD: It was down there when the league folded. That's when the Sun was starting to roll. Everyone was getting to know each other as players and starting to anticipate what we could do in certain situations. Anticipating what guys would do offensively and defensively. That's when I thought, actually a week before the league folded, I was getting stronger and the production was going up.
(HOF note: The Sun, after a 4-1 start, had dropped three straight games to San Antonio, Charlotte and Shreveport. The Sun rebounded for a 24-17 win over Charlotte. The Sun were 7-5 when the WFL folded in October).
HOF: What made Dave Roller and Daryle Lamonica leaders on the Sun?
AD: Roller showed leadership through his playing. He would talk it up in the locker room, but it showed it on the field. More than anything he showed it on the field, he was a great leader on the field. Lamonica was the same way. He was a little older veteran, and his skills had diminished a bit, but showed the same thing. He was like a player coach on the field. I would ask Daryle questions about the years when he was playing and what he thought I should do in a situation giving my ability. I always did that, I always felt that I could learn from anyone on the field.
HOF: What did Pat Haden bring to the Sun offense?
AD: He had better scrambling ability than the others, and he threw through lanes real well and he had a great pass. With that coupled with me, David Williams, that made us lethal. That when our productivity came up even more. We (Pat Haden and I) played four years together in college.
HOF: With you playing in Southern California, did the Sun management (Sam Battistone and Larry Hatfield) market you as well as you thought they would?
AD: I did exactly what they thought I would do. And I was happy. What happened was that me being involved with this dispelled a lot of rumors that I couldn't play in the NFL, so it made the Sun look great. And I proved that, I proved that I was a number one draft choice. The Sun loved the fact that they signed me when a lot of people thought I couldn't play.
HOF: Do you stay in touch with any of the players from the Sun?
AD: I see Pat Haden. I keep in touch with Tom Fears. He was a great one. I learned so much from that guy. He brought so much out of my given ability. When I went other places, including the NFL, I said, "Man, these guys arenít using me properly, why arenít they using me the way he did?" When I went to Canada that was a mistake. The problem was that the Jets didn't want to give up my rights. So, I went to the CFL, they (the Jets) figured, "he's gone" , that's how Tampa got my rights. The Jets thought I wasn't coming back. I signed a five year deal, but they didn't know I had a two-year option.
HOF: Were there any Sun players that really stood out along with Lamonica and Roller?
AD: We had a guy named Don Shy, who played with Gale Sayers. We called him, "Papa Shy". He was the clown on the team, he would be talking trash. He would be always going. I'd take him out to eat at Victoria Station and he'd be yellin' at guys. We had this fullback named Bill Kramer, who played against me in high school he went to San Diego State, and we used to call him "Cocoa". He was only 5'8" but was strong, he was like a bore. After the game Fears would ask him what he was doin' out on the field and he would say, "CO-CO" over and over. He'd (Fears) would say, "Cocoa what were you doin' out there, you looked like shit." He'd give a hard time but Kramer was a helluva a player. Keith Denson was a great receiver; he played in the NFL with the Eagles. He could run. He would get in the shower and scream at the top of his lungs, "I'm a freak, I'm a freak", we'd be laughing and laughing. Denson was strong, wiring guy. There was a guy Eric Johnson, who was crazy. He'd hit ya and not say nothin', he could hit hard. He was white, I mean white hair, white skin, just white white. Greg Herd, Joe Carollo, who died, Paul Grady, Mike Ryan, Chuck Bradley, J.K. McKay, he was out there a bit.
HOF: The Los Angeles Times had an article in 1975 that states, "Davis leads Sun to 39-30 win". Tom Fears is quoted, "that guy is the best runner I've ever seen."
AD: Coming from a Hall of Fame player, that's a great compliment. That's great. I respect guys who say, "Davis can play the running game". I really respect the running backs in the WFL; I thought Tommy Reamon was a great runner. The moves he made, the cuts, I thought he could play anywhere. He could play in the National Football League, he could play. Tommy played in "North Dallas Forty" with John Matuszak. There were a lot of great players in the WFL. It's great to get respect from your peers, the respect of the guys that you play with. I lost my desire to play after the WFL, I just gave it up.
HOF: Do you remember when the WFL folded? The L.A. Times ran a story titled, "As the Sun sinks" that detailed the scene in the locker room, what was it like for you?
AD: Yeah... I remember. We were at Los Alamitos, we had just had our first offensive workout. It was hot and we came into the locker room. Tom Fears called us into the room, we didn't know what was wrong. He stood there... quiet... walked back and forth a bit.... and looked up and said, "Gentlemen, the league has folded... the league has folded." The WFL had put Anaheim and Orange County on the map. I was sitting there with my jersey and pants on and guys... well, you know. We needed a television contract, we couldn't get it done. For a while there was a lot of talk of me joining Memphis and their bid to get into the National Football League.
HOF: When you went to the Toronto Argonauts what was the situation?
AD: They were too happy to have me. I was getting acclimated to the system. I held the kickoff return yardage record for them, and I missed the last six games of the year. It wasn't conducive to my ability. In fact it was so bad up there, that a guy named J.I. Albin, the personal manager for the Patriots, complained to the owner of the team. There was a guy named Russ Jackson, who was supposed to be one of the best players in Canadian football , so you're dealing with that reputation. I was called an "import", the "pompous American", the first guy to sign a million dollar CFL contract, so they had a problem with me anyway. And then there is the quota system up there, 15 Canadians and 17 Americans. The city was great. The football was disgusting. When I got hurt, that was the downfall of my career. That's why I got out of football. I hurt my back and never should've played, waited and got healthy. I should've sat out a year.
HOF: You were the first athlete to play in the WFL, CFL, NFL and USFL?
AD: I came back with the USFL, but I was more like a player/coach type of guy. I really didn't want to play, I didn't have the skills I used to have cause' I had been away from the game. I helped promote the league. The Pittsburgh Maulers contact me but it was over. I only played four years of pro football. It was a waste of time; it was a waste of talent. I don't how other players feel about my ability. All the guys from the WFL, I think they'd say I could play. I never really talked to guys; I've never really heard anyone say anything about my ability. The biggest compliment I got was when I was with the Buccaneers and we played the Dallas Cowboys, the year they went to the Super Bowl in '77, and I asked Hollywood Henderson those guys in the game "why are you hitting me so hard." He said, "Landry told us, 'let me tell ya somethin' this guy may be on the worst team in the NFL but if he gets loose it's gonna be a long day." I don't know what to say about my career. I went on to play baseball with the San Bernardino Pride of the Senior League, I batted .300 but the league folded.
HOF: What are you involved with now?
AD: Now I am a real estate developer. I want to develop a stadium for the NFL Los Angeles franchise. I'm also a spokesperson for Doctor-In-Your-House. After football, I did a movie called, "Two Minute Warning" in 1976 with Charleton Heston. I starred in "Loose Shoes" with Bill Murray. I was in "Roots", "Buck Rodgers", "Hotel", the "Ricky Bell Story" with Mario Van Peeples.
(HOF note: Anthony can be found on the internet at: http://www.doctorinyourhouse.com/ where he hosts "Weekend Warriors".)
When I walked away from football I always considered my year with the Sun the best of my career. Tom Fears, Pat Haden, and Dave Roller, all those guys were great, and we played hard. The Sun had a great organization, dedicated to winning; we would have taken the World Bowl no problem.
NOTE: The Anthony Davis interview was conducted by Jim Cusano. This interview appeared on the former WFL Hall of Fame Website, and is used with permission. This interview is the property of the World Football League Website and may not be used without the permission of the Website owners.