---
HOF: What was it like for you, a former NFL quarterback with San Francisco, Miami, Philadelphia and the CFL, joining an unproven, rogue league like the World Football League?
GM: I thought I would like to go into a league and help it get off the ground, get it going. The challenge of starting something from the beginning. I thought we could really get it going, and the first year we did. In the end it didn't work out.
HOF: When did you first hear of the WFL?
GM: Jack Gotta, the coach of the Birmingham Americans, had called me and told me they were starting a new league and he asked if I would be interested in coming down to Birmingham to play. I thought about it for awhile, and then called him and told him I'd like to talk about it, and when they would begin, and who would be playin' and who was involved with it. We did that. It was very interesting. I thought that if they had put a cap on it and held the salaries in line, and stayed with it and held on to it, the league might have made it in time. The big thing is a TV contract. If you don't get a television contract then it doesn't happen. The guys who were coming over, jumping to the WFL, I thought it was going to be a good league.
HOF: What was your impression of Jack Gotta and Americans owner William Putnam?
GM: Jack Gotta was a high-strung guy. Hard worker. A real go-getter. A knowledgeable coach, coached a lot of years in the Canadian Football League, coached championship teams, and he knew how he wanted it, and how he wanted to get it done, and he knew what kind of players he wanted on his team. And I liked and respected that. Mr. Putnam, when I had discussions with him, I felt strongly that he was very much for Birmingham and the league, and he wanted the Americans to be the best team in the WFL, with the best players. Also, I felt he was gonna hang in there and make sure the WFL got off on the right direction, and I feel he did that.
HOF: The Americans had a number of players with NFL experience in training camp, such as yourself. Did the rookies and less experienced players look to you for guidance?
GM: Well we helped them out as much as we could. We knew that we were the veteran ball players and we would have to help the younger players get adjusted and make adjustments and this was what we did. We knew that we had to get the younger players ready to play the caliber of football you need to play to win a championship. I think we accomplished that. We had Denny Duron, a good young quarterback, not only a good quarterback but he was very versatile, he could also play receiver. Dennis Homan worked with him during practice on routs and things at wide receiver and that was a good example of the challenge we faced and how we, as a team, took care of that.
HOF: How was your relationship with quarterback Matthew Reed?
GM: Good one. There's another guy, Matthew Reed. What an athlete. 6-foot-4, 240 pounds, ran the 40 in 4.5 and he could throw the ball a hundred yards, and he could throw it through a wall, he had a real strong arm. But he was young, and I worked with him. When I got hurt I worked with him quite a bit with the calls and the audibles, and it turned out good, he stepped in a did a great job. I think the relationship with all the quarterbacks here was very good, I don't think there was a problem at all. We all got along well, we would get together and discuss things and if I wasn't playin' and Matthew was, I would help him, and if I was playin'-he would help me, or we would both help Denny. The relationship was a good one, not only with the quarterbacks, but with the whole team was a good one. Probably the relationship on the Americans was probably better than any other team I had played for.
HOF: During training camp were you brought in as the starter?
GM: I was the starter and worked with the first team, and I took all the snaps with the first team. Then Matthew would come in, and Denny would come in and work with the other guys.
HOF: What was your impression of the WFL ball and was it easier to pass than the NFL ball?
GM: No. The NFL ball was easier to pass. The NFL ball wasn't as quite as big and round. The WFL ball was a little shorter, I think it was easier to punt than to throw. Then, you had the orange stripe around the ball and when that ball got wet it was slick the yellow paint wore off of it and you'd get it all over your hands and uniform. After a while the yellow and orange wore off to make it dull and it was tough to see at night. I thought it was a new league, something different, hell I was all in favor of it. Why have the same thing as the NFL. Make your own recognition; get your own stuff going. We had the Dicker Rod, it was good.
HOF: The Americans defeated the Southern California Sun 11-7 in their home opener. 53,000 fans were watching at Legion Field, and you appeared in Sports Illustrated. What are your memories of that game?
GM: Amazing. We were trying to get off on the right foot. We were trying to get a win. You want to win the game to try to get things rollin' in the right direction. I don't think offensively we played the kind of game we wanted to. We made some mistakes; we didn't move the ball well. We fumbled down on the one yard line when we should've scored. But that happens. It was a brand new league, brand new team, there was guys playing together for the first time, not knowing each other that well and that stuff happens in the heat of battle. We expected that to happen offensively. Defensively, it's a little bit different. The defense is always a little bit ahead of the offense when you first come into the openers and then the offense catches up.
After the ball game, the Birmingham fans, who are good football fans, tremendous fans, who understood football, came out and supported us and the bond between the team and the fans grew from there.
HOF: Week two of the season (July 17th), the Americans went into the locker room trailing the New York Stars 29-3 at half time. Can you tell us how the team reacted?
GM: Yeah, it was amazing. Generally when your down that far there's some feelings going on, "are we gonna come back, can we come back, we're really getting our butts kicked pretty good" but that feeling wasn't there with this team Our thoughts were, "we're gonna came back, we're gonna win this." All the players on the ball team felt that way. There wasn't a negative thought in that locker room, everything was positive, and that's when I think it all came together for the offense, everything started to work. We got the ball back and we moved it down the field and scored and then we moved it again and scored again. Everything started to jell offensively, everything started to work. Then, when we came back and won the ball game, that was a added plus, a confidence builder, that was a tremendous plus. I dropped back and threw it to Dennis Homan, who was open in the flat, and he took it in. We just came back; we played sound offense and defense and took it over.
When we came back from New York there were people waiting at the airport, and I went home and some one had put a "Congratulations George" sign on my apartment door.
(WFLHOF NOTE: The Americans defeated the Stars 32-29.)
HOF: Babe Parilli, former coach of the Stars, said that when you threw the touchdown pass to Dennis Homan the lights were so bad that people in the stands never saw the pass. What was it like playing in New York's Downing Stadium?
GM: It was awful. The lights were bad. We had better eyes than they (the Stars) did that night. He was right, the lighting was horrible. That goes for both teams. We just came back and won it.
HOF: With the team playing together, the Americans exploded for 58 points against the Memphis Southmen in a 58-33 win.
GM: That's why I think the New York game set the tone for us. We knew we could come back and score a lot of points. We knew all along we had the personnel, we had the game breakers, you had Jenkins and Homan, and then you had Harraway in the back field, Robinson, Cantrelle, these were good football players who had played in the NFL and CFL and they were outstanding ball players. Our offensive line was outstanding. Some of these guys played when O.J. Simpson played in Buffalo and had the great year, the 2,000 yards, Joe O'Donnell was one of the guards, and Paul Costa was a tackle. John Matlock came from the New York Jets, Buddy Brown came from the Alabama, a national champion team, and Jim Kregel was with Michigan, and Jim Bishop was a Helluva tight end and a tremendous blocker and a good receiver. We had a sound team and we knew that. It was just a matter of putting it together and then we blew it out.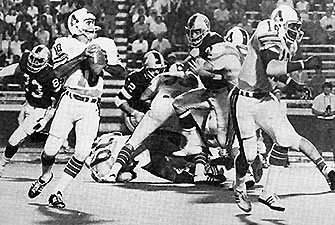 HOF: There were 61,000 fans in Legion Field for the Memphis game what was that like for you?
GM: It's a great feeling to know that you're a new league, a new team, and you're still drawing the crowds like that. The enthusiasm was incredible. The south is a football hotbed, and if you have a good product the people will come out to check it out.....but the people want to see something in return. And we gave them something.
I felt bad playing in some of the other stadiums. New York, Detroit. I thought if you were gonna put a league together try to go as "first class" as you can. There was some that did and some that didn't. We would go in there and not play in front of anybody, and I felt bad for the home teams. These guys wanted the fans to come out and support and they were no where.
HOF: The Memphis-Birmingham games were dubbed the "Battle for the South" by many in the media, they were dog fights...
GM: No doubt about it. I mean it was a battle. Memphis had a good football team, we had a good football team, and we would battle like crazy to come back and win the game. It was truly the "Battle of the South". These guys came in hungry, and when we went up to Memphis it was tough. Those games were the hardest hitting games I ever played in.
HOF: In Montreal, when playing with the Alouettes, you had Johnny Rodgers and Peter Della Riva. In Birmingham, you had Alfred Jenkins and Dennis Homan. How good were Jenkins and Homan compared to other receivers you worked with?
GM: Jenkins and Homan were outstanding. They played in the WFL and NFL and did a tremendous job. They could've played anywhere. They were outstanding receivers, pass rout runner, great hands and concentration, and I would take those guys any time. Dennis Homan was very smart, always read the defenses well, and got into the hole. Alfred Jenkins had it all. He had speed, read good defenses, ran good routs, and once he was a step behind you and he had the ball, he was gone. He was the type of guy who was a game breaker. Against Memphis, I threw a 98 yard touchdown to Alfred Jenkins. He could bust it wide open on ya. He could catch a four, or five-yard pass and run for 50 yards. Dennis was a good procession receiver. He was the guy you depended on to run the good route and catch the ball for the first down. He was a pressure guy. On third and three-four-five, I could count on him when the blitz was on and I had to unload it quick.
(WFLHOF NOTE: Dennis Homan had 61 receptions in 1974, Alfred Jenkins 60 receptions. The longest play in the history of the WFL.)
HOF: Was the quality of play in the WFL comparable to the NFL?
GM: I thought the quality of play was very good by many of the WFL teams. I felt very strongly that the Americans could have competed with just about every team in the NFL. We had the quality of players, we had players who played in the NFL for a long time and we had some good young backup players. I think the Memphis Southmen could have played well against some of the NFL teams. The quality was not bad; in fact, it was very good for a first year league. I was really disappointed that things didn't turn out and they had to shut down the league. I thought the league was gonna turn out to be a really good league and give the NFL some competition. Without TV, forget about it, you can go home.
HOF: Jack Gotta claimed that the NFL expansion teams, Seattle and Tampa Bay, would play with the Americans cast offs in 1976.
GM: Yeah he did. I think he would've been right. A lot of players jumped to the NFL when we went out of business.
HOF: The Americans were 10-0 and hosted the Chicago Fire. The game was played in "Hurricane Carmen" in front of 55,000 fans, and Birmingham won 41-40.
GM: Hell, we didn't even know if we should play it. I was raining so hard you couldn't look up. But as a professional you get out on that field and you go. Once we got into it we ran our offense and did well. The fans, 55,000, came out in bad weather, and saw a good ball game and they stayed till the end.
HOF: Who were some of the quarterbacks in the WFL you felt were good players?
GM: Virgil Carter of the Chicago Fire was a good quarterback. He played for Cincinnati in the NFL for a couple of years. Danny White of Memphis I thought was a good quarterback. He went on to prove that in the NFL with Dallas. John Huarte was an outstanding quarterback as well. Bob Davis of the Florida Blazers was a good quarterback; he did a helluva job with that team.
HOF: What are some the most vivid memories that you have from the '74 season?
GM: Well I think comin' back against New York will stay with me forever. I ran for a touchdown and then with no time left on the clock hit Dennis Homan for the game winner. You don't get down 29-3 and come back many times in your career. I think what will stay with me is the relationship that I had with the guys I played with and the team. Guys would pat each other in the back and there wasn't any finger-pointing, or blaming, it was like being in back in your college days. Guys were behind you whether you were starting or not starting. There was no jealousy among players. Everybody was gonna do the best that they could, and if they went down, some one else was going to step in. That's what we had in Birmingham, and that's why I think we were so successful.
I think most of the WFL had that. It was a new league and there was a "us against them" attitude. All the players were trying to get the league off the ground. A lot of times, when your a professional, and your trying to beat some one out of a job, and there's gonna be battles and hard feelings and guys not talkin' to each other or helpin' each other, but we didn't have that in Birmingham.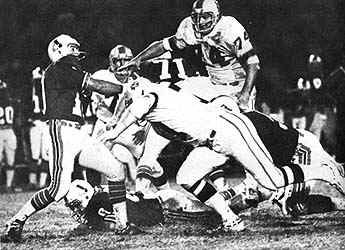 HOF: Birmingham and Memphis were two of the strongest teams in the WFL and both had dual quarterbacks (Memphis with John Huarte and Danny White and the Americans with you and Matthew Reed) do you think this is why you were so successful?
GM: Well, I think when I went down, we had three quarterbacks who could play, when I went down Matthew came in. Matthew had the talent and the physical abilities to do a lot of things that I couldn't do, and that helped the team. Of course, I would help him with the play calls and the defenses they were puttin' up front and then Denny Duron was there and he would put his voice in and point out some things. That made us a better quarterbacking unit because of the guys sticking together.
HOF: Birmingham was a major league caliber city for the WFL. How did you feel when the reports started to surface about the reporting of false attendance numbers and players not being paid?
GM: Disappointed. No doubt about it, all the players were let down. There was a lot of people coming to the ball games in Birmingham, and we were trying to put the best product out there and play our best, and when this stuff came out it was heart breaking. A lot of the guys were very disappointed, very upset, and very mad. You bust your butt to do what we did and then all of it is effected by what you hear is going on in other cities around the league.
We won the World Bowl and I was the MVP, and me and Ross Brupbacher, were the only two guys who didn't get a championship ring. Everybody else got them and we didn't. When the WFL started up in '75, Pee Wee Burgess was one of the owners, and we didn't get one 'cause we went to different teams. In fact, Earl Knabb, owner of the Jacksonville Express, made a bet with Pee Wee and told him, "If we win the ball game at Jacksonville tonight, you buy George that ring. If we lose, I'll buy him the ring." I never pursued it. I figured that if they were gonna be that way about it, the hell with it. I would have loved to have gotten that damn thing, being MVP and all. I saw John Matlock's, it's a nice ring.
HOF: William Putnam paid a lot of money to NFL players to jump to the Americans; Detroit Lion wide receiver Ron Jessie, Dallas Cowboy Jethro Pugh, Pittsburgh Steeler defensive lineman L.C. Greenwood and Oakland Raider quarterback Ken Stabler. At the end of the '74 season, Birmingham was suffering financial problems due to the huge cash bonuses paid to these players, many of the Americans went without pay, how did that make the team feel?
GM: I thought that was wrong. We had the nucleus of a great team and a great league. We had some young stars and some veteran stars. Why didn't the WFL make its own superstars? Why go in the other direction? We had it going right. That was what really hurt us, they went out and spent a lot of money on future guys. The hell with that! Pay the guys that are already here, continue with what you got. Get it going for four or five years then pay the money for a player or two. Don't go dumpin' all that money, unless you have a well that won't run dry. Then it's a different ball game. It seemed to me that some of the guys they checked out as owners that well wasn't very deep. Maybe they expected to get a TV deal with those players, but if you're gonna have a league you need some power behind you.
The Birmingham Americans would have ended up making a profit that first year. One day, Mr. Putnam asked me what I thought, and I told him, "Well, I think you should put a cap on salaries. You can't go out spending a lot of money on players unless you have a tremendous amount of money. Let's wait five or six years, maybe then you'll be satisfied with the product you have." They signed Kenny, who was from Alabama, and gave him a lot of money, and you can't blame Kenny for takin' it. I never saw him at a game, maybe he was up in the press box.
HOF: Did you, as a veteran, ever have to stand up and address the team during the difficult times?
GM: I did, but there were a lot of guys who did. There were times when we had discussions, while all the money problems were happening in Birmingham, on whether we wanted to play or fold. The guys all voted, unanimously, that we were going to continue even if we had to play for free. Even with no pay. Some guys didn't get paid the last few weeks of the season. We said, "We're gonna finish this." And we did, in style, that's class baby.
HOF: Who were some of the leaders on the Americans?
GM: I was. Charley Harraway. Paul Robinson would get up and say a few things. Larry Estes on the defense would talk about the way things were going.
HOF: How would you describe your quarterbacking style?
GM: Like a Fran Tarkenton. I was a mover. I'd throw from the pocket, out of the pocket. I used to do anything to win a ball game. I didn't like sitting back in the pocket, I wasn't a one dimension guy. Whatever it took, I did it. I was fortunate enough to play in the NFL. I had some good coaching. I had Y.A. Tittle as a coach in San Francisco, and I was with the Colts with Johnny Unitas, and worked under Don Shula in Miami, I learned to call plays, audible, and learned to get the blockers in good situations.
HOF: In the playoffs, the Americans defeated Hawaii 22-19. Did the Hawaiians give you a scare?
GM: Yeah, they did. You know, all the WFL teams were gettin' better towards the end of the season, gettin' stronger. Hawaii was one of those teams. They brought in a couple of players (quarterback Randy Johnson, wide receiver John Isenbarger and defensive back Willie Williams) and had a couple of players mature and they were a good ball team.
HOF: Did it surprise you that Florida beat Memphis 17-3?
GM: Yeah. We all thought, the players, that it would be us and Memphis in the World Bowl. When the Blazers knocked them off we couldn't believe it. We were all talking about the game.
HOF: Do you think the WFL wanted a Birmingham-Memphis World Bowl?
GM: No. I think they wanted good representation, and a good game, they got both. Whether that was us and Memphis, or the Florida Blazers. We represented the WFL that best we could, and that was a helluva football game.
HOF: The Americans defeated the Florida Blazers twice during the season. How tough is it to beat a team three times in a row?
GM: Very tough. We were fortunate. The law of averages didn't work against us. We didn't make a lot of mistakes, and we made things go our way.
HOF: The WFL season came to a close and there was speculation that the league wouldn't have a playoff. Many reports surfaced that Memphis would be declared the winner and the league would cease operations. How did the playoffs come about?
GM: The IRS wanted to shut us down. We sat down with them and worked out a deal. Birmingham owed about $200,000 or so. We said, "pay each player $2,000, pay each player that on both sides of the ball and you keep the rest." Then after the World Bowl game, we walked into the locker room and the sheriff was standing right there and we, the players, had to take off our uniforms, our helmets, and throw then into a big pile in the middle of the room, they took 'em, they were gonna sell them. It was very strange. But we had just won a championship and nobody could take that away from us. We were excited; we had some champagne in the locker room and stuff. We felt, "Hey, it was a helluva football game. It was 22-21, two teams played like hell, forgot about all the problems for those hours."
HOF: Did you think you were going to run away with the World Bowl when it was 22-0?
GM: We really did. There's no doubt, we can't hide that. We put 22 points on the board, bang, bang, bang. We said, "Jesus, we can score whenever we want to." But they made a few changes that hurt us and stopped some of the things we wanted to do. They (Florida) got a little more aggressive. Blitzed more, and stopped the running game. See, when the defense blitzes, they fill the gaps and the running game is headed for those gaps. The Blazers put a lot of heat on me when I dropped back to pass. I think we scored so easy that we sat back and said, "No problem." Hell, it soon became a problem.
HOF: What were your thoughts, standing on the sidelines, as Florida's Rod Foster returned a punt 76 yards to make it 22-21?
GM: I tell you what my feeling was......somebody knock him the hell down! But I think there wasn't any panic on our part. I was thinking, "If they score, we'll have to do this and this." The offense got together and planned out what we would do if Florida punched it in. That's the mark of a championship team when you don't get all panicked and excited about things.
HOF: When did it finally hit you that you had won the World Bowl?
GM: Right away. That night, right after the ball game. No question. We were all excited about it. We played like hell. The enthusiasm was phenomenal. All year long we had guys who had come up and play for guys who were hurt and it was a real team effort. We thought it (the WFL) was over. When they came in and took our uniforms we thought that was it, the league had closed. No too long afterwards the league reformed, got some new owners and some more money and started doing business as the "New World Football League". When they folded the WFL everyone was free to go where they wanted to.
HOF: The Sports Illustrated featured three photos of you in the 1974 season; one for the "Ball that Glitters May Be Gold" article, one for "The Americans Need No Papergate", and another for the World Bowl article. How did that make you feel?
GM: Very rewarding. No doubt about it. It was nice to see it.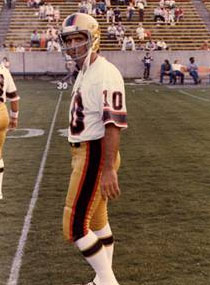 HOF: When were you first contacted by the Jacksonville Express?
GM: I was contacted as soon as the WFL reformed by Kay Stephenson. We talked for quite a while and I decided to make a move. I was excited. I was back in my home state, playing in Jacksonville which is a nice city. We had some good players......Howard Kindig was my center and he was a former Miami Dolphin. We had some other good players, and I thought we had a shot at the playoffs.
HOF: The Express brought in former WFL rushing leader Tommy Reamon. The two of you were billed as the major stars of the team. What was your impression of Tommy?
GM: Tommy was a great running back. He had a lot of speed, a lot of moves, ran the ball well and did a helluva job the first year and a pretty decent job for the short time we played together in 1975.
HOF: Did Tommy Reamon's and Alfred Haywood's running styles complement each other well?
GM: They did. They were two different types of runners. Reamon was a broken field type of runner and Alfred, who we called "Whirlybird", was a power runner. He could hit ya, run over ya and bounce around ya, and he could catch the ball well. He was a better receiver than Tommy, he had better hands.
HOF: Who were some of the Express players that stood out on the team?
GM: Witt Beckman, a wide receiver from University of Miami, was outstanding, did a helluva job. Of course, Tommy Reamon, Alfred Haywood, Howard Kindig. Ron Coppenbarger, a defensive back, and Steve Foley, a defensive back who went on to play a number of years in the NFL with Denver.
HOF: How did you feel beating Birmingham twice in the '75 season?
GM: Great. One game, the first, was the game where Earl Knabb had the bet with Pee Wee Burgess for who would pay for my ring. We beat the Vulcans 22-11. The second game we had a kid named Steve Barrios, and throughout the game I kept tellin' him I knew from lookin' at it from an offensive standpoint, that the Vulcans left corner used to bite a lot on the curl. Steve came back to the huddle and I told him, "When we're in the right position on the field, were gonna run a hook-and-go. When you start turnin' in, I want you to look at me cause' I'm gonna pump the ball and as soon as I do I want you to jump to the outside and head to the corner." Steve ran the rout, the defender jumped on the fake, and I threw it up top, six points! That stands out because we not only worked it out, talked about it, but we watched it on film.
HOF: The Jacksonville Express opener was against the Memphis Southmen. They brought to the WFL the infamous trio of Larry Csonka, Jim Kiick and Paul Warfield. Was there a lot of media attention surrounding the game?
GM: These were guys that I played with when I was with the Dolphins. We nearly won the game. They (the WFL owners) thought these guys would turn the league around.
HOF: How were the crowds in Jacksonville?
GM: They were good. I don't know what we averaged, but the fans that did come out really supported the team. I remember that it rained all the time, the weather was awful. It got so bad that we eventually put it out of our minds and just played football.
HOF: In 1975, you played in a lot of smaller towns (San Antonio, Shreveport, Charlotte and Portland) what was it like playing in those towns compared to New York, Los Angeles and Chicago?
GM: Some of those towns are hard pressed for football and the fans are supportive. I think for the league it was tough because you didn't have New York or the major markets.
HOF: In your opinion, what did you bring to the Jacksonville Express?
GM: Leadership and experience. I think my experience and leadership helped the team. I think the guys respected me, but I had to earn it. A lot of the guys had played against me in 1974, but they wanted to see if I could do it for them. I went into my first exhibition game against the Chicago Winds, and had a helluva game, and that really turned the tide in my favor. That helped them see that I was there for the team.
HOF: The Express jumped out to a 6-3 record. How did you feel about Express coach Charlie Tate?
GM: Coach Charlie Tate was a smart man, good football man. Charlie was more defensive minded, and he would point out things to us. He would open it up and say to me, "OK George, this is your ball game. Go get it."
HOF: Tommy Reamon suffered a season-ending injury, how did that affect the team?
GM: It hurt us. The players were concerned for Tommy. He was a great runner who could've played anywhere. Without Tommy we didn't have the open-field runner. The defense would stack the line and try to stop Alfred at the line of scrimmage. It really limited us offensively. We ended the season 6-5.
HOF: When did you think that the league was not going to make it?
GM: I think right away I noticed it. As soon as it opened up, I got some vibes. I noticed that the league had a lot of smaller towns, and there wasn't any money backing the league. The media helped to. The NFL did their part to knock us out, but it's a dog-eat-dog world out there, that's business. I think the media hurt us a lot.
HOF: Did you think the "Hemmeter Plan" was good for the WFL?
GM: All you had to do was set a salary cap. All these guys jumped from the NFL for the big money, and there were a lot of guys who would've played for $20,000, or for free. They should've put all their efforts into getting a major television deal. TV would have done a lot for the WFL. There's a new league starting now, and with Turner behind them they got a chance.
HOF: When did you hear the WFL had folded?
GM: Earl Knabb and Charlie Tate called us in one at a time. They discussed restructuring our contracts, taking pay cuts, to save the team. Some of the guys, most of the guys did. They were trying to lower costs and save money. I was more than willing to take a pay cut to save the league. We were later told, "The league is done. Most of the teams had talked to their guys, and they tried to reorganize but it didn't work out." We didn't want to fold; we wanted to keep on playin'. I think it was Jacksonville, San Antonio, Charlotte and Southern California that voted to keep on playing the season.
HOF: The WFL held a vote and those teams did want to continue. Were you surprised that Memphis and Birmingham voted not to continue?
GM: I think they had just had it. They were trying to get into the NFL and I think they didn't want to lose any more money than they already had.
HOF: How would you summarize you experience in the World Football League?
GM: I would want people to know that we tried starting a league and tried to do the best we could possibly could to make it a classy and exciting league. I also want people to know that we didn't quit. Me, and the other guys fought like hell to keep it going.