---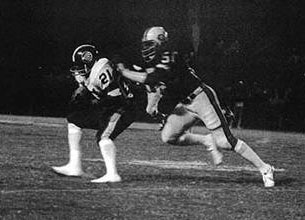 On July 10, 1999, the 25th Anniversary of the World Football League, the World Football League Hall of Fame received the opportunity to interview WFL MVP and former Florida Blazer/Jacksonville Express running back Tommy Reamon. Tommy Reamon was awarded co-MVP status in 1974 and was the league's leading rusher with 1,576 yards. In 1975, he was a member of the Jacksonville Express and was injured when the league folded on October 22, 1975. Now residing in Virginia, Tommy coaches football and enjoys working and developing young athletes. He was honored for two Hall of Fame induction's; the National Junior College Hall of Fame and the Virginia Football Hall of Fame. The following is the interview conducted with Tommy, a very gracious and generous man, and we would personally like to thank him for taking the time to bring the fans and the players of the WFL closer together.
HOF: You played college football at Missouri, when did you first hear about the World Football League?
TR: I was a senior at Missouri, just prior to the Senior Bowl game people were talking about the WFL, going into the NFL draft I wasn't sure of my position, I was hoping it (the WFL) would be real, and it seemed to be an avenue for playing professional football. I didn't have an agent-but prior to the Senior Bowl game I received the call. I was drafted by the Virginia Ambassadors, which was appealing to me because I was from the state of Virginia, and I think they were trying to draft players in a type of geographical situation to help promote the team.
HOF: When you received the call from the WFL, were you contacted by Jack Pardee?
TR: No, when I got the call it came from a guy named Dwayne Jeter, who I met years before, and who was the coach at Virginia State College, he was now the Personnel Director of the Virginia Ambassadors. It became closer to me than I realized later. The ultimate dream of any kid is the system established National Football League. I had something to prove. I thought some things could have gone different for me at Missouri to be a higher draft choice, I thought I could have been a number one draft choice. So when the World Football League was entertaining me I more excited that here was a chance to get treated fairly, and get a shot to show what I could do. The Steelers drafted me in the sixth round, the year with Lynn Swann, Jack Lambert, Stallworth, Donnie Shell the whole Super Bowl Hall of Fame players. I had committed the World Football League and was in Pittsburgh on a draft weekend and the WFL was to start practicing at James Madison in Harrisonburg, Virginia. So when I went into Pittsburgh, I was looking at how they would be treating me. I was in a mini-camp with the Steelers. That year there was talk of a players strike, and I was scared that I would sign with Pittsburgh and after the strike I would be cut and sent home, that was real, the fear was real.
HOF: When you went to camp what was your first impression of head coach Jack Pardee?
TR: The way he handled himself demanded respect. He was a Redskin, a George Allen guy, and everyone there was a veteran. That set the tone. I was a rookie kid, and truly a rookie kid in that sense, he and the rest of the staff and players were veteran people. He carried himself a certain way. It was that George Allen mentality, have veteran players that don't make mistakes, I really don't remember a lot of rookies. He was very special, and after a couple of weeks he started to say how I remembered him of Larry Brown. I think that made it real, that caused me to "bring it on". Jack Pardee was a players' coach. He had these one-on-one relationships with his players. He wasn't a "hoo-rah, hoo-rah coach" he pulled players aside and had conversations, his presence was always there.
HOF: As your in camp in Virginia, when did you hear you were (the team) headed to Florida?
TR: It was evident within camp that the thing was changed, the team was sold. There were rumors that we were headed to Norfolk that excited us, then it was Florida. Everyone was really focused on getting on that train and heading down to Florida.
HOF: Did Rommie Loudd come up to Virginia to talk to the team?
TR: I remember him coming up to talk to the team before the move and talking to Pardee and the players.
HOF: The WFL was a chance to prove yourself, a "big risk" as you mentioned. What was going through your mind when you found out that you were heading from Virginia to Florida?
TR: Did I make the right decision? Here you are with a unknown commodity, I had turned down the dream of playing in the NFL and here I was, only kind of a "hum-bug". With a new team, wondering if I was good enough. When the sale, I don't know business, went through I thought, "something is shaky here". But I was committed to the league, and I was a kid wanting to prove something on the field so I didn't care where we played.
HOF: When you were in Harrisonburg, in training camp were you the featured back?
TR: I was behind some veterans, a guy named Winfield, and a kid, I can't remember his name. When I said I was a rookie, I truly was. These were guys who had been camps for years and years, and it flowed throughout the team as for experienced players, guys who were trying to get back to the NFL, and guys who were looking for an alternative. I was a minority, a minority of rookie. I had something to prove. I went to a Junior College to prove myself, so I could play with the "big boys".
HOF: As the WFL season approached what was the mood on the team?
TR: We were very excited. We went down to Florida, some of the guys had money, some of the guys didn't, and we stayed at a Holiday Inn right down by the airport in Orlando, by the practice facility. After I signed, somebody "brilliant" told me to defer my contract money for tax purposes, and I was a fool and I did it, and I was getting paid………..actually, I don't think I got paid, except for a signing bonus, everyone was ready to get the league started. There was excitement in the air. When we got there, I remember going places. We would go to places to promote the team in Orlando. With Disney World there, we would go there in our uniforms to promote the team, and we would go around the city as well. There really seemed to be support for the team and the WFL from the city.
HOF: What was the fan support for the Blazers like in Orlando?
TR: If I remember, it was not tremendous; I do remember it was a good support. I don't have numbers but as a player, it was good support. As a business person maybe it wasn't. As a player I enjoyed it. The players enjoyed it. That's all there was besides Disney World.
HOF: What was your impression of the WFL ball?
TR: I thought it was kind of corny. But then, we got used to it and it became ours. It was something that we created, we created it at birth. I was a part of that.
HOF: Do you remember the Blazers home opener against Hawaii?
TR: I do, but the one game I remember the most was the first game I cut loose. That was the New York game, when we played the Stars in New York.
HOF: What was it about the Stars/Hornets defense, you had 179 yards in one game and 189 in another that allowed you to run so well against them.
TR: The first game was in the mud and rain, it was raining like a hurricane, it was really ugly. The type of runner I was, slash type of low body control type of runner, I could make cuts, they just had a problem stopping me. I don't know if they were that bad, they just gave me a helluva a lot of confidence. It sure built my confidence to say, "hey, I'm doing' what I did in junior college."
HOF: The New York game was played in before 5,237 fans , Hurricane Carmen had slammed into the east coast, what was your impression of Downing Stadium?
TR: You know you were fighting the system, the NFL. It wasn't major league, I had that feeling, but I was running for something else. It sure wasn't Shea Stadium, here I was in New York, but it was New York, and I was playing professional football, we had a job to do.
(Hall of Fame note: Tommy Reamon ran for 179 yards on 33 carries and broke a four day old rushing record held by New York Star running back Bob Gladieux. Tommy opened up the scoring with a 28-yard run in the first quarter. The victory put Florida in sole possession of first place with a 7-3 won-lost record.)
HOF: You had the breakout game against New York, Pardee is now looking at you, he had a backfield of bruising backs, what happened then?
TR: Once I came out, I became his Larry Brown. I say that because I remember many, many talks afterwards and the comments. He used to single me out as the youngest guy on the team (I was the youngest player on the team), he used me as an example of a rookie and a contributor, and the comparison to Larry Brown of the Redskins. I think that really brought me in. He became the father and the coach I never had. I started believing everything he would say. He would discuss how he came back from cancer, and how you can overcome adversity and he returned to play football. That's a courageous thing. He had cancer, beat it and came back, he had a sentimental value. I became closer to him and the players after that. That was when the chaos of not getting paid started, and the distractions for some of the guys, but I didn't care, I was running for a different reason, not for a paycheck.
HOF: The Blazers were 7-3, and at the midpoint you were the featured back. When did the financial problems begin for you and the team?
TR: Here I was a kid that never had money anyway, I was running for glory. Other guys were complaining hard about not getting paid, but we could walk to the local McDonald's down the street and eat breakfast, lunch and dinner. I remember making just enough money to live on, I didn't think we would never get our money, I was just living off of what I had. It wasn't as serious for me as it was for some of the other guys.
HOF: Was the situation where Jack Pardee would bring the team together in the dressing room and say, "Guys, I'm sorry but the crowds just aren't there, there's no money this week?
TR: Rommie Loudd would come and talk to us about the money situation, and what he was working on. Pardee would also talk to us. Pardee was also caught in it himself, he had to stay focused as our coach. In a sense he had other dreams as well, he was trying to get to the NFL as well.
HOF: Did winning help you block out the "off-field problems"?
TR: Yes, it did. It truly did. That was based off the type of coach we had to keep us focused. The experienced ballplayers we had who wanted another shot at the NFL, and who were going all out. I'll never forget a game when we played in Birmingham, and Pardee's wife was trying to come and the airline wouldn't approve the credit card, and his wife couldn't make the trip. I remember thinking, "Wow, it finally hit. It finally even got to Jack Pardee."
HOF: One thing that is amazing, if you compare and contrast today's NFL players with the WFL players of 1974 and 1975, how many professional football players would play without pay?
TR: That's a very good statement in reference to the working person. Today's working person, they're the hard core of America. They work, and don't get the all the money. A lot of today's players wouldn't play for no money, and that's America too. What we did experience was a tremendous amount of growth and survival with that kids' game called football.
HOF: You mentioned that with the team performing well there was an "us against them" attitude, and I always wonder about a team that was the opposite end of the spectrum….the Detroit Wheels…
TR: ah, yes.
HOF: There was a lot of negative press regarding the WFL and the so-called "freebie" tickets. In the realm of professional football, there is only one way to promote a product and that is to give away tickets.
TR: Look at the WNBA, or the final survival of the ABA. When you are fighting the establishment you do what you can. When the media gets a hold of that, but you know having thousands of people at the game is one way to promote the product. I'm sure that doesn't pay the bills, it didn't for us. There is room for another league, but the NFL, the establishment, would never let anyone compete with them. The European league has the blessing of the NFL, when I see NFL Europe that's all Gary Davidson was talking' about…and that should be a positive thing said about us.
HOF: As you where moving through the WFL season and you are tearing apart the league, the Detroit Wheels and the Jacksonville Sharks folded where you worried about the WFL?
TR: Yes we were. We had an objective to go to the World Bowl to make sure we had somewhere to play the next year. I remember many of the guys saying, "we need to hang in there ', we gotta win, cause someone will want us next year. We had to keep focused, we had a job to do.
HOF: Of all the team mates that you had on the Florida Blazers, who were some of the players that stood out as great players.
TR: A guy named Greg Latta. Greg Latta was a very, very good friend of mine from New Jersey. He was from Morgan State, he and I were the rookies, the outstanding rookies of the team. I always think of Bob Davis the quarterback. He was a classy guy. Hubie Bryant. I talk to Hubie today; I've seen him over the years, he's coaching in Virginia. He was one of those receivers who was a great down-field blocker 'cause he knock your head off! He and I used to have so much fun talking about how he was blocking, and I was running all over. A guy named Luther Palmer. He was brought in at mid-season. We shared an apartment. He's now coaching as well. We all chat every now and then. Rickie Harris, he was a leader on the defense along with Miller Farr. These guys were old veterans to me. I saw Rickie Harris about a year ago he came through here and came over to my school and I talked. Rickie was a leader who wanted to play the game, and Farr wanted to get back to the NFL. They were wonderful to watch. They were smooth, and they operated, and man they moved with the girls. Also, Jim Strong, a no nonsense, get-the-job-done kinda guy. He was strong nosed and just brought it on. Louis Ross. He was a big guy, and from Orlando. We would go down to his neighborhood and talk to the kids and that was like comin' home for me. He was such a nice guy and I met some people in his life. Then there was one of my former childhood friends that joined us for some weeks, Lonnie Crittenden. Lonnie is a wide receiver, and he's from Newport News, Virginia. He ended up in Chicago, playing for the Fire. There was a great linebacker named Eddie Sheats. He went up to Chicago and played for the Bears. I thought he was a great linebacker, and showed that with the Bears-and Pardee looked out for him too.
HOF: What made Bob Davis a great quarterback?
TR: He was very cool-headed, very in control. I had never been around a quarterback who was as knowledgeable as he was. As a rookie I had never been around a quarterback with so much experience. I was, as a rookie, worried about doing everything right.
HOF: You threw a couple of touchdowns yourself in the WFL, which do you remember the most?
TR: One I threw in Soldier Field in Chicago against the Fire. Right on the money, a halfback pass, stride for stride. It was a pass to Matt Maslowski. He was one of those pass receivers who was so good at pass routs, didn't have a lot of blazing speed, but he was good at routs. I was in I-formation, it was a toss, a halfback pass, and as I went to the right and there was no pressure in front of me…it was a perfect form throw that went about forty yards and he didn't have to break a stride….he ended up in the end zone.
HOF: One thing that makes that play work is the threat that the running back will run with the ball. That running threat freezes the defense, that's what makes the play work. A player that was very successful at that was former Bear Walter Payton. You actually have met Walter Payton…
TR: Yes I did. When I finally met Walter Payton he said, "Man, I remember watching all your film", cause that's all they had. Their offensive co-coordinator Fred O'Connor, had all our Blazer films from the WFL. He showed me a lot of stuff the year they traded me, it didn't work out. I played, as a member of the Steelers, in the College All-Star game and that's when I met him.
HOF: As Florida is ripping up the WFL, and you're heading into the playoffs, was there any worries if there would be a WFL the next year?
TR: There was talk. Everybody wanted it to happen, there were guarantees. I remember us saying we were goin' out as champions. The character of those guys kept the whole thing goin'.
HOF: The Blazer players simply ignored all the lawsuits and the adversity?
TR: Yes. It sounds crazy today. Yeah, that's exactly how it happened. We couldn't ignore it totally, but we had a cause. We all moved in together in the hotel. There were parties…….and we were all living together. During those times all of us had to be fed by the burger stand down the street, we had no money.
HOF: The Florida Blazers survived the WFL season and made it to the World Bowl. On December 5, 1974 you played the Birmingham Americans, as the Blazers were charging back from a 22-7 deficit there was a pivotal play…..the headlines from the Orlando Sentinel read, "I was in…no question-Tommy Reamon."
TR: Yes sir. I'll never forget it for the rest of my life. I was over, I remember lookin' down. That broke my heart. We had that. As a runner you always wonder, was there somethin' I could've done better, dove higher, cut here, cut there. That could've set the tone. The World Bowl was a show. It was big time. My mama came down with about 40 people from Virginia; they came down in a bus.
HOF: What was the mood in the locker room after the game? How did Jack Pardee summarize the game?
TR: Adversity. Pardee said he was proud of us, and that we had been through a lot of adversity, it was a farewell. Guys were cryin' like babies. We had come a long ways. We had been through a lot.
HOF: With the close of the 1974 season, when did you hear that there would be no Florida Blazers?
TR: When I headed home after the World Bowl, I knew there wasn't gonna be a Florida Blazers. I wanted to go with Jack Pardee, I knew he was headed to the NFL. I was contacted by Jacksonville and they told me that I was a free agent. I had read a article that had said that the Jacksonville Express had signed me illegally and they called me to come on down and play. They had signed George Mira, and I had a good reputation in Florida from the Blazers. Mira was a nice guy. We were the hired guns for that team.
HOF: When you arrived in Jacksonville what was the mood?
TR: Excitement. I was treated like a superstar. I was treated like somebody special. They took care of me. I took a class at Jacksonville University. I had a personal services contract with a doctor who owned the team and I got paid if the league made it or not.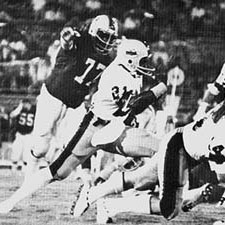 HOF: In Jacksonville, you were injured during the season, what happened?
TR: I had bruised ribs, and that night before the game they injected two shots of Novocain in my back, in my 11th rib area so I could play and not feel the pain. I went out on the field and I couldn't catch my breathing, I didn't play the first quarter. That night my friend told me, "something's wrong with your breathing". I went to the hospital and they told me that my lungs' collapsed. They had to cut my chest, and stick a tube down into my lungs and fill them up. I think one of the owners was the doctor. I was having a good season, and it was over.
HOF: What was the difference between the WFL in 1974 and 1975?
TR: The first year was so great. The glamour was the first year. New uniforms, colorful uniforms. The second year it was trying to save something that got knocked down.
HOF: What were you doing when you heard that the WFL had folded?
TR: I was in Virginia recovering from the injured lung.
HOF: How would you describe the difference between the WFL in 1974 and 1975?
TR: The first year it was truly talent. The second year it was younger players, maybe due to the financial situation. I was making a lot of money that year; a lot of other guys were making a few dollars playing football.
HOF: What were the teams and the toughest competitors you went up against in the WFL?
TR: I played against my brother, Charlie. We played Birmingham. The New York game when I ran for 179 yards. And the Memphis game, Csonka, Kiick and Warfield. Out of all the organizations I thought Memphis was first class. I remember Philadelphia and "King" Corcoran, the limousines. The guy was a nice guy. He got a lot of ink. Southern California was special. In 1975, the Sun had Anthony Davis.
HOF: Where did you go after the WFL?
TR: I went to Pittsburgh, and Dan Rooney tried to trade me to Chicago to be with Jack Pardee and it didn't work out, that's when I realized its' a business. I then went back to Missouri, and played with the Chiefs. Woody Green was the featured back; Ed Podolak was at the end of his career. I was injured, I needed knee surgery and then I begged Paul Wiggin to trade me to Chicago. I played in Chicago for the pre-season and then went to the Canadian Football League. In the CFL, I had a great year , I did all the things I did in the WFL, but it didn't last. I went to California where I starred in "North Dallas Forty" with Nick Nolte and Mac Davis. The end of the movie, I can not watch that film. It reminds me of when I was a player and the last time I saw Jack Pardee. Bobby Bethard was the general manager of the Redskins, I had earned my respect to get back to the NFL and play with Jack Pardee. And he said, "I thought you had this one Tommy". And I said to him, "Jack, you could have controlled this….you could have helped me. 'Cause I was askin' for help. Bethard had his own agenda. I had a broken thumb and I couldn't return punts so I was expendable.
You know I can't even imagine that some one is there working on this and enjoying all of this, something from my past. I hold all of you very dear to my heart, thank you for keeping it going. I want everybody to hear this, this is what it was all about. Those days were very dear to my heart. Hopefully, some other guys will come out and start talking.
There was something special about the WFL. And people need to hear it, it was an opportunity of a lifetime for good, bad or ugly, it shaped my life. The World Football League, we all walked away as better people.
NOTE: The Tommy Reamon interview was conducted by Jim Cusano and Richie Franklin. This interview appeared on the former WFL Hall of Fame Website, and is used with permission. This interview is the property of the World Football League Website and may not be used without the permission of the Website owners.