---
December 5, 1974
December 5, 1974, Birmingham, Alabama
The Birmingham Americans versus the Florida Blazers
Birmingham WFL Champions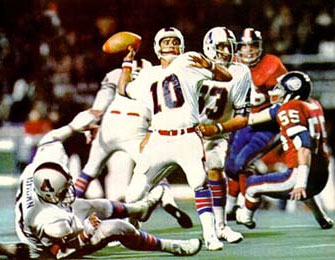 Birmingham, al.; The Birmingham Americans defeated the Florida Blazers 22-21 in what was the World Football League's first and last championship game before 32,376 fans at Legion Field. The contest went right down to the wire with the difference being a missed 'action point' by league rushing champion Tommy Reamon. The first three quarters of the game belonged to the Americans as they forged a 22-0 lead, but the Blazers erupted for three touchdowns in the fourth quarter- two on long passes by Bob Davis, and the third, a 76-yard punt return by Rod Foster. The game came down to the 'action point', and when Tommy Reamon of the Blazers went over right tackle he was stopped short on a controversial call.
Birmingham used a devastating running game led by Joe Profit, Charley Harraway and Paul Robinson and surged to a 22-0 lead on a one-yard touchdown by Profit that was set up by a Blazer interception, a four-yard burst by Art Cantrelle and a 26-yard George Mira to Bobby Brown touchdown pass with 9:11 in the third quarter.
By Jimmy Bryan
The Birmingham News
December 6, 1974
The Birmingham Americans climbed on top of the world Thursday night. By the slenderest of margins, 22-21, those football warriors climbed to greatness by winning World Bowl I from the Florida Blazers in a heart stopping, leather popping championship. The Americans brought heart and muscle and dedication to this historical evening. They needed them all against another dedicated team which rallied from the brink of disaster to give 32,376 fans goose bumps down a pressured ending. "A lot of excellent football players dedicated themselves to this and paid a tough price to get where they are tonight," Coach Jack Gotta said. "This night will live long in their memory; I know it will in mine. I believe like I have all along, that we had the best team and the best players."
Big offensive tackle, Paul Costa, who has played this professional game for eight seasons, put the proper perspective as champagne whizzed through the air in Birmingham's dressing room. "Ask these guys which would be more important to them....all their back pay or this moment. It wouldn't be a contest. This is a super feeling."
Behind the brilliant leadership of veteran quarterback George Mira, the Americans rolled out to a 22-0 lead early in the third quarter, and World Bowl I looked like a mis-match. The rout looked imminent. But the Blazers from Florida had not come this far to bow meekly from the challenge. The invaders came with three home runs in the fourth quarter and stood one action point removed from overtime with 4:14 to go. It was 22-21 with the attempt at a large singleton coming up. Here the Americans became great. They slammed down Florida's sweep at the biggest point that any player on the field had ever faced, the manfully ran out the clock with a three-first down drive at the Blazer's mid-section.
"It's a great feeling," champagne drenched Gotta said. "We had to beat a good football team. It's great for the players. I had hoped everything would end on a positive note, and I feel our league benefited tonight. "The good thing about tonight is we won the championship for this city and these fans," Coach Gotta said. "We now have 12 straight wins at home, and nobody's ever had that many before. I'm just glad we're winding things up here on a positive note."
"There is more tradition in Canada for the Grey Cup, but this is the greatest to me. The thing of starting something new and winning the first championship is very special for me. I remember that magnificent crowd on opening night against Southern California, and ending up being champions on the same field, before essentially the same people, is just super."
Heroes were plentiful, for the world champions, and you begin with the Matador, Mira. The 11-year veteran completed 5 of 14 passes for 90 yards and one touchdown and scrambled for 27 yards on four surprising runs. He brilliantly engineered all three touchdown drives. Then there was Matthew Reed. late, making the daringness, tackle-shredding 12-yard run on a third and nine situation you ever saw. That clutch first down denied the Blazers a final shot. Joe Profit, 58 yards on 21 carries; Paul Robinson, 44 on 14; tough Art Cantrelle, 42 on just 5 and on an aching ankle; Charley Harraway, 25 yards on 7 including a big 10-yard run for the final first down that ran out the clock, and Reed's run for the action point that finally was the difference, were all magnificent.
The offensive line, tight ends Jim Bishop, Bob Brown and Ted Powell, tackles Paul Costa and Bob Wolfe, guards Buddy Brown and Jim Kregel and center John Matlock opened the gates for 211 yards on the ground.
Bob Brown caught three passes for 55 yards, Alfred Jenkins one for 18 and Dennis Homan one for 17, all clutch receptions.
Defensively, linebackers led the tackling as they should. Ross Brupbacher had six and two assists, Warren Capone 5 and 3, Steve Mannstedt 5 and 2, tackle Jesse Wolf 4-3, end Larry Estes and tackle Bob Tatarek 4-2 and end John Baker 4-2. The secondary was solid most of the night. Gerard Williams and Willie Smith had interceptions.
Florida brought men to the arena, too. Hosts of them. Offensively and defensively. After a shaky start, quarterback Bob Davis passed for two fourth quarter touchdowns and ended the evening 8 of 21 for 184 yards. Brilliant running back Tommy Reamon reaped 83 yards on just 13 carries, and also caught a touchdown pass. Bill Gatti got 26 yards on 4 carries. Hubie Bryant caught 3 passes for 50 yards, tight end Greg Latta 2 for 49 and a 40-yard touchdown and Jim Strong 2 for 36.
Defensively, linebacker Eddie Sheats made 11 tackles and assisted on two others. Tackle Roger Anderson had 10 stops and two assists. Larry Ely was 7-2, John Ricca 6-4 and Mike McBath and Louis Ross were 4-7 and 4-2 respectively. One of Florida's big plays was a 76-yard punt return by Rod Foster with 4:14 left that put the Blazers right back in it.
There was no scoring in the first quarter, but Birmingham had a drive headed goal ward at that period ended. It finally covered 58 yards on 15 plays and Joe Profit scored from the one. The action point failed, 7-0 Birmingham. The Americans came right back on their next possession, 66 yards in 7 plays. Cantrelle starred in this drive, opening it with a 30-yard run and closing it with a tough five-yarder. Reed came on and rolled around right end for the action point, 15-0 Birmingham. That's the way they went into intermission.
The Americans picked up the second half where they left off the first. Mira and his men drive the second half kickoff 74 yards in 11 plays, 10 of them on the ground. The 11th was a 26-yard fastball, Mira to wide open tight end Bob Brown for the touchdown. The action point failed, 22-0 Birmingham.
They turned to the fourth quarter that way, but Florida had a bomb waiting for the first play of that final 15 minutes. It was a 39-yard delivery from Davis to Reamon, who slipped out of the backfield. The action point missed, 22-7 Birmingham. It would be all Florida now. The Blazers went 83 yards in just seven plays, three of them big, big ones. Davis scrambled for 13 on a third and nine, hit Hubie Bryant for 28 on a second and 19, then found tight end Greg Latta for the final 40. Again, no action point, 22-14 Birmingham with 5:40 to go.
The final touchdown came on Rod Foster's 76-yard punt return, a masterful, tackle-breaking spin through the Americans. The Ams stopped Reamon on the action point attempted and it ended 22-21. Birmingham was at the Florida one when the game ended, but Birmingham wasn't trying to score. "One point was just perfect," Coach Gotta said. Amen.
by Clyde Bolton
Birmingham News
The Rev. Denny Duron, third-string quarterback and first-string prayer leader, thanked the Good Lord for holding the Birmingham Americans together during "shaky times". The champions of the World Football League declared the wildest champagne-spraying, beer-spewing party this town has ever seen. (Birmingham News expense account items: dry clean suit, replace one necktie.). Through the din of the dressing room, Ross Brupbacher, the captain, announced that a recipient of the game ball had been chosen, as per the Americans' custom. "The game ball goes to the city of Birmingham- and I hope they bring us back next year to play here," Brupbacher said. All the financial problems of the Birmingham Americans and the World Football League were momentarily washed away in that tide of champagne and beer. Oh, they're back today, but for awhile it was sport at its purest- played for the sheer love of playing and pride of winning.
None beamed more brightly than George Mira, the veteran whose ears often rang with "We want Reed" chants from the fans. "Winning a championship and getting a ring means a lot to me," Mira said. "I've waited 11 years to be a starter on a championship football team. There were a few people in the NFL that I wanted to show I could take a team and win a championship, I've waited a long time, but this is a fantastic feeling."
Off field problems such as the players not receiving all their salaries caused them to cling together in adversity, Mira said, "I don't think it hurt us as far as playing football. It united us and made us stick together. The players stuck together as one, and that's a big plus. I just hope now they'll get things squared away and we can come back to Birmingham because we've got a good team."
'It's a great city'
Mira doesn't believe the league will fold. "I think these people have lowed too much money into the individual clubs to say, "I've put a million and a half dollars in, but just forget it." 'That's too much money for that'. Mira now heads south to watch his restaurant in Key West. "But I'd like to stay here", he said a tad wistfully. "Even though they started yelling sometime, I like it here. It's a great city."
Another veteran, this one from the Frozen North, plans to stay in Birmingham. "I've honestly enjoyed this season," said offensive lineman Paul Costa, who used to play with the Buffalo Bills. "After 10 years in pro football that may sound like a 'lot of bull', but itís the truth. There were a lot of new guys. It wasn't like the NFL, with the same players, same cities and same coaches. And in the NFL they don't even let you crack a joke. The get carried away. John Matlock and I are looking for a lounge or restaurant here. We like it and we want to stay. I'm from Port Chester, N.Y., which is a suburb of New York City. I don't want to live up there. I like Buffalo a lot, but it's not a progressive city. It will be the same 20 years from now.
"Plus the weather for six months out of the year you're up to your waist in snow." For Brupbacher, a veteran of three years with the Chicago Bears, it is a first championship. "I've never been on a championship team before, even in Little League," he said. "It's a tremendous feeling. Going as far as you can in a league is something everybody would like to brag about in their later life."
"Unfortunately there isn't a lot of money involved. But we played for the survival of the league and to win a championship."
By Greg Boeck
Orlando Sentinel Star
December 6, 1974
The unpredictable World Football League wound up its first season here Thursday night with an unconventional game that saw its champion decided not by a typical touchdown but by a controversial touchdown and an action point.
The Florida Blazers were victims of both.
Beneficiaries of a controversial first quarter officials call that turned a Blazer touchdown into a touchback and three missed Florida action points, the Birmingham Americans won World Bowl I , 22-21.
But they did it the hard way. Capitalizing on the touchback and four Blazers turnovers, the Americans surged to a seemingly insurmountable 22-0 lead after three quarters.
It appeared the Blazers were dead. But like last week against Memphis the never-say die Orlandoans spurred on by a resurrected late game passing attack, refused to die peacefully.
Quarterback Bob Davis, after misfiring on his first seven attempts of the game, caught fire late in the third quarter, throwing two touchdown passes - a 39-yarder to Tommy Reamon and a 40-yarder to Greg Latta - to bring the Orlandoans to within striking distance. Then with 4:14 left, rookie Rod Foster galloped 76-yards with an Earl Sark punt to cut the deficit to one as a crowd of 32, 376 looked on in disbelief.
But their fear turned to cheers seconds later when linebacker Warren Capone nailed Tommy Reamon for a loss on the action point try that in the end finally decided this one. Earlier, a Davis pass on a PAT fell incomplete and Cliff McClain was stopped short running for action point no. 2.
Matt Reed tallied the lone action point on a rollout following the Amsí second T and that was the decisive marker.
There was still plenty of time for one of those patented miracle finishes the adversity-tested Blazers have become noted for. However, following Reamonís missed point; Birmingham ate it up and became the WFLís first World Bowl king.
The Ams, owed back pay like the Orlandoans, wound up the season 17-5, unbeaten in 13 games at home and victors over the Blazers three times.
The Orlandoans, who came from 15 points down last week to gain the title game, finished 16-7 with 13 road games under belts and a bundle of trials behind them.
Birmingham, unveiling a devastating running game led by Joe Profit, Charlie Harraway and Paul Robinson, surged to its seemingly comfortable 22-0 lead on a one-yard TD run by Profit that was set up by a Blazer interception, a four-yard bust by Art Cantrelle and a 26-yard George Mira to Bobby Brown TD that came 9:11 left in the third quarter.
But the Blazers roared to turn a possible wipeout into a hair-raising finish. And afterwards, many were calling Reamonís first TD his "second" of the night. The rookie from Missouri capped an opening 56-yard drive with what appeared to be the gameís first score, but the officials ruled otherwise. Instant replays on the nationally televised game appeared to show them wrong. Reamon fumbled as he scored with the refereeís ruling he bobbled the ball before he crossed the goal. The ball squirted out of the end zone for a touchback.
Like the World Football League itself the game was less then five minutes old before marked with controversy. Led by Dickie James 33-yard return of the opening kickoff to the Blazer 44, a twisting 27 yard Reamon run to the Americans 29 and a pair of offside penalties against Birmingham, the Orlandoans drove to the five yard line on a Jim Strong run and with eleven minutes remaining in the period. On second down Reamon took the handoff and dove in for the gameís first score. But the rookie from Missouri lost handle on the football, the officials ruling he dropped it before crossing the goal line.
Blazer wideout Matt Maslowski dove for the loose ball in the back of the end zone, but it squirted away out of the end zone for a touchback - not a touchdown.
That mistake cost the Blazers seven points and an interception of a Davis pass 10 minutes later led to seven for the Ams.
Defensive back Willie Smith picked off a Davis aerial late in the first quarter at his own 42 and the Alabamans set off on a 58-yard, 14-play drive that hung seven points on the board with 9:47 left in the half.
Profit got the TD on a one-yard plunge up the middle. Along the way Mira completed a 19-yard third down pass to Alfred Jenkins. Profit churned out three big yards on fourth and one at the Blazer 30 and Mira hit Dennis Homan for 17-yards on third down to the nine.
Then following a five-yard penalty and an eight yard loss courtesy of John Ricca, Mira hooked up with Bob Brown for 17 yards to the five. A face masking penalty on the play pushed the ball down to the two yard line. Two plays later Profit barreled in.
The Orlandoans managed nothing on their next possession - but Birmingham did. Starting at their own 34 following a meager 24-yard Dave Stock punt, the Ams put together a quick, all-on-the ground 66 yard, five play drive that pushed the score to 15-0. Art Cantrelle, the former LSU standout, set the march in gear with a 30-yard burst to the Blazer 36, Profit then carried twice to the 21, two five-yard penalties and a six-yard Cantrelle gain pushed the ball to the four and Cantrelle took it in from there, carrying a Blazer into the end zone with him. Matthew Reed rolled in for the PAT and like last week against Memphis, Florida trailed 15-0. There was 2:35 left in the half.
The final minutes of the half produced no points - but another Blazer fumble and an injury that appeared serious to star back Reamon. On second down from the Blazer 33, Reamon darted for nine yards, but was met by Larry Estes. The Floridian lost the ball on the play. The 5-9 first-year man who had gained 76 yards to that point was helped off the field with Birminghamin possession at the Orlando 42. Ross Brupbacher recovered the loose ball, but the Ams failed to capitalize, taking a two-TD lead into the dressing room.
Less than six minutes into the third quarter it was upped by three. The Ams came out running and gaining. Staying solely on the ground with Profit, Mira and Robinson doing the running. Birmingham moved methodically from its own 26 to the Blazers 26 converting twice on third down.
From the 26, Mira dropped back and threw his first pass of the half and the drive. It was a bullseye. Brown, five yards ahead of linebacker Eddie Sheats, hauled in the aerial for the TD that made it 22-0 with 9:11 showing in period three. The PAT failed.
So did Floridaís next possession which saw the entry of Palazzo, who brought the Blazers back last week against Memphis. Palazzo got the Floridians a first down, but nothing else. The Orlandoans punted.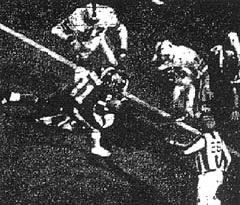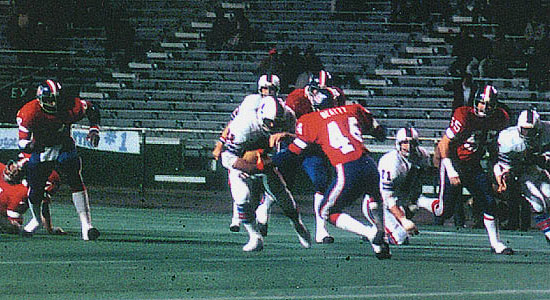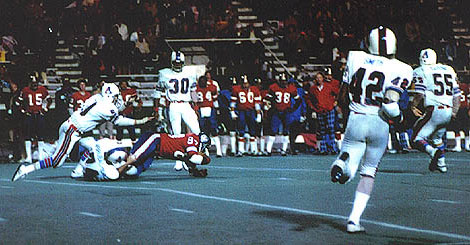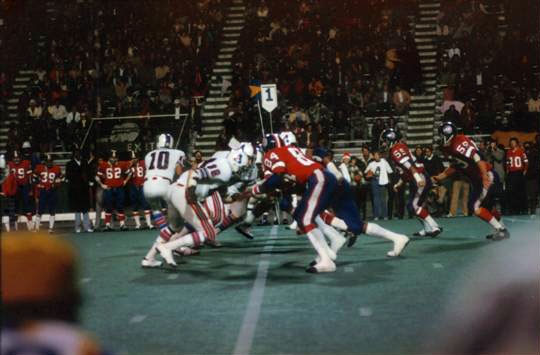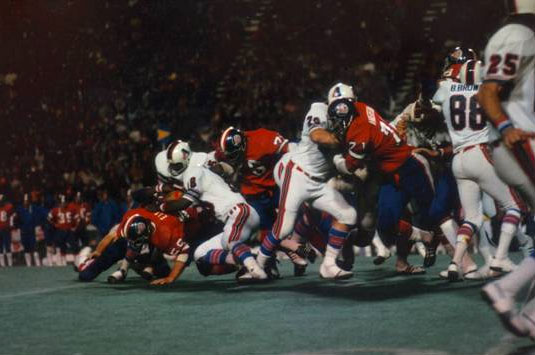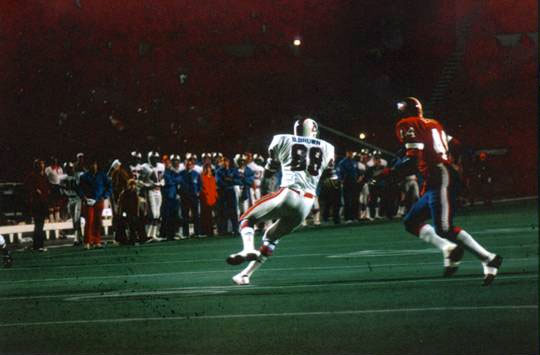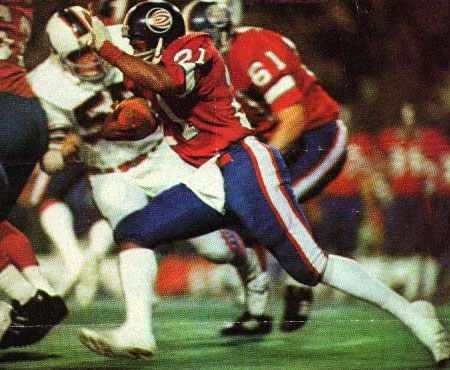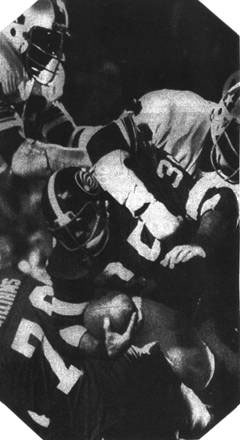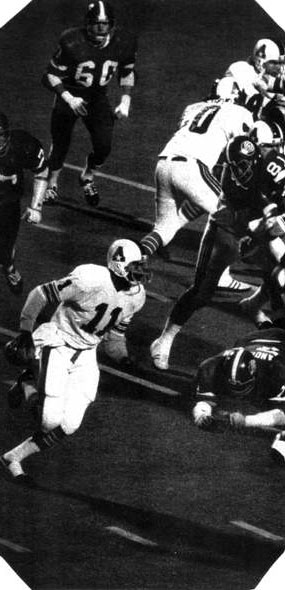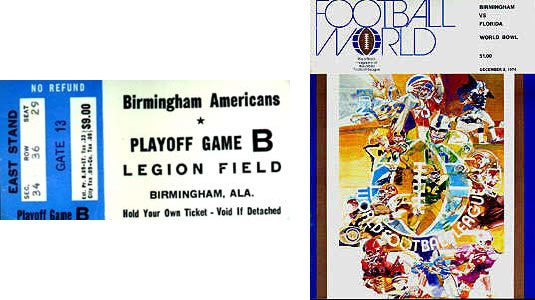 NOTE: This film clip is used with permission and may not be used without the permission of the original owner(s).
| | | | | | |
| --- | --- | --- | --- | --- | --- |
| | Q1 | Q2 | Q3 | Q4 | FINAL |
| Florida | 0 | 0 | 0 | 21 | 21 |
| Birmingham | 0 | 15 | 7 | 0 | 22 |
Birmingham- Profit 1-yard run (pass failed) 7-0
Birmingham- Cantrelle 4-yard run (Reed run) 15-0
Birmingham- Brown 26-yard pass from Mira (pass failed) 22-0
Florida- Reamon 39-yard pass from Davis (pass failed) 7-22
Florida- Latta 40-yard pass from Davis (run failed) 14-22
Florida- Foster 76-yard punt return (run failed) 21-22
RUSHING
Florida- Reamon 13-83, Gatti 4-26, Strong 6-11, Davis 3-10
Birmingham- Profit 21-58-1 TD, Robinson 14-44, Cantrelle 5-42-1 TD, Mira 4-27, Harraway 7-25, Reed 5-18
PASSING
Florida- Davis 8-21-184-2 TD (two interceptions)
Birmingham- Mira 5-14-90-1 TD, Reed 0-1-0
RECEIVING
Florida- Bryant 3-50, Latta 2-59-1 TD, Strong 2-36, Reamon 1-39-1 TD
Birmingham- Brown 3-55, Jenkins 1-18, Homan 1-17
| | | |
| --- | --- | --- |
| | Florida Blazers | Birmingham Americans |
| First Downs | 16 | 20 |
| -Rushing | 7 | 14 |
| -Passing | 7 | 3 |
| -Penalty | 2 | 3 |
| Rushes-Yardage | 29-141 | 57-211 |
| Passes | 21-8-2 | 15-5-0 |
| -Gross Yards Passing | 184 | 90 |
| -Sacks by Yards | 1-6 | 3-16 |
| -Net Yards Passing | 168 | 84 |
| Punts-Yards | 3-119 | 8-313 |
| -Average | 39.7 | 39.1 |
| -Had Blocked | 0 | 0 |
| Interceptions-Yards | 0-0 | 2-4 |
| Punt Returns-Yards | 8-113 | 8-60 |
| Kickoff Returns-Yards | 4-92 | 4-49 |
| Fumbles-Lost | 2-2 | 0-0 |
| Penalties-Yards | 8-54 | 8-60 |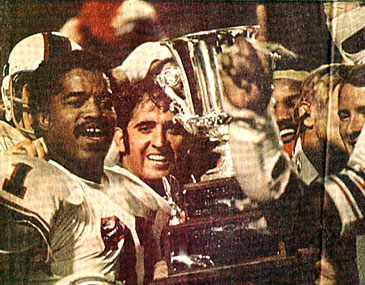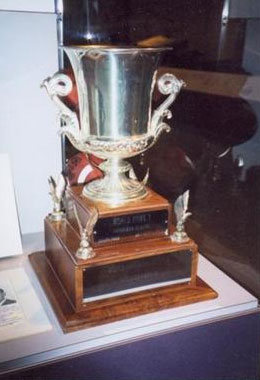 NOTE: This page was researched and written by by Jim Cusano and Richie Franklin. Photos were provided by Greg Allred, Chuck Gardner, Sports Illustrated, and Sport Magazine. Team stats were researched by Tod Maher and Mark Speck.