---
November 21, 1974
WFL Playoffs
Charlotte Hornets Out, Philadelphia to meet Florida; Hawaii travels to Southern California
The World Football League entered the first round of playoff games after considerable negotiations by WFL officials. Initially, the league wanted to name Memphis the WFL champion and end the season, claiming that the risk of injury was greater than the potential payday the players would expect from the gate receipts. With mounting financial problems, and unpaid debts to the IRS, the WFL announced a playoff format that would split all the gate receipts 60%-40% infavor of the players. The 40% earned by the league would go to the IRS and unpaid league debts. The playoff picture was still uncertain. Chicago, Portland and Shreveport were out. The Charlotte Hornets declined to be in the playoffs. Owner Upton Bell was still trying to find financial backers for the team and decided to suspend operations until investors could be found for the 1975 season. The Hornets had only sold 1,000 tickets to a scheduled playoff game between the team and the Florida Blazers, and the situation needed to be resolved before the Hornets could continue. With Charlotte out of the picture, the Philadelphia Bell were now slated to play the Florida Blazers in Orlando. The winner of the game would then play the Memphis Southmen. On the west coast, the Hawaiians would travel to Anaheim, California to battle the Sun, and the winner of that game would face the Birmingham Americans in Birmingham.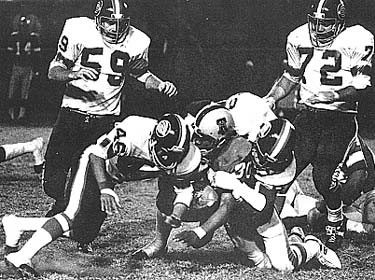 orlando, fla.; With their long-awaited "angel" on the sidelines, and 9,712 fans in the stands, the Florida Blazers got another shot at the Memphis Southmen and a chance to make spots' history in the first World Bowl. The WFL's Eastern Division champs whipped the Philadelphia Bell 18-3, in a playoff game in the Tangerine Bowl while their front office was scoring an even bigger victory at the bank. Robert D. Prentice, 58, an investment banker from Cocoa Beach, arrived at the game with a check for $1.5 million to pay the team's debt and 12 weeks of back pay. He said he was representing a group ready to pump $4 million into the franchise. Prentice denied reports that Arab oil money was behind the deal, and when asked why his group was willing to pay off the Blazer debts he claimed, "my kids like football". The Blazers, with a 14-6 regular season record, thus got a new lease on life, a lift they needed to face the Southmen.
Blazer Rickie Harris recovered a fumble and returned it 30 yards for Florida's first score. Later, Bob Davis hit rookie Greg Latta with a 54-yard touchdown pass and Dave Strock kicked a 24-yard field goal for the final points. Philadelphia's only score came on a 37-yard field goal by Jerry Warren. Philadelphia's Claude Watts outgained WFL leading rusher Tommy Reamon, but the Blazer defense stopped the Bell on key drives and harassed quarterback "King" Corcoran into an 11-for-32 performance for 127 yards.
PHILADELPHIA 0 3 0 0 -- 3
FLORIDA 8 0 7 3 -- 18
Florida- Harris 30-yard fumble return (James run) 8-0
Philadelphia- Warren 37-yard field goal 3-8
Florida- Latta 54-yard pass from Davis (pass failed) 15-3
Florida- Strock 24-yard field goal 18-3
RUSHING
Philadelphia- Watts 21-131, Land 8-7, Thompson 2-3, Holiday 1-5
Florida- James 9-45, Reamon 17-30, Gatti 6-20, Hobbs 1-16, Strong 4-16
PASSING
Philadelphia- Corcoran 11-32-127 (two intercepted)
Florida- Davis 6-19-113 (one touchdown)
RECEIVING
Philadelphia- Franklin 3-28, Land 3-24, Izzo 2-33, Watts 2-23, Shanklin 1-19
Florida- Latta 3-72 (one touchdown), Bryant 1-18, Reamon 1-13, Maslowski 1-10
Kermit Johnson, James Mc Alister and Booker Brown leave team over missed pay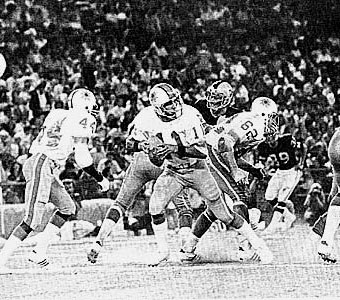 anahiem, ca.; Randy Johnson, an eight-year NFL veteran who was cut by the New York Giants in September, got the Hawaiians on the right track toward the World Bowl. The Hawaiians defeated the favored Southern California Sun 32-14 before only 11,430 fans. Johnson completed 14 of 24 passes for 148 yards and two touchdowns and the Hawaiian defense dominated the Sun throughout the game. The Sun players who had decided to play the game only a few days before, threatened to strike over a missed payday. The Suns' two top draft picks, running back Kermit Johnson and offensive linemen Booker Brown refused to play in the game and were released. Their agent, Mike Trope, claimed that they, along with running back James McAllister were now free agents and could sign with any NFL team- the missed payday had violated a clause in their contract.
On the field, Hawaii quarterback Randy Johnson passed five yards to John Kelsey in the second period and eight yards to John Isenbarger in the final period for touchdowns, while running back Al Davis had touchdown runs of three and two yards for the Hawaiians. A free-for-all erupted after Johnson's TD pass to Isenbarger and Sun defensive back Jim Bowman, who appeared to have started it by hammering Isenbarger, was ejected. Tony Adam's, the Sun's quarterback and the WFL's No.1 passer during the 20-game regular season, left the contest in the fourth quarter with an ankle injury. Gary Valbuena was intercepted three times and sacked three times by the Hawaiian defense. (Pictured above, Tony Adams passes against the Hawaii defense).
HAWAII 7 10 8 7 -- 32
SOUTHERN CALIFORNIA 0 11 3 0 -- 14
Hawaii- Davis 3-yard run (run failed) 7-0
Hawaii- Coppedge 23-yard field goal 10-0
Hawaii- Kelsey 5-yard pass from Johnson (pass failed) 17-0
So Cal- Garcia 37-yard field goal 3-17
So Cal- Denson 46-yard pass from Adams (Jefferies, pass from Adams) 11-17
So Cal- Garcia 42-yard field goal 14-17
Hawaii- Davis 2-yard run (Weese run) 25-14
Hawaii- Isenbarger 8-yard pass from Johnson (pass failed) 32-14
RUSHING
Hawaii- Davis 12-49, Heath 5-25, Clements 7-25, O'Leary 8-14, Johnson 1-6, Weese 1-(-2)
Southern California- Herd 10-52, Nelson 14-39, Jeffries 4-9, Adams 1-3, Valbuena 1- (-4)
PASSING
Hawaii- Johnson 14-24-148-2TD
Southern California- Adams 11-21-189-1TD (one intercepted), Valbuena 10-17-172 (three intercepted)
RECEIVING
Hawaii- Kelsey 6-82 (one touchdown), Delaney 5-40, Isenbarger 2-14, Davis 1-12
Southern California- Lindsey 4-59, Jeffries 3-26, Herd 2-34, Nelson 2-29, Williams 2-18,
Harris 1-49, Parks 1-24, Denson 1-22
NOTE: This page was researched and written by Jim Cusano. This page appeared on the former World Football League Hall of Fame Website and is used with permission.