---
November 6, 1974
The World Football League entered its last two weeks of the regular season without a commissioner but with renewed optimism for the league. Reports circulated that the WFL owners would make a multi-million dollar offer to Don Klosterman, Bert Bell Jr. or Al Davis to take over the league in 1975 and help correct the problems that were created under Gary Davidson. The WFL continued to pursue investors for a franchise in Jacksonville, Florida, and Seminole Turf Club owner Al Grillo was rumored to be interested in the franchise for '75. As the WFL pushed on the ownership picture in Orlando continued to develop. For weeks, General Managing Partner Rommie Loudd worked to secure investors for the team but still no clear solution was in sight. The Portland Storm voted to strike unless back paychecks were delivered then changed their minds when Storm owner Robert Harris came up with some cash. Harris was rumored to be interested in moving the Storm to his hometown of London, Ontario, Canada. The Chicago Fire ended their season after a 49-24 loss to Memphis. Fire owner Tom Origer claimed losses of $1.2 million and the teams' ten game losing streak as the main reason for folding the franchise. With two games left in the season, four running backs had gone over the 1,000-yard mark and three or four more seemed poised to do the same. Florida Blazer Tommy Reamon led the WFL with 1,401, followed by JJ Jennings (1,354), and Philadelphia's John Land and Shreveport's Jim Nance (each with 1,073). Portland Storm running back Rufus Ferguson had 972 yards, Philadelphia's Claude Watts 905, and Southern California's Kermit Johnson had 886.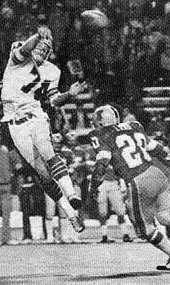 birmingham, al.; The Birmingham Americans took a commanding 26-0 halftime lead and held off a second-half comeback by the Philadelphia Bell to score a 26-23 victory. Two of Philadelphia's scores in the second half resulted from Birmingham mistakes- an intercepted pass to set up one touchdown (a King Corcoran pass to Larry Izzo) and a fumble on the ensuing kickoff to set up another (a King Corcoran pass to Claude Watts). 22,963 American fans watched on the edge of their seats as the American defense stopped Philadelphia late in the game to preserve the win. (pictured above, American linebacker Ross Brupbacher knocks down a Bell pass).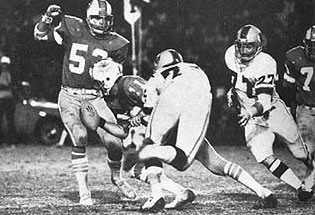 honolulu, hw.; The passing of Randy Johnson and a stout defense powered the Hawaiians to a 29-8 upset over the Southern California Sun. Johnson completed 17 of 32 passes for 209 yards and two touchdowns as the Hawaiians improved to 8-11. The Hawaii defense, led by Levi Stanley, Ron East, Karl Lorch and Lem Burnham, sacked Sun quarterbacks six times and the secondary of Otto Brown, Phil Andre, Chuck Detwiler and Willie Williams covered Sun receivers and intercepted two passes. A disappointing crowd of 13,780 fans viewed the game. (Pictured above, Ron East and Karl Lorch sack Sun quarterback Tony Adams)
shreveport, la.; Jim Nance scored on a one-yard run in the fourth quarter, capping a long-drive, to lift the Shreveport Steamer to a 19-14 win over the Charlotte Hornets. Mike Walker helped preserve the win by recovering a Charlotte fumble on the Shreveport 28 with :32 remaining in the game. 10,697 fans at State Fair Coliseum watched as Jim Nance bulled his way to 160 yards on 24 carries. The Charlotte team had to leave its equipment and uniforms in Shreveport after a cleaning shop and a security firm filed suits claiming the club owed payment for services ($26,000) received when it was the New York Stars. Sheriff's deputies stood guard at the locker room door after the game to ensure that all equipment stayed inside. The locker room was then locked after the players left. (Pictured above, Steamer quarterback D.C. Nobles gets direction from the coaching staff).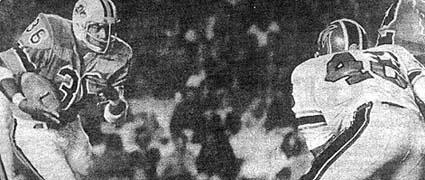 memphis, tn.; Running backs JJ Jennings and John Harvey ran for two touchdowns each as the Memphis Southmen continued to dominate the WFL, beating the Chicago Fire 49-24, in a nationally televised game. The Fire played a close game trailing 25-16 at the half, but the suspect Fire defense fell apart under the weight of the Southmen rushing attack. Fire owner Tom Origer announced after the game that his team would not play its final regular season game (at Philadelphia) or play in the WFL playoffs. The Chicago franchise would remain in the WFL but Origer would wait and see the direction of the league before committing to fielding a team in '75. (Pictured above, JJ Jennings runs against the Fire).
orlando, fla.; The Florida Blazers, who already clinched the Eastern Division title, all but eliminated the Portland Storm from playoff competition as they downed the Storm 23-0 before 11,672 fans in central Florida. After a scoreless first half, rookie running back Tommy Reamon from Missouri bolted for three third quarter touchdowns. The game was to have been played in Portland, Oregon, but a promise of transportation and $50,000 changed the plans. Portland General Manager Ron Mix expressed his displeasure at the switch, saying his team had been "forced" to play in Orlando. "Our choices were to win a game by forfeit, as we saw it, and not get the players any money, or come to Orlando and at least have a modest payday for them," Mix said. WFL officials wanted the game played in Florida due to the request of an investment group that was reportedly willing to keep the team in Orlando. (pictured above, quarterback Bob Davis is tackled by Portland Storm linebacker Jerry Inman).
WFL Week Nineteen MVP:
Tommy Reamon, Florida Blazers
WFL Week Nineteen Top Performers:
Passing - Randy Johnson, Hawaiians 17 of 32, 209 yards, 2 touchdowns
Rushing - Jim Nance, Shreveport Steamer 24 carries, 160 yards, 1 touchdown
Receiving - Tim Delaney, Hawaiians 9 receptions, 128 yards
WFL Standings:
Eastern Division:
Florida 13-6, Charlotte 10-9, Philadelphia 8-11, Jacksonville 4-10
Central Division:
Memphis 16-3, Birmingham 14-5, Chicago 7-12, Detroit 1-13
Western Division:
Southern California 13-6, Hawaii 8-11, Portland 7-11-1, Shreveport 7-11-1
NOTE: This page was researched and written by Jim Cusano. This page appeared on the former World Football League Hall of Fame Website and is used with permission.