---
October 9, 1974
WFL Jacksonville and Detroit Franchises In Jeopardy
League Calls Emergency Meeting To Determine Future
The World Football League continued through adverse publicity, mounting financial problems and internal turmoil into its fourteenth week of the season. WFL Commissioner Gary Davidson was still unsure about what the league would do with the bankrupt Detroit Wheels franchise. The remaining WFL teams had kept the team afloat with over $120,000 worth of funds but the picture was beginning to look bleak. Reports out of Detroit also claimed that Detroit Wheel quarterback Bubba Wyche, the Wheels owners and the WFL were being sued for $10 million by Albert Chester, who worked temporarily for the Wheels as a controller. Chester claimed that Wyche lifted him "a great distance in the air" and threw him against a wall during an argument in the Wheel's offices over players missed paychecks. In Jacksonville, the mounting legal problems surrounding potential Shark owner Wayne Pease left that franchise without an owner, with no immediate solution in sight. While league officials searched for a solution to the Detroit and Jacksonville situations the new Charlotte Stars were preparing to play their "first" game in Chicago. The New York Stars announced their move from the Big Apple to Carolina after being plagued by dismal attendance and the league's worst stadium. On the banks of the Mississippi River, the new Shreveport Steamer hosted their second home game of the WFL season to a raucous crowd of 22,012 at State Fair Coliseum. The league office also announced a new rule that would award a playoff spot to the team with the best "second half" record. This ruling brought new life to franchises in Hawaii, Portland, Chicago, Shreveport and Philadelphia. JJ Jennings of the Memphis Southmen became the WFL's first 1,000 yard rusher when he picked up 80 yards against the Jacksonville Sharks to give him 1,036 for the season. Jennings had to share the spotlight with teammate Willie Spencer who scored five touchdowns against Jacksonville to tie a league record set by Chicago Fire running back Mark Kellar. The win pushed Memphis ahead of the slumping Birmingham Americans. On the field, "King" Corcoran led the WFL in passing with 213 completions out of 404 attempts for 2,756 yards and 20 touchdowns against 18 interceptions. JJ Jennings lead the league in rushing, and Tim Delaney of Hawaii led the WFL in receiving with 53 receptions for 732 yards and 4 touchdowns. Seth Miller of the Memphis Southmen was the WFL's leading interceptor with 8 for 159 yards, Charlie Reamon of the Chicago Fire led the league in kickoff returns with a 31.3 average and Keith Denson led the WFL in punt returns with 15 for 190 yards and a 12.6 average. Danny White continued to led the league in punting with a 41.55 average.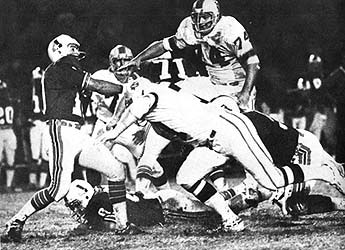 honolulu, hw.; Hawaiian Al Davis ran one yard in the third quarter to lead the Hawaiians to a 14-8 win over the mighty Birmingham Americans. 12,039 fans in Honolulu witnessed the upset as the Hawaii defense throttled the Americans passing and running attack in the second half, giving up no points. Quarterback Randy Johnson, a new arrival from the New York Giants of the NFL, threw his first touchdown pass as a Hawaiian when he hit Tim Boyer with a 10-yard pass in the second quarter for an 7-0 lead. The Americans scored on a controversial "forward fumble" into the end zone to lead 8-7 at half time. In the third quarter, Birmingham defensive back Gerard Williams was called for pass interference at the two and Al Davis bulled his way over for a 14-8 lead. The Hawaii defense then crushed the American offense as Levi Stanley sacked George Mira and Phil Andre knocked down a Mira pass to kill a last-second American drive.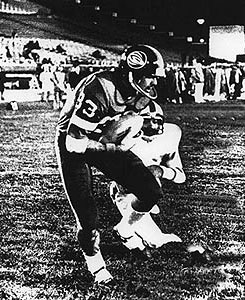 philadelphia, pa.; The sounds of a football game echoed throughout JFK Stadium as 7,150 fans sat on a chilly night watching the Florida Blazers rout the Philadelphia Bell 30-7. Blazer running back Tommy Reamon rushed for 130 yards and scored two touchdowns and Bob Davis threw two touchdowns to lead the Eastern Division leading club. Florida took a 15-7 lead into half time and then dominated the Bell in the second half. Florida out ran the Bell 228 yards to 91, and were only penalized three times for 26 yards compared to Philadelphia's 13 times for 81 yards. The Bell's "King" Corcoran completed only 9 of 24 passes for 128 yards and had two intercepted, as he was harassed by Florida's defense of Ernie Calloway, Larry Ely, Eddie Sheats and John Ricca. The Blazers improved to 10-4, Philadelphia fell to 6-8.
Memphis Routs Jacksonville 47-19, Willie Spencer scores five TDs
memphis, tn.; Willie Spencer, a rookie, scored five touchdowns and JJ Jennings broke the 1,000 yard mark as the Memphis Southmen pounded the Jacksonville Sharks 47-19, extending their winning streak to nine games. Spencer gained 137 yards on 20 carries and Jennings became the first back to break the 1,000 yard plateau in the WFL. A small crowd of 15,016 watched as quarterback John Huarte and the running attack ran roughshod over the Sharks.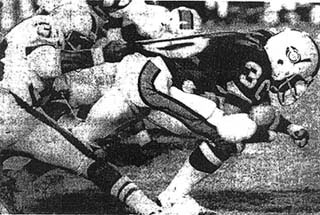 shreveport, la.; A Shreveport crowd of 22,012 came out to State Fair Coliseum on October 2nd as the Steamer defeated the Detroit Wheels 14-11. Steamer quarterback D.C.Nobles completed 11 of 19 for 149 yards and opened the scoring with a 63-yard touchdown pass to wide receiver Rick Eber. Despite the performance of Nobles, it was backup quarterback David Mays that lifted the hometown Steamer to the win. Mays hit tight end Willie Frazier with an 8-yard scoring pass late in the game to defeat Detroit. Shreveport out rushed the Wheels 180 to 85, with running back Jim Nance gaining 137 yards on 25 carries.
portland, ore.; The Southern California Sun improved their record to 10-4 as they defeated the Portland Storm 26-22. 20,469 fans at Civic Stadium saw quarterback Tony Adams, a rookie from Utah, throw a 36-yard pass to Keith Denson with 1:56 remaining to beat the Storm. The Sun rallied behind Adams who brought the team back after the Storm took the lead on a Rufus Ferguson touchdown run. The loss brought the Storm to 4-9-1, and into a tie with Shreveport.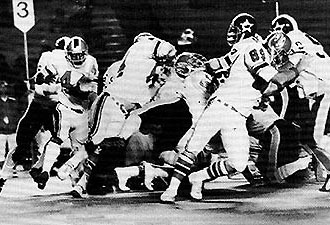 chicago, il.; The new Charlotte Stars ripped through a injury-riddled Chicago defense for 33 first quarter points en route to a 41-30 victory. 22,354 fans sat quietly as quarterback Tom Sherman threw two touchdown passes and ran for a score against a Fire secondary that seemed helpless to stop him. Sherman completed 7 of 13 passes for 213 yards and two touchdowns. The Stars broke open the game when Sherman hit Al Barnes with a 63-yard touchdown pass to put Charlotte up 18-15. Then Sherman launched a 45-yard touchdown pass to Bert Askson for a 25-15 lead. The rout culminated with Larry Shears 45-yard touchdown interception to give the Stars a 33-15 lead before the stunned Fire fans at Soldier Field. The loss was Chicago's fourth in a row, as the Fire fell to 7-7.
WFL Week Fourteen MVP:
Willie Spencer, Memphis Southmen
WFL Week Fourteen Top Performers:
Passing - Tom Sherman, Charlotte Stars 7 of 13, 213 yards, 2 touchdowns
Rushing - Willie Spencer, Memphis Southmen 21 carries, 141 yards, 5 touchdowns
Receiving - Jack Dolbin, Chicago Fire 3 receptions, 119 yards, 1 touchdown
WFL Standings:
W
L
T
PF
PA
Florida
10
4
0
276
177
Charlotte
9
5
0
302
197
Philadelphia
6
8
0
339
294
Jacksonville
4
10
0
269
357
W
L
T
PF
PA
Memphis
12
2
0
442
223
Birmingham
11
3
0
345
265
Chicago
7
7
0
327
341
Detroit
1
13
0
209
258
W
L
T
PF
PA
So. California
10
4
0
333
245
Hawaii
5
9
0
191
299
Portland
4
9
1
130
294
Shreveport
4
9
1
231
321
WFL Transactions:
Charlotte Stars- announced the team will be named the "Hornets", signed RB Lewis Jolley.; Portland Storm- signed DB Leroy Mitchell, DB Dennis Meyer, placed WR Greg Specht and DB Charles Hinton on waivers, placed K Booth Lusteg on taxi squad.
NOTE: This page was researched and written by Jim Cusano. This page appeared on the former World Football League Hall of Fame Website and is used with permission.