---
October 2, 1974
N.Y. Stars announce move to Charlotte, North Carolina
Detroit Wheels file for bankruptcy
The World Football League entered week thirteen with a schedule of games from September 24-October 1st. It would be a week that would see the WFL suffer a series of major setbacks. In New York City, the WFL announced that the New York Stars would be rolling down to Charlotte, North Carolina. Upton Bell had reached an agreement to take over control of the club for $1.4 million from owner Bob Schmertz. The Stars, playing in decrepit Downing Stadium, drew only 4,220 for their game with the Detroit Wheels. The announcement of the transfer of the Stars from New York was another of several major blows the WFL had endured in 1974. The Wheels, on the verge of financial collapse, filed for bankruptcy protection claiming over $1.5 million in debts. When financial ruin was imminent, the Wheels actually went more than a week without selling a single ticket. South of Detroit, the Jacksonville Sharks were also trying to untangle a legal mess that surrounded the purchase of the team by Wayne Pease. Reports claimed Pease was under indictment in Connecticut for embezzlement and real estate fraud. WFL officials were optimistic that a solution could be reached but Commissioner Gary Davidson denied reports that the league had any connection with Pease or his associates. In Shreveport, the "Steamer" was welcomed to town with a parade, and a party and made their debut before 21,357 fans at State Fair Coliseum. On the field, the Birmingham Americans were stunned by the Portland Storm 26-21, and the Memphis Southmen defeated the Shreveport Steamer to create a tie in the WFL's Central Division. The injury-riddled Chicago Fire lost star quarterback Virgil Carter for the season with a broken finger. Carter, James Scott and Mark Kellar were all done for the year- each had led the WFL in their individual performance categories. Through thirteen weeks of play "King" Corcoran led the WFL in passing completing 204 of 370 passes for 2,628 yards and 20 touchdowns. JJ Jennings of the Memphis Southmen led the WFL in rushing with 956 yards, and James Scott, although injured and out for the season, continued to led the league in receptions with 52 for 755 yards. David Thomas of Memphis, Jeff Woodcock of New York and Ron Mabra of Philadelphia led the league with 7 interceptions.
Team announces move to Charlotte, North Carolina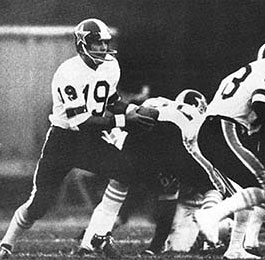 new york, ny.; A sparse crowd of 4,220 watched as the New York Stars trounced the Detroit Wheels 37-7. The Stars improved to 8-5 and announced that they would be moving to Charlotte, North Carolina after the game. The crowd was the second smallest of the WFL season for the Stars, who had been averaging 11,000 a game in the "Big Apple". Star running back Don Highsmith ran for 122 yards in 19 carries and scored two touchdowns against a Detroit team that was helpless to stop him. Detroit quarterback Bubba Wyche had five passes intercepted and completed only 7 of 23 passes for 42 yards.
Jacksonville players threaten to boycott game over missed paychecks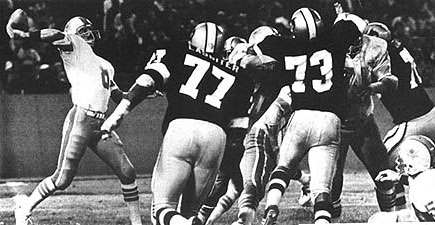 anaheim, ca.; 22,017 fans in Anaheim Stadium watched as Tony Adams threw touchdown passes to James McAllister and Ike Harris and scored on a 26-yard run to lead Southern California Sun to a 57-7 win over Jacksonville. The Sun, overwhelmed a beleaguered group of Sharks who were still owed money by their owner Fran Monaco. WFL Commissioner Gary Davidson lured the Sharks west with a promise of a payday. Sun quarterback Tony Adams completed 12 of 21 passes for 244 yards as the Sun racked up 549 yards total offense and led 46-0 at half time.
21,357 attend game at State Fair Coliseum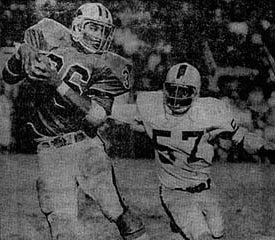 shreveport, la.; The Houston Texans, transplanted to Shreveport, Louisiana and renamed the "Steamer", were welcomed by an enthusiastic crowd of 21,357 fans and nearly defeated one of the WFL's premier franchises the Memphis Southmen. Danny White, playing for injured quarterback John Huarte, hit 14 of 27 passes for 170 yards and led Memphis to a 17-14 win over Shreveport. Memphis scored on a 19-yard pass from White to Roger Wallace, and in the second quarter added a Bob Etter field goal and a Willie Spencer touchdown to clinch the win. Shreveport Steamer owner Bill Bernard was pleased with the crowd and the response of the town.
Fire loses third straight
orlando, fla.; Bob Davis picked apart the Chicago defense and led the Blazers to a 29-0 rout of the Fire. 16,679 fans watched as Davis burned the Chicago secondary of Harry Howard, Hal Phillips, Craig O'Sadnick and Bill Rudder. The Blazer defense throttled the passing of Leo Hart, who replaced the injured Virgil Carter, and stopped the Fire running game dead in its tracks. Ex-NFL great Leroy Kelly, making his debut for the Fire, ran for 86 yards on 15 carries. Florida's Bob Davis threw touchdowns to Tommy Reamon, Hubie Bryant and Matt Maslowski. The Blazers improved to 9-4, while the Fire lost their fourth game in a row.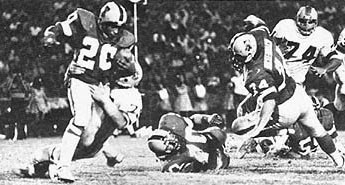 honolulu, hw. ; Gerry Warren kick two field goals in the fourth quarter and Philadelphia's defense intercepted four passes as the Bell downed Hawaii 21-16 before 14,497 at Honolulu Stadium. Hawaii quarterback Norris Weese, who started the season as the number one quarterback but was demoted after the signing of Edd Hargett and Randy Johnson, led the Hawaiians on a 14-play, 76-yard drive that cut the Bell led to 21-16. Philadelphia scored on Warren's field goal and touchdowns by Claude Watts and John Land.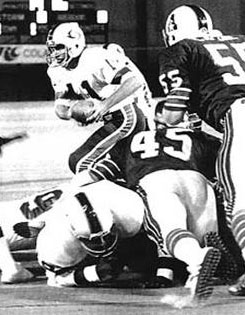 portland, ore.; Pete Beathard rifled a 16-yard touchdown pass to Bob Christensen with :35 remaining to lead the Portland Storm to a huge upset of the Birmingham Americans 26-21 before 14,273 fans at Portland's Civic Stadium. Beathard's heroics overshadowed those of George Mira who came off the bench in the second half to rally the Americans to a 21-18 lead. As time ran out, Mira's desperation pass into the end zone fell incomplete. The loss dropped the Americans to 11-2 and improved Portland to 4-8-1.
WFL Week Thirteen MVP:
Pete Beathard, Portland Storm
WFL Week Thirteen Top Performers:
Passing - Bob Davis, Florida Blazers 18 of 25, 297 yards, 3 touchdowns
Rushing - Don Highsmith, New York Stars 19 carries, 122 yards, 2 touchdowns
Receiving - Dave Williams, Southern California Sun 6 receptions, 132 yards, 1 touchdown
WFL Standings:
Eastern Division:
Florida 9-4, New York 8-5, Philadelphia 6-7, Jacksonville 4-9
Central Division:
Birmingham 11-2, Memphis 11-2, Chicago 7-6, Detroit 1-12
Western Division:
Southern California 9-4, Portland 4-8-1, Hawaii 4-9, Shreveport 3-9-1
WFL Transactions:
Chicago Fire- activated QB Bill Cappelman and TE Jim Gessford.
NOTE: This page was researched and written by Jim Cusano. This page appeared on the former World Football League Hall of Fame Website and is used with permission.