---
September 18, 1974
WFL Texans Move to Shreveport, Louisiana; Coach Suspended From League
Jacksonville and New York franchises rumored to be for sale
The World Football League ventured into mid-September amid reports of troubled franchises and financial ruin. The WFL announced the sale and transfer of the Houston Texans to Louisiana, were the team would play in Shreveport. Texan owner R.Steven Arnold surrendered the team to the league after falling $200,000 behind in payroll. The Houston fans had dwindled to an average of less than 10,000. In Jacksonville, owner Fran Monaco had reached an agreement with financier Wayne Pease for the sale of the team. Pease's investment was reported to be $2 million. The Sharks had watched their attendance decline steadily since the beginning of the WFL season. The league gave the Detroit Wheels until September 27th to solve its financial problems and the Florida Blazers were in the midst of a power struggle between General Manager Rommie Loudd and investor David Williams. The New York Stars were reportedly up for sale, the asking price $3 million. Stars owner Bob Schmertz was dealt a serious financial blow when he lost a law suit over the control of the Boston Celtics. A judge ruled that Schmertz owed Irving Levine and Henry Lipton over $4 million in damages. Coupled with the ruling was the fact that Schmertz's major financial holding, Leisure Technology, had declined in value by $15 million- Schmertz had also absorbed over $1 million in debt from the state of Downing Stadium and the renovations it required. The Hawaiians were also suffering from poor attendance and the cost of traveling to the mainland was crippling the franchise. The WFL landscape looked as though it had been hit by a landslide. In California, Sun owner Larry Hatfield was indicted by a grand jury and charged with making false statements to banks for a $365,000 loan which was for the Sun. On the field, the Birmingham, Memphis, Chicago and Southern California franchises appeared strong. Virgil Carter of the Chicago Fire continued to lead the WFL in passing, and James Scott of the Fire led the league in receiving. Memphis Southmen JJ Jennings took over the WFL rushing title with 879 yards.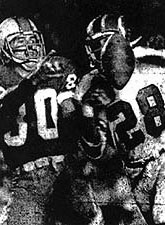 chicago, il.; Sun quarterback Tony Adams hit Keith Dennison on a 56-yard touchdown pass with :26 remaining to give the Southern California Sun a 31-28 win over the Chicago Fire. Dennison beat Chicago defensive back Walter Rhone down the sidelines and made the game winning catch falling back over the end zone pylon. 24,827 Fire fans cheered as Chicago took a 28-24 lead late in the game on a Mark Kellar touchdown run. The Fire lost its fourth game in a row, and it's second in the closing moments. Southern California improved its record to 7-4, the same as the Fire. The game was especially damaging for Chicago which lost the services of running back Mark Kellar for the season with a broken bone in his foot. The injury left the Fire without Kellar and wide receiver James Scott- the two WFL statistical leaders for their respective positions. (Pictured above, Dave Williams catches a Adams pass with Harry Howard defending).
Sharks sold for $2 million; Owner to be named later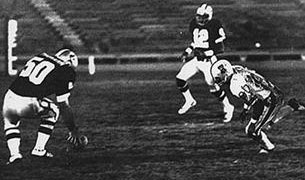 philadelphia, pa.; King Corcoran and Claude Watts led the Philadelphia Bell to a 41-22 overtime victory against the Jacksonville Sharks. The Bell exploded for 19 overtime points and left the struggling Sharks in their wake. Watts scored a touchdown in overtime on a 17-yard pass from Corcoran to put the Bell ahead 33-22. In the second half of the overtime period, Bell defender Jerry Sodaski intercepted a Reggie Oliver pass and returned it 22 yards for a touchdown. 7,230 fans in JFK Stadium watched the Bell improve their record to 5-6 and keep two games behind New York and Florida. (Pictured above, Rich Thomann recovers a fumble from Don Shanklin).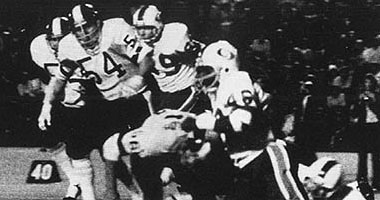 portland, ore.; New York running back Jim Ford scored twice on 1-yard runs and the New York defense held Portland to minimal yardage as the Stars defeated the Storm 34-15. A crowd of 13,339 at Civic Stadium watched as Ford gained 74 yards on 28 carries, and quarterback Tom Sherman completed 11 of 18 for 86 yards and one touchdown. The Stars defense held Portland to only 87 yards rushing and 103 yards passing as Tom Chandler, Jere Brown, Jim Sims, Greg Lens, John Elliott and Gerry Philbin shut down the Storm. (Pictured above, Star linebacker Marty Huff in pursuit of Storm running back Rufus Ferguson).
Win First WFL Game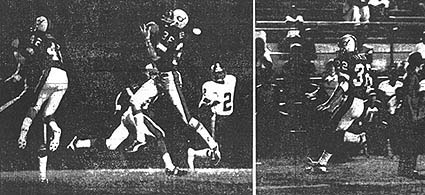 orlando, fla.; The Detroit Wheels won their first game of the season over the Eastern Division leading Florida Blazers 15-14. Detroit running back Billy Sadler ran 6-yards for a touchdown late in the third quarter to led the winless Wheels. The Blazers opened the scoring with Jim Strong catching a Bob Davis pass for a touchdown giving Florida a 7-0 lead. Detroit wide receiver Jon Henderson then tied the game when he hauled in a 49-yard bomb from quarterback Bubba Wyche. Florida roared back to within 15-14 but their action point attempt failed giving Detroit their first win. (Pictured above, Terry Hoeppner catches a pass from punter Mike Livingston for a crucial first down, and Billy Sadler scores the game winning touchdown for the Wheels).
9,061 in Astrodome see final game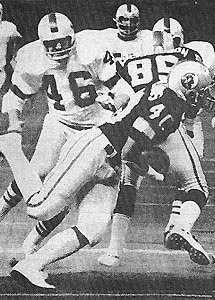 houston, tx.; Texan fans were few and restless in the Astrodome as Hawaiians quarterback, a former NFL Oilers QB, Edd Hargett threw touchdown passes of 14 and 17 yards and Derrick Williams (pictured above) returned a kickoff 80 yards to lead the Hawaiians to a 24-17 win over Houston. A crowd of 9,061 fans were silent most of the game, as rumors of the teams' impending move circulated in the local news media. Texan running back Jim Nance played his best game, finishing with 131 yards on 21 carries. Hawaii erupted for a 16-7 first quarter lead and never looked back. WFL officials announced that the Texans would transfer to Shreveport, Louisiana after their road game in Birmingham.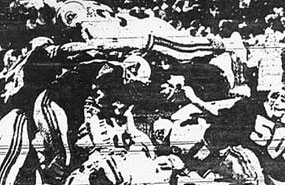 memphis, tn.; A Liberty Bowl crowd of 30,675 shouted and screamed as the Southmen shocked the undefeated Birmingham Americans in a bitter rivalry 46-7. Southmen wide receiver Ed Marshall caught three touchdown passes as Memphis took a 22-7 lead at half-time. Southmen running backs tore through the American defensive line. Willie Spencer and JJ Jennings both scored on one yard runs, and Jennings added 107 yards on 13 carries. Memphis quarterback John Huarte threw three touchdown passes in the game. The Memphis win tightened the race for first place in the WFL's Central Division with Birmingham at 10-1 and Memphis at 9-2. (JJ Jennings dives over the Birmingham line for a touchdown).
WFL Week Eleven MVP:
Ed Marshall, Memphis Southmen
WFL Week Eleven Top Performers:
Passing - Tony Adams, Southern California Sun 25 of 43, 376 yards, 2 touchdowns
Rushing - Jim Nance, Houston Texans 21 carries, 131 yards, 1 touchdown
Receiving - Ed Marshall, Memphis Southmen 6 receptions, 129 yards, 3 touchdowns
WFL Standings:
Eastern Division:
Florida 7-4, New York 7-4, Philadelphia 5-6, Jacksonville 4-7
Central Division:
Birmingham 10-1, Memphis 9-2, Chicago 7-4, Detroit 1-10
Western Division:
Southern California 7-4, Houston 3-7-1, Hawaii 3-8, Portland 2-8-1
WFL Transactions:
Florida Blazers- signed free agent WR Cecil Turner, activated WR Gary Collins and RB Clifford McClain, de-activated QB Buddy Palazzo, LB Bob Rush, RB Richard James, WR Hubie Bryant and C Red Lachowicz.; Portland Storm- signed DT Mike Askea, activated DB Hise Austin, signed WR Joe Wylie, LB Mike Keller, and DE Chris Stecher, placed OG Chris Viet, DB Joe Larkin, LB Lennie Ciufo and RB Cleo House on waivers.; Jacksonville Sharks- signed DT Carleton Oats, placed OT Russ Melby, DE John Gordon and TE Mike Burnop on waivers, signed OG/C Howard Kindig, WR Carl Swierc, OL Sam Baker, RB Alfred Haywood, and LB Stan Cherry, activated RB Ricky Lake and OL O.Z. White, claimed RB Cleo House off waivers from the Portland Storm.; Houston Texans- placed RB Paul Gipson on waivers.; Southern California Sun- placed OG Bill Reid, WR Greg Moses, P Norm Hainlen and C Mike Evans on waivers, activated TE Chuck Bradley, P Mike Burke and TE Dick Witcher.; Hawaiians- placed RB Clem Turner, TE Steve Conley, LB Greg Slough, WR Donnie Hutt and DB Jack Schultz on waivers, signed QB Randy Johnson, DB Chuck Detwiler, DB Willie Williams, and LB Jim Sniadecki.; Detroit Wheels- placed RB Phil Allen, DE Ed Johnson, RB Larry Ratcliff, LB Dominic Riggio and OG James Wright on waivers, signed RB Eugene Teague, DT Phil Engle, OT Jim Coode, DE Ron Fernandes and MLB Brian Stenger, de-activated WR Nate Hawkins, OG John Levanti, DB Floyd Priester and DT Phil Engle.; New York Stars- released S Lou Angelo and placed LB Jere Brown on waivers.; Chicago Fire- placed DE Willie Holman on waivers.; Birmingham Americans- signed DB Chris Arnold, DB Gerald Williams, and TE Bob Brown, placed DB Steve Williams, DB Cecil Leonard, DE Clarence Washington, DB Drane Scrievener and DB Charles Reamon on waivers.; Memphis Southmen- placed OT Mike Gibbons, DL Steve Booras and LB Herman Jackson on waivers.; Philadelphia Bell- signed DB Zaven Yaralian and free agent DT Rick Cash.; Houston Texans- announced their move to Shreveport, Louisiana, de-activated QB Mike Taliaferro, activated QB D.C. Nobles, suspended head coach Jim Garrett for "conduct detrimental to the league".
NOTE: This page was researched and written by Jim Cusano. This page appeared on the former World Football League Hall of Fame Website and is used with permission.