---
September 11, 1974
WFL Reaches Mid-Season As Hurricane Carmen Hits U.S.; Americans Undefeated At 10-0
The World Football League reached the half way point of its first season the week of September 5th- September 11th. Poor weather, brought on by Hurricane Carmen, contributed to low attendance figures throughout the league. In Ypsilanti, Michigan, the Detroit Wheels drew only 6,351 fans to the teams' tenth straight loss. The Florida Blazers and the New York Stars met at Downing Stadium for a showdown for first place in the WFL's Eastern Division. 3,800 fans showed up in a driving rain storm as Florida defeated the Stars 17-15. In Memphis, 15,129 came out in the rain to see the Southmen rout Houston. Despite continued talks, no solution was reached regarding the Detroit Wheels. The team was in debt, the players were going unpaid, and the ownership group seemed helpless to stop the bleeding. Attendance had also dropped in Houston and New York, and in Jacksonville, the Sharks, had watched their crowds decline from an average of 34,000 to only 17,000. Sale talks were surrounding the league, and rumors that Houston, New York and Jacksonville were up for sale ran in the national media. In Orlando, the Blazers were also experiencing financial troubles and General Manager Rommie Loudd claimed the club would lose about $1 million if things didn't improve. On the field, the WFL's leading passer continued to be Chicago Fire quarterback Virgil Carter. Carter's heroics almost pulled out a thrilling win over Birmingham. Mark Kellar and James Scott of the Fire led in the rushing and receiving categories. Charlie Reamon, brother of Florida Blazer Tommy Reamon, moved into the led in kickoff returns with a 31.3 average. Ron Mabra of Philadelphia led the WFL in punt returns with 348 yards. On defense, David Thomas of Memphis and Jeff Woodcock of New York moved into a tie for the interception led with 7. Southmen Danny White led the WFL in punting with 1,887 yards and a 42.8 average.
John Huarte and Danny White combine to throw for five touchdowns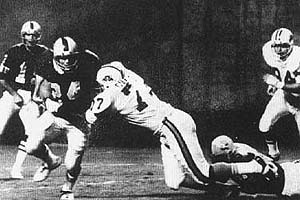 memphis, tn.; Memphis quarterbacks John Huarte and Danny White combined to throw five touchdown passes and lead the Southmen to a 45-0 rout over the Houston Texans. The Texans, throttled by the Memphis defense, could only reach the Memphis 16 yard line late in the game behind David Mays, but then Memphis killed the drive when Emery Hicks sacked Mays and recovered the fumble. A disappointing crowd of 15,291 showed up at the Liberty Bowl to watch Memphis moved into second place in the WFL's Central Division. (Southmen defender Festus Cotton drags down Mike Richardson of Houston).
Sark field goal wins it with: 52 remaining
birmingham, al.; Earl Stark kicked a 34-yard field goal with :52 remaining to give the Birmingham Americans a 41-40 win over the Chicago Fire. Stark's game winning field goal marked the sixth time this season that Birmingham had pulled out a victory in the final minutes. The Americans who led 38-19, held off Chicago as quarterback Virgil Carter threw touchdown passes to Mark Kellar, James Scott and Jim Seymour to lead Chicago back to a 40-38 lead. A crowd of 54,872 sat through torrential rains pushed into Alabama by Hurricane Carmen. The loss left Chicago at 7-3 and Birmingham remained undefeated at 10-0. (Pictured above, Virgil Carter scrambles away from Ross Brupbacher).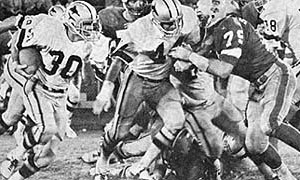 jacksonville, fla.; Reggie Oliver threw a pair of scoring passes and set up two more touchdowns as the Jacksonville Sharks posted a 34-30 win over the Philadelphia Bell before 17,851 rain soaked fans at the Gator Bowl. Oliver, a rookie from Marshall University, hit Edgar Scott on a 45-yard scoring pass and later found Drew Buie open with a 13-yard score in the fourth quarter. Oliver completed 14 of 24 passes for 321 yards and two touchdowns, and Tommy Durrance regained the form that allowed him to lead the WFL in scoring the first five weeks of the season- he scored two touchdowns. (pictured above, Jeff Davis runs against Philadelphia).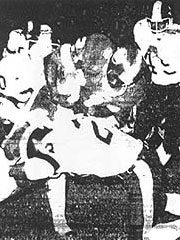 new york, ny.; The Florida Blazers regained sole possession of first place in the WFL Eastern Division with a 17-15 win over the New York Stars. Florida running back Tommy Reamon (pictured above) ran for 179 yards on 33 carries as the Blazers controlled the ball for much of the game. Late in the fourth quarter the Stars were within field goal range but a delay-of-game penalty pushed them back to the Florida 27. The next play, Tom Sherman was sacked for a 18-yard loss. A last attempt "Hail Mary" pass fell incomplete. A sparse crowd of 3,830 at Downing Stadium (the lowest crowd ever for a WFL game) watched from the exits and under raincoats as rain pounded the field throughout the game (Stars officials expected the teams' largest crowd due to 14,625 tickets being sold and the team playing for first place).
6,351 attend game at Rynearson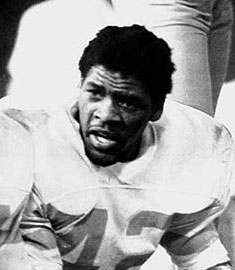 ypsilanti, mi.; The Detroit Wheels continued their losing ways dropping a close game to Southern California 10-7. The Sun, in a lackluster effort, came from behind to beat the Wheels (who played without quarterback Bubba Wyche) when quarterback Tony Adams led a drive that decided the game. Adams passed to Ike Harris for 39 yards and a first down and then connected with Dave Williams deep in Detroit territory. Adams then hit James McAllister (pictured above) at the goal line with a pass, and McAllister easily ran into the end zone for the win. The Sun defense had a rough time containing rugged Sam Scarber of the Wheels who rushed for 86 yards on 19 carries. An empty house at Rynearson Stadium had only 6,351 in attendance.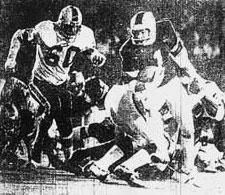 portland, ore.; The Portland Storm moved out of the WFL's Western Division cellar with a 15-8 win over the Hawaiians before 15,551 fans at Portland's Civic Stadium. The game ended with Hawaii on the Portland one yard line with no time outs. The Storm took a 15-0 lead on two touchdowns by Rufus Ferguson. Ferguson ripped off a wild 44-yard run through the middle of the Hawaiian defense for a touchdown and then Ken Johnson hit Greg Specht for the action point and a 8-0 lead. With 5:18 left in the game, Ferguson again tore through the Hawaii line en route to a 51-yard touchdown run and a 15-0 Portland lead. Hawaii quarterback Norris Weese then hit Al Davis with a 45-yard touchdown pass to cut the lead to 15-8. With :10 remaining Weese hit Tim Delaney at the Portland 10, and Delaney ran to the one yard line before he was tackled by Phil Borjas and Robin Sinclair. The Hawaiians tried to run one last play but they didn't have enough time. (Hawaiian John Moseley runs for daylight against the Storm).
WFL Week Ten MVP:
Tommy Reamon, Florida Blazers
WFL Week Ten Top Performers:
Passing - Virgil Carter, Chicago Fire 23 of 43, 309 yards, 5 touchdowns
Rushing - Rufus Ferguson, Portland Storm 15 carries, 149 yards, 2 touchdowns
Receiving - James Scott, Chicago Fire 11 receptions, 162 yards, 3 touchdowns
WFL Standings:
Eastern Division:
Florida 7-3, New York 6-4, Philadelphia 4-6, Jacksonville 4-6
Central Division:
Birmingham 10-0, Memphis 8-2, Chicago 7-3, Detroit 0-10
Western Division:
Southern California 6-4, Houston 3-6-1, Portland 2-7-1, Hawaii 2-8
WFL Transactions:
Southern California Sun- signed K Ron Svarc.; Portland Storm- signed QB Pete Beathard, waived QB Don Van Galder and KR Darrell Mitchell, released DT Glen Condren, placed DL Lee Brock on waivers, traded OG Andy Kupp and negotiating rights to QB Rick Arrington to the Houston Texans for the rights to OT Carl Johnson and a 1975 5th round draft choice, activated RB Cleo House; Jacksonville Sharks- singed DT Jim Dunaway.; New York Stars- signed RB Don Highsmith, activated QB Brian Dowling after he cleared waivers out of the NFL, OG Len St.Jean and LB Mary Huff, released LB John Moss and OG Dave Shaffer, placed QB Gary Danielson, DE Steve Setzler, S Lou Angelo, WR Tom Spinks, WR Bob Hermanni on waivers, activated DL Greg Lens and RB Jim Ford, de-activated RB Bob Gladieux and LB Tom Chandler.; Philadelphia Bell- traded LB Bob Grant to the New York Stars for future considerations, signed DT Steve Chomyszak, placed DL Dale Mize, WR/P Henry Brown, DT Tommie Davis, DL James Jackson, RB Oscar Jenkins, LB Mike Riley, K Gerry Warren and DL Skip Williams on waivers, re-signed DB Bryan Marshall, DB Mike Shaw, signed LB John Knoble, DL Len Pettigrew, DL Bob Thompson, and K Dan Torzala, placed DB Benny Johnson on in-active roster.; Detroit Wheels- placed WR John Embree and DT John Skladany on waivers, released LB Mike Kleinhenz.; Jacksonville Sharks- placed WR Kerry Brown on waivers, placed LB Johnny Mack on injured reserve list, placed DE John Gordon on active roster.; Hawaiians- placed LB Robert Martin, LB Ed Philpott and RB J.D. Smith on waivers, signed RB Vince Clements and LB John Douglas, placed OL Jay Corey, WR Tim Boyer, and K R.A. Coppedge on the active roster, placed LB Ray Hester, DL Kem Lawyer, TE Steve Conley, OL Mike McGirr and RB Ernie O'Leary on in-active list.; Memphis Southmen- activated RB Tony Schmid and DL Lucious Selmon, de-activated DL Steve Booras and WR/RB Tim Beamer.; Houston Texans- RB Terry Cole, LB Durfey Thompson and OL Norm Davis.
NOTE: This page was researched and written by Jim Cusano. This page appeared on the former World Football League Hall of Fame Website and is used with permission.